OJ: Made In America is a prime awards-season contender, an eight-hour exploration of OJ Simpson's rise and fall filtered through the history of Los Angeles' African American community.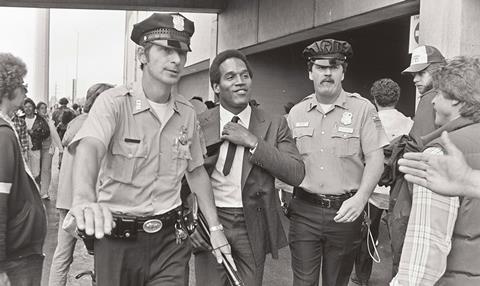 Some have questioned whether Ezra Edelman's epic seven-hour, 44-minute documentary OJ: Made In America, tying the rise and fall of American football star-turned-Hollywood actor OJ Simpson to racial politics in Los Angeles, can be truly regarded as a feature-length film.
Its recent inclusion in the Academy Of Motion Picture Arts And Sciences 2017 documentary shortlist and triumph at the International Documentary Association awards suggests the film world has embraced it as such.
For Edelman, it is a question of semantics: "I don't look at this as a series. It's a long film… One of the things that drew me to the project was the notion of telling a longer story in one film."
When Connor Schell, head of film and original content at sports-skewed channel ESPN, first proposed the idea of making a long-length work revolving around Simpson, the New York-based film-maker nearly turned him down. "I wasn't interested in Simpson and I wasn't sure what I could add to what had been done before," says Edelman, who had worked with Schell as a director on ESPN's award-winning documentary series 30 For 30, highlighting important sports people and events throughout history.
It was only when he looked into Simpson's story in more depth and put it into the wider social, political and cultural context of the times that he started to get excited about the project. "It's a uniquely defining cultural tale that involves so much stuff," he says. "Alongside being offered this greater canvas and the formal challenge of making a movie that long, that was the selling point."
Simpson's fall from grace — following the double-murder of his wife Nicole Brown Simpson and her friend Ron Goldman in 1994, the subsequent televised criminal trial in 1995 and its sensational verdict judging him innocent — is at the heart of the film but Edelman's portrait of the star and his legacy goes way beyond that event. It also explores the stellar sports career that propelled Simpson out of an impoverished San Francisco neighbourhood to the elite University of Southern California in the mid-1960s, and then onto a record-breaking stint with National Football League team the Buffalo Bills. The series also follows Simpson's life of celebrity amid Los Angeles' mainly white establishment of the time, as well as his darker behind-the-scenes-persona.
Famous for being infamous
"Nobody even remembers who OJ was," says Edelman. "How he was this pioneering cultural figure as one of the first black athletes to cross over and become a star. All that was erased in 1994. He ceased to be that and become famous for being infamous."
The director was most interested, however, in how Simpson's trajectory tied in with the history of the African American community in Los Angeles and its antagonistic relationship with the Los Angeles Police Department (LAPD), even though his research would reveal that the star distanced himself from black militancy early in his career. "Because of the wider canvas, I didn't have to just tell that story that took place in 1994 and '95," he says. "I could explore the history of Los Angeles, the migration of the black community to the city, its integration and this inner play between that community and the LAPD.
"I could talk about all these issues that are more interesting to me," he continues. "I understood instinctively and probably even more now that there is this clear connection between that history and the context of what happened during the trial."
Almost as a by-product, an in-depth portrait of Simpson, his origins, demons and ambitions, also emerges. "It was a question of trying to interweave and connect those two narratives but it was much more than then me being interested in OJ," says Edelman. "We could only get so far with him."
Made over a two-year period, the archive team — overseen by long-time collaborator Caroline Waterlow — pulled in some 800 hours of footage while Edelman conducted 72 interviews, 66 of which are used in the film. The interviewees range from childhood friends to key players in the prosecution and defence teams at the trial and a variety of bystanders in Simpson's turbulent downfall.
"I did one interview with everybody," says Edelman. "I'd prepare for the interview like I was preparing for an exam. Then, I'd just sit and have a conversation. I don't stop. I don't use questions."
He requested an interview with Simpson once the work was largely completed. "I reached out to him, saying, 'This is what I'm doing and these are all the people I've interviewed, please be a part of it,'" he says. "I never heard anything, but even had I interviewed OJ himself, I question whether he would have truly shed light on who he is and how he became who he did."