Personal Shopper director discusses collaborating with Roman Polanski and a new bid to re-float passion project Idol's Eye.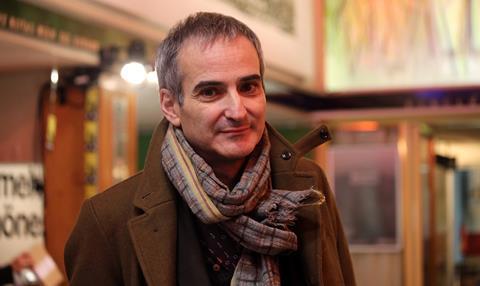 French director Olivier Assayas will touch down at Zurich Film Festival (Sept 22 - Oct 2) this year to receive the event's tribute award and present his metaphysical thriller Personal Shopper, which is screening as part of a retrospective of his works.
Starring Hollywood actress Kristen Stewart as a psychic young woman trying to connect with her dead twin brother in Paris, it was one of the most anticipated titles at the Cannes Film Festival earlier this year where it played in competition.
It is the second time Assayas has worked with Stewart - after Clouds Of Sils Maria - and rumours abound about a potential third collaboration.
"For now there's nothing in the pipeline," Assayas told Screen. "Today, I don't have a project to propose to her although I would love to have one. I don't rule it out for the future."
The director – who has worked with a roster of top actresses over his 30-year career including Juliette Binoche, Maggie Cheung and Chloe Sevigny – describes Stewart as "the best actress of her generation".
"Kristen has an infinitely larger range than many actresses of her generation. She has an inner depth coupled with a spontaneity and naturalness that sets her apart. She also has an innate understanding of cinema that makes me believe she could succeed at directing too."
Assayas wrote the screenplay for Personal Shopper to get over the frustration of the shelving in 2014 of his US-financed action thriller Idol's Eye just as it was due to shoot in Toronto with Robert Pattinson and Robert De Niro in the lead roles.
"I had to turn the page and move on. After a series of films set in the past such as Carlos, After May and Sils Maria, which was sort of out of time, I wanted to do something set in contemporary Paris, capturing the city today," explained Assayas.
He has not given up hope of eventually getting Idol's Eye off the ground. He reveals that his long-time producer Charles Gillibert, whose recent credits also include the Oscar-nominated film Mustang, has secured the rights to the project.
"I hope it will be my next film," said Assayas. "If things advance I'd like to shoot it in Toronto before the end of the winter."
In between times, the film-maker recently collaborated with Roman Polanski on the screenplay of his upcoming feature Based On A True Story, a psychological thriller about a writer who is hounded by an obsessive reader.
Polanski — who received a Lifetime Achievement Award from Zurich in 2011 – is due to start shooting in November, which his wife Emmanuelle Seigner in the role of the writer opposite Eva Green as her tormenter.
"He proposed it out of the blue. I hesitated at first because it's been 20 years since I've written a screenplay for another director. The last time was for André Techiné (Alice And Martin). I think it ended up being a satisfying experience for both of us."
Zurich's Assayas retrospective features 12 of his works, ranging from his debut feature Disorder, to the recently restored Irma Vep and his 2010 bio-pic Carlos.