Mahershala Ali tells Jeremy Kay how he dug deep into his childhood to portray Juan, a Miami drug dealer who becomes a surrogate father to Moonlight's conflicted young protagonist.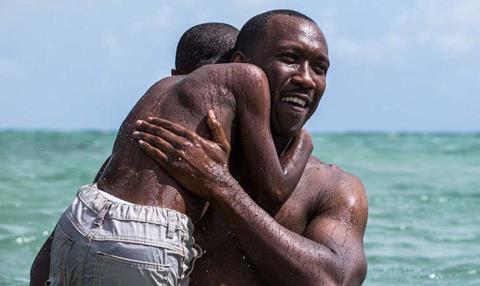 Mahershala Ali's parents separated when he was young, and the US actor recalls feeling different when he would return home to his mother and their blue-collar neighbourhood in Hayward, California, after spending part of the summer elsewhere with his father, an actor in musical theatre.
"My experiences, to some degree my own history, played into a way in which I felt of the tribe but didn't feel I totally fitted in with the kids around me, and in some way I related to 'Little' [aka Chiron, the film's protagonist] from my own personal reasons," says Ali.
The manner in which Juan takes the alienated youngster under his wing is one of the most unexpected and heart-warming aspects of Moonlight and dominates the first section of the three-part film. His influence permeates the whole piece. "He's not in it a lot but there are so many beautiful and full moments in the time in which I got to play Juan," says Ali, adding, "I loved playing him and loved being in his skin."
The in-demand actor - who can also be seen in 20th Century Fox's awards contender Hidden Figures - knew producer Adele Romanski from his work on this year's Tribeca premiere Kicks and says the Moonlight screenplay was the best he had ever read. "It really gave a voice to people I know and some of us who grew up in the black community know and see every day. But it's almost as if they don't exist because we've never seen them on screen - not with that degree of humanity and authenticity."
Still, there was a hesitation. "First off I was a little bit nervous taking the part because I was finishing House Of Cards, I was starting Luke Cage and working on a project called Future Relics, so how was I going to fit this into my schedule? It was going to be a seven-day-a-week thing, working around the calendar for five or six weeks," says Ali. "I was concerned about attributes bleeding into other characters and so I had to take a moment to decide if I was going to do it because I was worried about failing."
Once Ali committed to Moonlight, which has been picked up for UK distribution by Altitude, he kept a journal as Juan and watched footage of rappers from the Liberty City ghetto in the 1980s, where the action takes place, to capture their cadence and energy.
He also did something new. "I really tried to connect to Juan as a spirit… so I started meditating with Juan and talking to Juan and asking him what he wanted to say and what he had to say, as if he were a real person," he says.
Ali filmed his role over three weekends, and thrived under the freedom and attention director Barry Jenkins gave the cast; and they clicked in a big way.
"I've worked with other people I've really loved. I loved working with David Fincher [on House Of Cards]. I loved Derek Cianfrance [on The Place Beyond The Pines]. But Barry instantly felt like a brother. Maybe because we're around the same age and come from relatively similar communities. I understood his language, I loved working with him. It was probably the most impactful experience of my career."