The Academy's efforts to reinvigorate its membership is yielding results with a nominations list that toasts ethnic diversity and a slew of international films. But its track record on women directors remains woeful.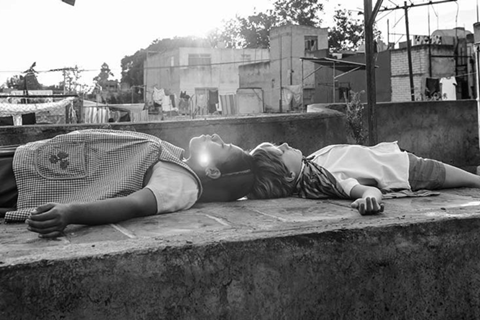 The 91st Oscar ceremony still doesn't have a host and yet that all seemed like a trifling sideshow on Tuesday (22) as a beleaguered Academy toasted two dominant international films and tipped its hat to ethnic diversity and pop culture, while betraying a blindspot over women.
Brand new Motion Picture Association of America member Netflix – who else? – will be the talk of the town after ROMA earned 10 Oscar nominations and The Ballad Of Buster Scruggs three, stamping its mark on awards season in a way that no streaming platform has done until now. A highly visible, billboard-heavy campaign orchestrated by awards strategist Lisa Taback complemented last year's international theatrical release that preceded the global streaming launch.
There are exhibitors who felt the distribution plan did not give them enough time to capitalise on the film's theatrical run, nonetheless it put ROMA on voters' radars. Everybody remembers the fate of Netflix's stirring child soldier drama Beasts Of No Nation, which failed to land a single Oscar nod after a lacklustre theatrical campaign that was widely panned.
Fox Searchlight reminded everyone of its sensational awards season pedigree with 10 nods for Yorgos Lanthimos' The Favourite. After last season's best picture win for The Shape Of Water, this is another timely show of the studio's strengths as Disney chief Bob Iger watches on and the industry heads towards a merged Disney-Fox and the launch later this year of the Disney+ streaming platform.
Does the inclusion of ROMA in the best picture category dent its chances of a foreign language win? The latter is arguably the more realistic category and while it would seem almost inconceivable at this stage that it will not win a feature award, there is an intriguing if highly whimsical scenario whereby ROMA emerges empty-handed if the likes of Green Book or A Star Is Born prevail in best picture, and voters down on Netflix choose Cold War or Hirokazu Kore-eda's Palme d'Or winner Shoplifters instead.
Green Book looks strong in light of its recent PGA producers guild win, and recent triumphs at the Golden Globes for best musical or comedy, and the National Board or Review. It might just be the front-runner, more so than A Star Is Born, and Globe best dramatic feature winner Bohemian Rhapsody, which is a stronger play for best lead actor Rami Malek. Similarly The Favourite is more of a vehicle for its astonishing three actresses, BlacKkKlansman is all about Spike Lee, and Vice does not feel like the complete package.
Disney/Marvel Studios' Black Panther directed by Ryan Coogler became the first superhero film to receive a best picture nomination but that will most likely be as far as it goes. It was the biggest US release of 2018 on $700.1m and the Academy has acknowledged a pop culture phenomenon in a manner that feels more satisfying and certainly less patronising than had it been allowed to shoe-horn the film into its short-lived popular film category, an ill-conceived proposal that was scrapped last September shortly after its announcement sparked broad opprobrium.
A best picture category that recognises Black Panther and BlacKkKlansman is the latest victory for diversity. The Academy knows it must stay abreast of the times and move away from its predominantly white, older membership and has been working to broaden its voting base. Roughly half of the 928 people invited in 2018 to become members hail from outside the US and non-US contenders are scattered throughout the categories.
Academy blindspot over women
Broader representation of race is to be applauded, and yet there remains a troubling blindspot when it comes to women. That traditional Academy voting base is also mostly male, and the industry's deep-rooted prejudices endure. No female director earned a nod this year, and while that was perhaps not entirely unexpected by observers, what nonetheless added insult to injury was the lack of a best picture nominee directed by a woman.
The Academy has delivered eight best contenders this season – it can nominate between five and 10 – and some observers were surprised that neither Debra Granik's Leave No Trace from Bleecker Street nor Marielle Heller's Can You Ever Forgive Me? from Fox Searchlight made the cut. Karyn Kusama's gritty Destroyer from Annapurna Pictures was always going to be an outlier as was Chloé Zhao's The Rider from Sony Pictures Classics because of its size.
Deborah Davis and Tony McNamara earned an original screenplay nod for The Favourite, and Nicole Holofcener and Jeff Whitty were recognised in the adapted category for Can You Ever Forgive Me? Hannah Beachler shared production design kudos for Black Panther, as did Fiona Crombie and Alice Felton for The Favourite, Kathy Lucas for First Man, and Barbara Enriquez for ROMA. It was women-only nominees for costume design, yet there will be a sense that with women accounting for 31% of overall membership (according to the Academy), more needs to be done in senior category recognition.
Both ROMA and Green Book shine a light on less familiar perspectives and in this regard it is no surprise that both hail from Participant Media. The company financed and produced Alfonso Cuaron's masterpiece and deserves kudos for giving the Mexican auteur the funds early on to quietly set about telling his deeply personal story. ROMA clinched the first major prize of awards season when it won the Venice Golden Lion and all eyes turn to the 91st Academy Awards on February 24 to see if it can bookend the season with the ultimate prize.
Will a Mexican claim the directing Oscar for fifth time in six years?
Cuaron himself is in contention for four Oscars as ROMA's director, producer, screenwriter, and cinematographer. It's an exceptional achievement even by Cuaron's lofty standards and if he wins the directing award it will mean a Mexican has claimed the award for five out of the last six years. Cuaron did it for Gravity in 2014, Alejandro González Iñárritu for Birdman in 2015 and The Revenant in 2016, and Guillermo del Toro for The Shape Of Water in 2018. In fact the category has taken on a very international flavour of late, with eight of the last 10 winners hailing from outside the US.
Spike Lee stands in Cuaron's way and remarkably earned his first directing nod for BlacKkKlansman. Focus Features has done a great job with a punchy campaign that has remained hip and relevant. The firebrand filmmaker has been front and centre with anti-Trump rhetoric that has brought his film into sharp focus against a backdrop of angry bluster from the White House at a time when immigration, the border wall, and racial divides remain international talking points.
Pawel Pawlikowski's nomination for Poland's Cold War from Amazon Studios was the big surprise in the directing category and may well be a function of the Academy's expanded international voting ranks. There is no doubting Pawlikowski's talent and record, however many had expected Bradley Cooper to be on the list for an impressive debut on A Star Is Born. Similarly Green Book director Peter Farrelly lost out as Greek filmmaker Yorgos Lanthimos, whose last three films have been in English, slipped in for The Favourite. Both Cooper and Farrelly have the consolation of being nominated for the DGA directors guild award. In addition, Cooper is in the running for lead actor, and co-writer.
Yalitza Aparicio nod will 'help those of us who feel invisible be seen'
The biggest surprise in the acting categories was the inclusion of Yalitza Aparicio, narrowly followed by her ROMA co-star Marina de Tavira in supporting actress. The inclusion of an indigenous woman and daughter of a domestic worker sprinkles a little awards season magic over proceedings. Peer behind the curtain and Netflix's enormous spending power has a lot to do with this, but Aparicio deserves recognition and it was moving to read her say the nomination will "help those of us who feel invisible be seen."
Winning the award will be too much of a stretch and with all respect to Melissa McCarthy in the entertaining Can You Ever Forgive Me?, the contest narrows down to Golden Globe winners Glenn Close for Sony Pictures Classics' The Wife and Olivia Colman for The Favourite. Lady Gaga is undeniably a potential upset in the lead actress category for Warner Bros' A Star Is Born, which earned eight nominations overall. The tragic romance remake's strongest shots are Sam Elliott for supporting actor and 'Shallow' for original song.
Cooper has earned his place in a competitive lead actor category that somewhat shockingly shut out Ethan Hawke for First Reformed. Included are popular impersonations by Globe winners Christian Bale as former US vice-president Dick Cheney in Annapurna Pictures' Vice, and Rami Malek as the late Queen front man Freddie Mercury in Fox's Bohemian Rhapsody, which the indefatigable UK producer Graham King shepherded for nearly 10 years. Also strong is Green Book star Viggo Mortensen, who appears to have brushed aside a Q&A in which he used the N-word. The outlier is Willem Dafoe, who portrays Vincent van Gogh in At Eternity's Gate and was a supporting actor nominee last year for The Florida Project.
Regina King one to beat in supporting actress contest
The supporting actress category is strong. Globe winner Regina King is regarded as the front-runner for Barry Jenkins' If Beale Street Could Talk from Annapurna Pictures. She did not earn a Screen Actors Guild nod but now that she has been nominated by the actors branch, the broader Academy membership can vote for their winner. With Adams solid but unremarkable in Vice, de Tavira definitely not a heavy-hitter in the category, and every chance that Emma Stone and Rachel Weisz could cancel each other out for The Favourite, the prize is King's to lose.
Last autumn three US films were regarded as shoo-ins for documentary feature nods. On Tuesday only one – Magnolia's Ruth Bader Ginsburg doc RBG – made it. The Academy delivered a big surprise when it left out Focus Features' Won't You Be My Neighbor?, Morgan Neville's touching portrait of US children's TV host Fred Rogers, and Neon's bizarre family reunion story Three Identical Strangers by Tim Wardle.
Even so, the documentary feature category remains strong. RBG does not have it easy, and faces off against the widely admired rock climbing film Free Solo from National Geographic Films directed by Jimmy Chin and Elizabeth Chai Vasarhelyi. Rounding out the category are late season surges from Hale County This morning, This Evening, Minding The Gap, and the surprise package, Syrian-set, Arab language Of Fathers And Sons.