Screen's analysis of this year's Oscar nominations, which saw The Favourite and ROMA lead the way with 10 nods apeice.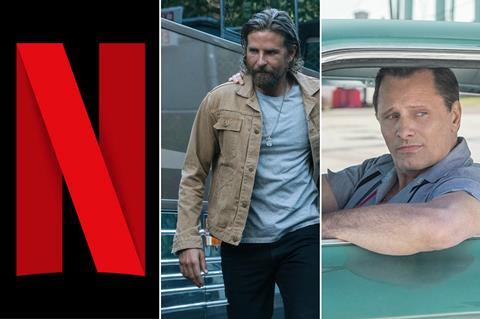 A big night for Netflix?
Netflix finally secured its coveted first best picture nomination for ROMA and a number of other first categories for the streaming giant (directing, actress, editing to name three). Few in Hollywood will be surprised, given the film's quality, and a campaign spend by the streaming giant that anecdotally far exceeded that of any other distributor this season. Iconic black and white billboards have been plastered over Los Angeles and New York, and have been highly prevalent in the likes of Mexico and Argentina, too. Despite ongoing unease in some quarters about the disruptive effect of streaming platforms, an impressive awards season trail of best picture wins and now the Academy's nominations have delivered the clearest vote of confidence yet in Netflix. Let's not forget Participant Media financed and produced ROMA, but Sunday could be a huge night for Netflix. The streamer has also scored three nods for The Ballad Of Buster Scruggs and two for documentary shorts, and is well and truly leaving its mark on Hollywood.
The impact of the changing face of the Academy
The shift in the composition of the Academy's membership over the last few years has resulted not only in a slightly younger, more ethnically diverse crowd that the Academy says is moving towards gender parity too, but more international members. Of the 928 new members AMPAS invited to join in 2018, around half were from outside the US. We saw the result of this as Mexico's ROMA and the The Favourite (UK-Ireland-US) both muscled into the nominations to lead the pack on 10 apiece. Similarly, Pawel Pawlikowski earned a surprise directing nod for the Polish-language Cold War, while the inclusion of Greek dynamo Yorgos Lanthimos for The Favourite (admittedly his third English-language film) had not been entirely expected. However although the success of AMPAS's efforts to reinvigorate its membership by inviting more women and people of colour to join is evident in the welcome nominations for Spike Lee's BlacKkKlansman and Ryan Coogler's Black Panther, it is completely non-existent in relation to the former. The Academy membership is still 69% male, 31% female.
Fox tops distributor chart again
For the second year in a row Fox Searchlight has the most nominations with 14 (though down on last year's 20). Together with 20th Century Fox's five that's 19 in total for the company, which has been taken over by Disney. Second in the distributors chart is Netflix with 13 (15 including shorts). Its streaming rival Amazon picked up three, all for Cold War, which the company distributed in the US. Disney is in third place with 11, followed by Universal and Warner Bros on nine, and Focus on eight. These figures do not include the shorts categories.
Bradley Cooper misses out in the director category
While the surprise inclusion of Polish-born Pawel Pawlikowski in the directing category for Cold War is well deserved, few predicted the auteur would make the cut. The filmmakers who lost out in the category are Bradley Cooper, whom many believed would earn a nod for his impressive debut on A Star Is Born, and veteran Peter Farrelly, whose late awards season surge with Green Book has been a talking point in Hollywood despite resurfaced reports about a decades-old practical joke involving the director's appendage. Both Cooper and Farrelly earned their first DGA nominations earlier in the month, and that contest now remains their only hope of winning major directing honours this season.
Unexpected line-up in documentary category
Three US documentary box office hits set the early pace in awards season conversations this cycle, and the Academy has left two of them off its list of nominees. Focus Features' Won't You Be My Neighbor? and Neon's Three Identical Strangers seemed to be shoo-ins for Oscar nods, but in the end the only survivor of the trio is Magnolia Pictures' RBG, about the beloved Supreme Court justice Ruth Bader Ginsburg. Besides National Geographic's Free Solo, which people love, the late arrivals to the table are The Cinema Guild's Hale County This Morning, This Evening, Hulu's Minding The Gap, and the surprise package, Kino Lorber's Syria-set, Arabic-language Of Fathers And Sons – perhaps another reflection of the growing number of international members in the Academy.
No women directors - again
It was widely expected but the absence of any women in the best director category is still very much an imbalance the Academy must address. Outliers included Debra Granik (Leave No Trace), Tamara Jenkins (Private Life), Chloé Zhao (The Rider) and Marielle Heller (Can You Ever Forgive Me?, for which the two main actors are nominated). Last year Greta Gerwig became only the fifth woman to receive a nod in the category in history, for Lady Bird.
Even more disappointing is the lack of any female-directed films in best picture, with only eight of the possible 10 nominee slots filled. To secure a nomination in this category, a film has to be one of the top choices of at least 5% of the members taking part in the nomination phase. All films that are listed first on at least 10% more ballots than this threshold trigger a surplus rule, by which any excess first places are awarded to the second place film. The second place film also gets the vote when the first place pick is top with less than 1% of voters. Evidently not enough Academy voters considered female-directed films as among the best few of the year to make the list up to 10.
Only 13 films directed by women have ever been nominated for best picture, with Kathryn Bigelow the only woman ever to be nominated twice – The Hurt Locker took the prize in 2010, and Zero Dark Thirty was nominated in 2013.
Furthermore, only five of the 25 producers of all of the films nominated for best picture this year are women - The Favourite's Ceci Dempsey and Lee Magiday, ROMA's Gabriela Rodriguez, A Star Is Born's Lynette Howell Taylor and Vice's Dede Gardner.
Thank goodness for Nadine Labaki's nomination for Capernaum in the best foreign-language film category.
Women writers largely absent
There is a paucity of women in the writing categories too. Only two make the cut, and both in shared credit with a man – Deborah Davis alongside Tony McNamara in original screenplay for The Favourite, and Nicole Holofcener with Jeff Whitty for Can You Ever Forgive Me? While women are historically slightly better represented in writing than directing, it is now 11 years since a woman won in either the original or adapted categories (Diablo Cody, original for Juno in 2008). 19 films written or co-written by women have achieved a nomination but not won since then.
Acting surprises
Perhaps the biggest surprise came in the best actor category, with Ethan Hawke missing out for Paul Schrader's First Reformed. The performance won several critics prizes, but his place may well have been taken by Willem Dafoe for Julian Schnabel's At Eternity's Gate. First Reformed only received one nomination – for best original screenplay. The strength of Netflix's campaign for ROMA was also highlighted by best actress and supporting actress nods for Yalitza Aparicio and Marina de Tavira, respectively. Neither were recognised by Golden Globe or Bafta voters. In the supporting actor category, Amazon's Beautiful Boy saw Timothee Chalemet overlooked. He did make the shortlist for both the Baftas and Golden Globes, but Felix Van Groeningen's drug addiction drama failed to score a single Oscar nomination. Other high-profile performances to miss out include Emily Blunt (for either Mary Poppins Returns or A Quiet Place), Rosamund Pike (A Private War) and Nicole Kidman (Destroyer).
Don't underestimate Green Book
Oscar watchers were beginning to handicap the best picture contest as a battle between ROMA and A Star Is Born, but events over the past few days have called that logic into question. Green Book faces a significant minority that are rooting against the film, evidently discerning a white, cosy and dated perspective on racial politics. The film has faced at least four speed bumps along the way, relating to words said, a Tweet resurrected, juvenile behaviour recalled, and storytelling veracity questioned. Voters in the Producers Guild Awards filtered out all the noise, awarding Green Book its best motion picture award on Saturday. Green Book may only have five Oscar nominations, but it has a good chance of converting more than one of them – including best picture. If the naysayers want to stall it, they will need to pick a candidate to rally around.
Where does all this leave A Star Is Born?
Hitherto, for voters who felt Alfonso Cuaron's ROMA was just too niche, and were looking for a more mainstream or – let's be honest – more American alternative, the obvious choice was A Star Is Born, which came into the race strongly as early as its Venice Film Festival premiere back in August. The exclusion of Bradley Cooper in the director category is a surprise, and potentially a spoke in the wheel for the campaign. You can win best picture without a director nomination, as Argo proved six years ago, but it's rare. Warner Bros will need to rally its forces if it's serious about the win.