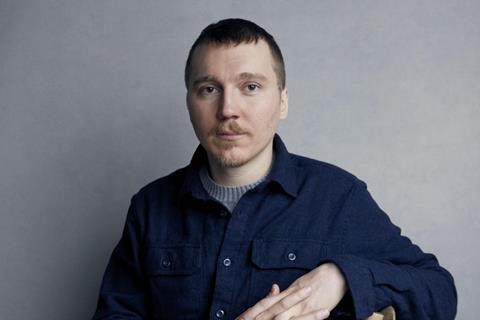 Bafta-nominated actor Paul Dano (There Will Be Blood) opened Cannes Critic's Week with his directing debut Wildlife, which premiered at Sundance.
Based on a novel by Richard Ford, it stars Jake Gyllenhaal and Carey Mulligan as an unhappy couple whose relationship unravels in 1960s Montana. IFC has US rights.
You wrote the film with your girlfriend Zoe Kazan (star of The Big Sick), how was that?
We get along well, we are partners in life. We worked in a way that was really healthy for us. We would sit down, talk about it, maybe day-dream together, then one of us would go off and write. It's not like we sat in a room together and wrote, I think that would be hard.
Zoe is an incredibly good creative partner for anybody, not just myself. She's really smart. I loved working with her but we can't do it all the time. We will do it again I'm sure in some capacity.
How was it when she criticised your work?
The first time I was pretty vulnerable. It was my first time trying to write. Criticism doesn't feel good but you know the intent is good. That's one of the nice things about working with someone you trust. I could take it and give it. We had our moments, but we could handle it.
What does getting your first film into Cannes mean to you?
Every year I look at Cannes to tell me what to see in world cinema, because not everything gets distribution in the US. As a super film dork you want to take your film there. Also, frankly I was just too nervous to enjoy Sundance so I'm really excited for Cannes. It's an honour to be one the American films there.
Are US filmmakers wary of taking their films to Cannes?
That's not my impression of it. I like that it's such a big mix of world cinema, that's why its special. It's important that's it's not overly dominated by English-speaking films.
How did Wildlife come together?
I read the book several times and was really haunted by it. Once I thought of the ending, the last shot, I thought "this could be a film, I think I can write this".
Then Zoë and I optioned it by ourselves [in 2012] so we didn't have anyone to answer to. I wrote a first draft which Zoë tore apart and we traded it back and forth. Finally, I got to the point [in 2016] where I said: "okay, I gotta go make this". I'd wanted to make a film for a long time. I bought on my friend Oren Moverman - having someone who I trusted was important. We sent it around to some financiers and Alex Saks said she immediate wanted to do the whole thing.
Then it was about trying to cast the film. The film is pretty dependent on its cast. Its shot in an economically and spare way. I needed to be able to lean on their faces and the spaces between them the lines. Really that was an essentially part of not just funding the film but the creative process, but luckily we got incredible actors to do the film.
How did you find the business side of directing?
It was a challenge because the film takes place in 1960, so doing anything period with a limited budget is hard because you have to control everything. I wanted to be responsible with how we made it because I want to make many films! The hardest thing was the idea of compromise which starts to happen when money is involved. For example, the film takes place in Montana, but they have no tax incentive, so we did four days of shooting in Montana, the rest in Oklahoma.
Will you direct again?
I have thoughts about directing again but nothing concrete. Hopefully it won't take long. It is without question something I'm going to be working towards. I really enjoyed the process. Seeing something like this through, it was a big experience. It's beautiful to put a band together and make something. It has to be something you want to fight that hard for. It's nice to have some encouragement to keep trucking.
What do you make of the Cannes/Netflix row - especially after your experiences with Okja last year?
Hopefully we'll all be in each other's corners because it's really important that someone like [Okja director] Bong Joon-ho gets to make a film like that. There are many beautiful filmmakers working with Netflix. I have Netflix, I've worked for them, I like them but I also like seeing things in the theatre. I understand why people feel personal about it. It sounds like in France they need to address their theatrical windows law… I'm sure that will change at some point. I'd rather people be talking about the films. That was something I felt last year with Okja, I was like okay this is interesting, it's a moment, but we spent years making his beautiful fairy tale can we talk about this too?
Would you be happy to make a film that wouldn't get a theatrical release?
God, I don't know. I'm sure it's a case-by-case basis rather giving myself a rule. I'm 33 but I feel like an old soul!
Do you think Carey Mulligan will get awards buzz for her performance?
I'm the leader of the Carey Mulligan fan club. I think her work is really special in the film, she gave me so much. I hope she gets the love she deserves.