To launch Screen's Perspectives on 2020 series, Ben Roberts talks about how a tendency to over‑communicate, a love of doughnuts and the sheep on Romney Marsh have helped him steer 550 employees through the year.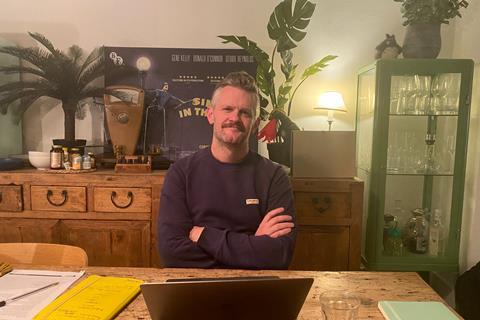 Ben Roberts stepped up from his role heading the BFI Film Fund to become the organisation's CEO in mid-February 2020. Within a month, the UK was in lockdown, and Roberts found himself managing 550 employees remotely, guiding many through furlough.
In addition to its usual wide-ranging work and funding, the BFI also worked to advise the Department for Digital, Culture, Media & Sport (DCMS) to create its Production Restart Scheme and for cinemas to access funding from the Culture Recovery Fund. The BFI also pulled together increased funding for productions, exhibitors and sales companies hit by the pandemic.
Roberts supported BFI director of festivals Tricia Tuttle as she led a successful hybrid event for the BFI London Film Festival in October, with an audience of 141,253 for both physical and virtual screenings. The BFI also runs its own cinema, BFI Southbank, which reopened on December 2, as well as its own digital platform BFI Player.
What has been your most memorable moment of the year?
I hadn't been too long in post and I had the privilege to host the Tilda Swinton BFI Fellowship ceremony. It was a great example of how a filmmaker's relationship with an organisation like the BFI can just be so full of joyous moments — she was at BFI Southbank with Bong Joon Ho one night and Mark Cousins another night, and she seemed to enjoy every moment.
How have you adapted your working style to stay productive and sane?
I've spent most of the lockdowns living on Romney Marsh [in rural Kent]. Day to day you look outside and there's no sense of whether it's locked down or not; sheep don't know social distancing. It's been quite calming here. You do have to come up with some new separations between work and home because otherwise they bleed into one another. My partner and I have been using walks to form those moments of separation. Playing lots of video games, watching lots of movies, lots of TV and, at the start of lockdown, lots of baking.
I had only been in post as chief executive for about four weeks before we went into lockdown, so I had to figure out some new ways to communicate with everyone in the organisation. How do you talk to 550 people who are going to be fretful, anxious, some of them worried about being on furlough? My instinct is to just really try to over-communicate. We had an executive meeting once a week, we met as a board every fortnight.
Back when I ran the Film Fund, I would buy doughnuts and [the Film Fund team] had an hour a week where they could just come in and offload. Now we have this fortnightly 'Donut Time' — named after the location in Tangerine — for all staff, like an open town hall. I also do a weekly bulletin [for staff] called The Bugle.
What was the best thing you baked in 2020?
My cardamom and cinnamon buns were astonishingly good.
The industry is waiting to hear about the new chair of the BFI board, after Josh Berger has stepped down, and also your replacement as head of the BFI Film Fund. What's the latest?
News of our next chair is imminent. As for head of the Film Fund, we will be recruiting that role imminently.
Inclusivity has been one of the biggest talking points of the year. How do you think the UK industry can become more inclusive?
We're going to do a root-and-branch review of our diversity standards and look at their impact, look at their design and where they need to be pushed harder. I still very much believe in the adoption of a universal system and structure that everyone gets behind… There is a shared responsibility, we've all got to live the sentiments in our practice. It's very easy to sign a letter. But that is not living the sentiment of the moment.
We've all had different viewing habits as audiences this year. Do you think it's going to have a lasting impact?
The short answer is yes. We've seen lots of experimentation in the last few months because we've been allowed to. I think the real question is, "What's the long-term impact on economic models?" That's an imminent piece of work for us to really examine the impact on economic models, particularly for independent film.
What are the UK films that have inspired you in 2020?
Rocks and Saint Maud were two heroes of British cinema that were released over the summer. It was a difficult time, and I was proud of how the audience was behind those titles.
What are the biggest concerns you're hearing from UK film­makers as we head into 2021?
The interruption and uncertainty around the production process is definitely one concern. That's going to remain the case until we have a vaccine. I will shower praise on DCMS for the Production Restart Scheme — that has made all the difference to be able to go into production.
The second concern is the future routes to audiences and what that means in terms of the future state of cinemas. That is why it's really important now that we take a proper deep dive into the economic model, and really understand how we can build out something that's robust.
The UK government is launching the Global Screen Fund to replace Creative Europe funding, providing $9.5m (£7m) for its pilot year [2021-22]. The BFI had been lobbying for $23m (£17m). Will the lobbying continue or is this a done deal?
In the context of a really tough spending year, the fact the Global Screen Fund exists and has been supported by DCMS and Treasury is a really positive sign. It gets us off the ground. We will absolutely be continuing to make the case to government that this funding is critical, and is needed over the long term.
What we've been able to do as a sector is to make persuasive arguments to government, into DCMS and into Treasury, on a number of fronts over this year about where interventions are needed — whether it's the Cultural Recovery Fund or the Production Restart Scheme.
In hindsight, is there anything the BFI could have done differently, or better, this year?
I don't feel I know yet what we could have done differently. I'm very happy for people to tell me, because it would be really interesting to hear.
Finally, what excites you about the future of the film industry?
My high level of communication with everybody at the BFI during lockdown meant I got to know a lot of people's enthusiasm for the future, and for change, for where we need to evolve and be fit for purpose. We've always been an adaptable community and an adaptable industry. It's a dynamic sector, the form itself is quite fluid, what audiences are choosing to watch and how they watch it is quite fluid, filmmakers are moving between mediums.
I'm fundamentally excited that storytelling, through the medium of cinema and television, is probably more popular now than it's ever been.
Our Perspectives on 2020 series sees key figures from across the international industry landscape share their experiences during the pandemic year and their thoughts on the future. See below for more interviews in the series: