SCREEN SUBSCRIBERS: The Irish film industry is walking tall thanks to the success of Brooklyn and Room, and a record seven titles launching at Sundance. Tom Grater looks at how Ireland aims to build on its creative prosperity.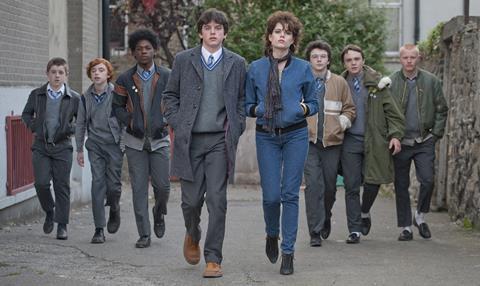 Scroll down for new Irish productions for 2016
The news Lenny Abrahamson's Room and John Crowley's Brooklyn had been nominated for a clutch of Oscars — including best film and best actress, and a best director nod for Abrahamson — sparked wild celebrations in Ireland's film industry.
In addition, Paddy Breathnach's Viva, produced by Treasure Entertainment as an Ireland-Cuba co-production and set in the Havana drag scene, made the final-nine shortlist for best foreign-language film, and Benjamin Cleary's Stutterer is up for the best short film prize.
"Irish films are making a significant contribution on the global stage. We're incredibly proud of that," Annie Doona, IFB
At the recent Sundance Film Festival, where Brooklyn began its journey in 2015, a record seven Ireland productions or co-productions screened in the various sections. John Carney's Sing Street [pictured top] premiered at Sundance and will open Audi Dublin International Film Festival on February 18, while Rebecca Daly's Mammal [pictured below] also premiered in Park City before travelling to Göteborg International Film Festival.
The Irish Film Board (IFB) is determined to harness this momentum and ensure a dynamic moment in Irish film-making can be sustained. The public funding body directly supports a significant proportion of films made in Ireland or by Irish co-producers, while the Revenue - Irish Tax & Customs - administers the tax credits.
The IFB's acting chair Annie Doona and chief executive James Hickey are now calling for increased government support to develop new talent and fund future film production. "Irish films are making a significant contribution on the global stage," says Doona. "We're incredibly proud of that and we're ambitious to build on the success."
Focus on local projects
In January 2015, the Irish government introduced significant revisions to the tax credit for film and TV productions shooting in the country. It increased the level of relief to 32% on eligible expenditure up to $56.6m. This move was designed to put Ireland in a stronger position to attract inward investment, and was widely heralded as a positive step.
Now there are calls from the IFB and beyond for the cap on the credit to be raised further, with a view to drawing more large-scale productions such as Star Wars: The Force Awakens, which shot some scenes on the islands of Skellig.
"The cuts have had material effects," James Hickey, IFB
However, with home-grown, mid-budget titles such as Room ($9.7m) and The Lobster ($4.3m) finding critical acclaim and commercial success, members of Ireland's local industry are calling for a renewed focus on the country's own productions.
"A big Hollywood movie coming into Ireland is an easy win but you have to look at the collateral advantage," says producer Ed Guiney of Element Pictures, who produced both The Lobster and Room. "They bring in all the heads of departments and there are no Irish producers involved. The real prize is developing the indigenous industry."
One major challenge facing the IFB is that the organisation's governmental funding has decreased significantly over the past eight years. In 2008, the IFB's budget was $21.8m; by 2016 that had dropped 40% to just $12.2m, although this includes a $550,000 increase on the 2015 budget, the first rise for years and a "step in the right direction", according to Doona.
"The cuts have had material effects," says Hickey, who believes a long-term view is needed when developing talent. "It's never just luck, it happens over many years."
If the IFB's budget was increased further, says Hickey, the organisation "would consider devoting a higher percentage of funding to development".
Guiney believes that would be a necessary step as "the current amount of development money spent is not enough".
Fears of regression
Rebecca O'Flanagan of Treasure Entertainment, the production company behind Viva and anticipated 2016 title Handsome Devil, believes that without a long-term strategy from the government, the Irish film industry faces the possibility of regression.
"The fear for us is, if the funding [for the IFB] isn't replenished, where will we be in five years' time? Those players like Lenny [Abrahamson] and Paddy [Breathnach] had their roots pre-crash, when the funding was more generous," she says.
O'Flanagan notes the positive mood has buoyed the energy around the industry, but fears this could be wasted without the necessary funding. "While of course there is increased ambition among the community, that ambition has to go hand-in-hand with the proper resources," she says.
Tomm Moore, director of feature animation Song Of The Sea, which was nominated for an Oscar last year, highlights the important role that successful local companies such as his Kilkenny-based studio Cartoon Saloon need to play in an industry that he believes is "hitting its stride".
"I hope we can create enough of an environment where you encourage and grow indigenous talent, where Irish directors can make their own stuff on their own terms."
Breathnach suggests this "very important moment" must be maximised by nurturing new talent. "There needs to be thought on how we can progress," he says. "A greater engagement with talent, writers, actors, would be very valuable. We have to push beyond where we are. That should be the vision."
Irish productions: 2016
The Secret Scripture (Ire)
Dir Jim Sheridan
Six-time Oscar nominee Sheridan directs this story of a woman (Vanessa Redgrave) who begins to write her memoirs following 40 years consigned to a psychiatric hospital. They start with a love story, amid the religious and political upheavals of Ireland in the 1920s. The younger woman is played by Rooney Mara. Produced by Noel Pearson and Rob Quigley for Ferndale Films, with financial backing from the Irish Film Board (IFB), Ingenious and Apollo Media, The Secret Scripture was shot at locations in Dublin and Kilkenny. Backed by Relativity Media, the film is currently caught up in Relativity's bankruptcy and its release is on hold.
Contact Ferndale Films ferndale@dublin.com
Brain On Fire (Can-Ire)
Dir Gerard Barrett
Barrett, the director of Glassland, one of the IFB-backed titles to screen at Sundance last year, returns with this story of a young woman (Chloë Grace Moretz) who finds herself rapidly descending into insanity. Based on Susannah Cahalan's bestselling autobiography, Brain On Fire is a Canada-Ireland co-production and was shot in Vancouver. It is produced by Broad Green Pictures, Charlize Theron's Denver & Delilah Productions and Foundation Features. The film has IFB funding.
Contact Mister Smith Entertainment info@mistersmithent.com
Pilgrimage (Ire)
Dir Brendan Muldowney
Set in Ireland in 1209, this mythical adventure drama follows a group of monks who escort a powerful relic to Rome. Featuring rising star Tom Holland (whose next role is Peter Parker in the untitled Spider-Man reboot), along with Jon Bernthal and Richard Armitage, the film is produced by Dublin's Savage Pictures and has funding from the IFB. Conor Barry and John Keville produce with Benoit Roland. XYZ handles international sales.
Contact XYZ Films info@xyzfilms.cm
Mammal (Ire-Neth-Lux)
Dir Rebecca Daly
Daly's 2011 debut feature, The Other Side Of Sleep, played in Directors' Fortnight at Cannes. Mammal stars Rachel Griffiths as a woman who, after the death of her son, finds herself drawn to a homeless youth played by 2015 Screen Star of Tomorrow Barry Keoghan. German outfit Picture Tree International is handling international sales on the film, one of seven Irish titles selected for Sundance this year. Mammal will also receive Film Sales Support from European Film Promotion, an initiative designed to aid the sales of European films to North America.
Contact Picture Tree International pti@picturetree-international.com
Sing Street (Ire-US-UK)
Dir John Carney
Once director Carney returns with this semi-autobiographical musical about a boy growing up in Dublin in the 1980s. The film premiered at Sundance and will open Audi Dublin International Film Festival on February 18. FilmNation presold the title to territories across Europe, North America and Asia. The Weinstein Company has taken rights for the US.
Contact FilmNation Entertainment info@wearefilmnation.com
Handsome Devil (Ire)
Dir John Butler
Andrew Scott, Moe Dunford, Fionn O'Shea and 2015 Screen Star of Tomorrow Nick Galitzine star in Butler's story about two boys forced to share a room at their boarding school. Treasure Entertainment are producing, with financing from the IFB as well as RTE and Windmill Lane Pictures.
Contact Treasure Entertainment rebecca@treasure.ie
Love & Friendship (Ire-Neth-Fr)
Dir Whit Stillman
Stillman reunites with his The Last Days Of Disco stars Kate Beckinsale and Chloë Sevigny in this period drama set in the 1790s. Filmed in Dublin in 2014, Love & Friendship is a US-Ireland co-production and has funding from various bodies including the IFB. The film premiered at Sundance, and Protagonist Pictures has already sold several international territories. A theatrical release is pencilled in for April 2016.
Contact Protagonist Pictures info@protagonistpictures.com
The Breadwinner (Can-Ire)
Dir Nora Twomey
Co-produced by Irish studio Cartoon Saloon and Canadian outfit Aircraft Pictures, this animated feature tells the story of a young Afghan girl who disguises herself as a boy to provide for her family when her father is imprisoned. The project, adapted from Deborah Ellis's internationally acclaimed novel, drew the attention of Angelina Jolie, who came on board as an executive producer.
Contact Cartoon Saloon info@cartoonsaloon.ie