Dir: Francois Ozon. Fr-It. 2009. 90mins.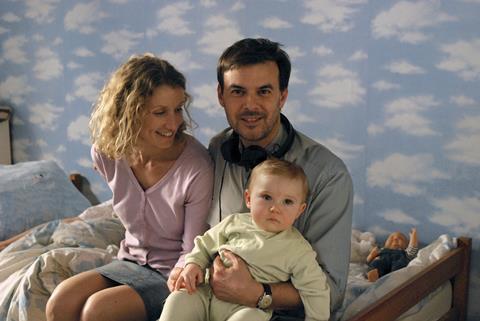 As a premise it's intriguing: a gritty working-class milieu straight out of a Dardenne brothers film grafted onto a bizarre dark-Disney tale about a baby who suddenly sprouts wings. Ricky is fresh and original and it's Francois Ozon's most commercial project since The Swimming Pool. But this flight of fancy never quite lives up to the bravura of its big idea (based on a short story by British writer Rose Tremain). Despite some solid performances, particularly Alexandra Lamy as the baby's shocked mother, the film never takes itself seriously enough as either a family or redemptive drama. For all the realistic special effects, Ozon never quite seems convinced that little Ricky is a real baby with wings.
There are some genuinely funny moments but all the while the realism of Ozon's intro is being diluted
The sheer strangeness of the hook will provide Ricky with plenty of free marketing via word-of-mouth, the online community and the media although its dreary northern French setting, frequently plodding pace and sexual frankness will limit its distribution to arthouse theatres and classy urban miniplexes. But within that demographic Ricky looks assured of much more widespread distribution, at least in Europe and North America, than Ozon's last misfire Angel.
The out-of-sequence opening scene shows fraught mother Katie (Lamy) breaking down as she complains to an off-screen social worker that she can't cope and is considering putting her baby up for foster care. We leap back to pre-baby days to see wiry, hard-up single mother Katie bonding distractedly but affectionately with her daughter Lisa (Mayance), a serious little girl who has learned to mother her mother. Katie works on an assembly line in a cosmetics factory and it's here that she meets handsome but not very reliable Paco (Lopez) during a cigarette break; the very next second they are having it away in the staff washroom.
For all the elliptical cutting, Ricky is slow-build material, but there are enough draws to maintain interest. While she's not quite the trailer trash envisaged in Tremain's short story, Lamy's Katie has a desperate but also soigne toughness that works, and her nuanced rapport with Lisa is the emotional heart of the film. The arrival of Paco as Katie's live-in lover and then the birth of baby Ricky disrupts this mother-daughter bond: but a subtle unspoken alliance builds up between Paco and Lisa too as the baby begins to monopolise Katie's attention.
As Ricky's wings bulge through the skin and turn gradually into proper feathered spans, though, the script is forced to veer more and more into comic territory in order to accommodate the marvel. There are some genuinely funny moments but all the while the realism of Ozon's intro is being diluted. TV crews following the flying baby and a posse of curious and/or appalled neighbours are rent-a-crowd cliches. Some viewers will be so rapt by the weirdness of the allegory that they'll forgive these lapses; but even they are likely to admit that the reconciliatory, cathartic family hug that (almost) closes the film feels trite and forced.
Philippe Rombi's orchestral score is fine in its own right: the problem is the way it's used - to slap undertows of menace on scenes that would otherwise have no hint of it. And Ozon's regular DoP Jeanne Lapoirie does a good job of conveying the grind of low-budget life on an Amiens housing project, though he seems a little ill at-ease with some of the flying-baby footage.
Production companies
Eurowide Film Production
Foz
Teodora Film
International sales
Le Pacte
(33) 1 4469 5955
Producers
Claudie Ossard
Chris Bolzli
Screenplay
Francois Ozon
Emmanuele Bernheim
From the story Moth by Rose Tremain
Cinematography
Jeanne Lapoirie
Production design
Katia Wyszkop
Editor
Muriel Breton
Music
Philippe Rombi
Main cast
Alexandra Lamy
Sergi Lopez
Melusine Mayance
Arthur Peyret