The director talks about what it took to bring the latest Raymond Briggs story to the big screen ahead of the AFM and this weekend's launch in the UK through Universal.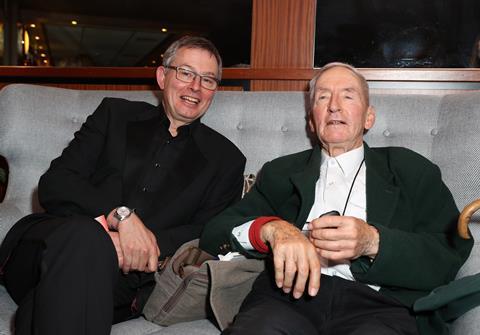 The idea, Mainwood explains, was first presented to him nearly a decade ago after Briggs overcame initial reluctance to adapt a "deeply honest and personal work".
Ethel & Ernest premiered at the BFI London Film Festival earlier this month and features the voices of Jim Broadbent, Brenda Blethyn, Harry Collett and Virginia McKenna, among others.
Lupus Films produced in association with Ethel & Ernest Productions, Melusine Productions and Cloth Cat Animation with support from the BFI, BBC, Film Fund Luxembourg, Ffilm Cymru Wales and the Welsh Government.
Production took place in England, Wales and Luxembourg and Camilla Deakin and Ruth Fielding of Lupus Films served as producers. Ethel & Ernest heads to the AFM next week, where The Little Film Company handles worldwide sales. Robbie Little is among the executive producers.
Tell us about the history of this project
The idea of adapting Raymond Briggs' graphic novel for the cinema was first presented to me in 2007. It was producer John Coates' idea. He was head of the TVC animation studio in London which had adapted three other Raymond Briggs books into films. They were the immensely successful half-hour TV specials The Snowman (1982), and Father Christmas (1991), as well as the feature film When the Wind Blows (1986). John unfortunately passed away in 2012, but he saw the project through script, storyboard and animatic stage and died knowing it was developing well. Producer Camilla Deakin of Lupus Films then took the project over. Camilla was involved with the film already but now had the task of getting all the finance in place and completing the production.
Why has it taken so long to adapt? The book came out in 1998.
The book is the story of Raymond Briggs' parents and is a deeply honest and personal work. So initially Raymond was reluctant to allow others to adapt it. But John Coates was very good at doing business over long lunches, and when Raymond saw that many of the crew that had made his earlier film adaptations would be involved in Ethel & Ernest he gave it his blessing.
Did Raymond have any stipulations?
Raymond did ask to be an executive producer on this adaptation, which he hadn't been on any of his earlier films. We collaborated closely on the script and storyboard stage of the production, and occasionally he would pick me up on a phrase of dialogue that I had put in that didn't feel quite right to him. Once the animation was underway though Raymond stood back, but offered us encouragement all the way. I am relieved to say that he is very delighted with the end result.
How long did production take on this?
Once the finance was in place it took us just over a year-and-a-half to complete the film. That is from design work through to the end of post-production. The actual animation period was about nine months and at the peak of production we had 112 animators and assistants working on the film.
Tell us about the great voice cast
We managed to gather together some of the UK's finest acting talent for this film. Leading the cast in the title roles were Academy Award winner Jim Broadbent as Ernest and Academy Award nominee Brenda Blethyn as Ethel. They have played husband and wife before on the stage and are good friends and love working together. So they were a perfect fit for the roles.
A brilliant young actor called Harry Collett played our young Raymond. Olivier Award winner Luke Treadaway played the adult Raymond with great sensitivity. There was also a stellar cast playing the cameo roles in the film: Roger Allum played the doctor who delivered Raymond into the world, and screen legend Virginia McKenna, perhaps best known for her 1966 film Born Free, was Ethel's posh employer.
You worked in the animation department on The Snowman years ago. What is it like collaborating with Raymond?
It's always a delight working with Raymond. He likes to portray himself as a grumpy curmudgeon and he can play that role very well. But it is of course all for comic effect, as he is nothing of the sort and is the most kind and sensitive soul you could imagine. This comes across in all his work but perhaps most vividly of all in his book about his parents. It was an honour to have been entrusted with making it into an animated feature film.