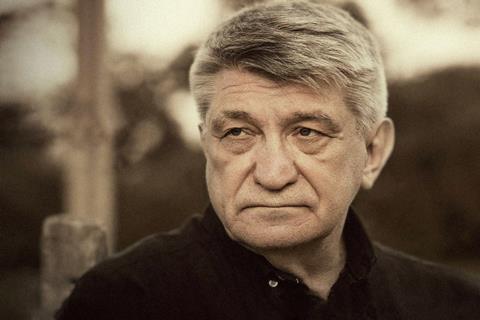 Alexander Sokurov's Fairytale world premieres in competition at the Locarno Film Festival this weekend but the Golden Lion-winning director, a towering figure in contemporary Russian cinema, has only just discovered that he will be allowed to travel to the screening.
"This question will soon be answered by Russian and Estonian border guards. I'm interested in it myself… Both the first and the second are very angry and nervous people," the director replied when asked about his travel plans by Screen earlier this week.
Since then his festival publicist has confirmed today (Friday) that he is safely across the border and en route to Switzerland.
When Sokurov tried to visit Milan in June for an arts conference, he was prevented from leaving the country by Russian border guards, who confiscated his passport. It's not clear why – he claimed at the time it was due to his criticism of the war in Ukraine – but the 71-year-old director, whose credits include Russian Ark, Faust, Moloch and Mother And Son, occupies an ambivalent position in contemporary Russia.
On the one hand, he is revered and is a "People's Artist of the Russian Federation". On the other, he has been critical of Putin and was caught in a very public spat with the Russian president last December at a meeting of the country's Human Rights Council. Putin reprimanded him directly for remarks Sokurov made about Russia's "very complicated" foreign policy.
Fairytale is likely to take audiences expecting an earnest arthouse film by surprise. Its main characters are Hitler, Stalin, Mussolini and Churchill, who are stranded together in a monochrome purgatory. Napoleon also puts in an appearance, as does Jesus Christ.
Sokurov has recruited actors to voice their words (in their own languages) but uses real-life imagery of the dictators and political leaders. Hitler is voiced by Lothar Deeg and Tim Ettelt while Stalin is voiced by Vakhtang Kuchava, Mussolini by Fabio Mastrangelo and Churchill by Alexander Sagabashi and Michael Gibson.
The film plays like a cross between one of Terry Gilliam's Monty Python sketches and Dante's Divine Comedy. "Get up, you idler, get dressed," Stalin taunts Jesus, who is lying on a bed in pain, at the start of the film.
Sokurov originally hoped to screen Fairytale, which was produced by Nikolay Yankin, in Cannes but the film wasn't selected. "It seems to me that Cannes was afraid of the Fairytale," he claims. "A few hours before the screening the Cannes directorate cancelled the session. Did this situation surprise me? Well, no. My previous work Francofonia has the same fate in Cannes.
"It's a strange place. At least now I know for sure – I am very disliked in Cannes. First, as a director, then as a Russian… Or vice versa?"
Boycotts and urinals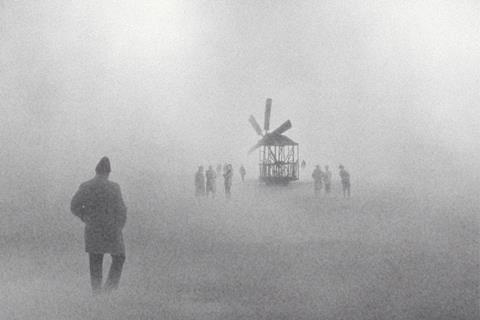 The tone of the new film is very different to that of Sokurov's sombre "men of power" biopics: Moloch (1998) about Hitler; Taurus (2001) about Lenin's last days; and The Sun (2005), following Emperor Hirohito at the end of the Second World War.
At times, Sokurov seems to be lampooning the dictators in Fairytale. Stalin is forever dabbing at his nose. "Have you the snots?" a fellow dictator asks him. Looking around heaven, Stalin admits it is beautiful but says "the Kremlin is better."
Churchill, meanwhile, frets that he has lost his darling Clementine, while Hitler is consumed with regret that he didn't burn London properly when he had the chance. He is also keen to tell Stalin that he is a skunk and that he "smells of sheep".
At one stage, Sokurov thought of calling the film Laughter And Tears. Between scenes of the dictators clowning around, we are given hints of the immense death and destruction they have left in their wake.
"Technically, it was difficult. We had extremely modest financial resources. We could not buy expensive computer programmes; we used those that were publicly available," the director says of the painstaking CGI work which went into the project.
Replying to Screen's questions over email, Sokurov insists that the film is not intended as an allegory about today's political leaders. "No, there was no reference to modern politicians. And there is not," he writes. "Modern politicians can't compete neither in height nor in 'beauty' with my 'heroes'. Modern politicians have too many petty vindictive memories and insignificant life experiences. There are even happy personalities among them. A great leader is always unhappy."
Asked why urinals feature so prominently in the film, the Russian director replies in typically enigmatic and ironic fashion: "Strange question: urinals are loved by dictators and politicians. The fear of voiding is the eternal fear of a politician."
What is his response to calls from Ukrainians for the boycott of Russian films at major festivals? He answers with a question of his own: "How could it be otherwise?"
Nor will Sokurov be drawn on whether he regards Churchill as an equivalent to the 20th-century dictators in the film. "Churchill? Churchill… He has such beautiful cigars! He's such an English Englishman. Like no one else. There are no more such Englishmen."
Churchill, though, is the only one in the film who gets to meet God, suggesting that perhaps Sokurov does put him on a higher plane than the others.
Producer Alexander Rodnyansky has paid tribute to the work that Sokurov has done in recent years mentoring and encouraging younger Russian filmmakers like Vladimir Bitokov and Kira Kovalenko whose work has been feted in Venice and Cannes. Sokurov acknowledges his excitement about the new generation of Russian filmmakers with a military metaphor.
"It always inspires me when young fighters appear in the cinema. Thanks to Rodnyansky that he periodically takes young fighters into his detachments, distributes weapons to them…"
And, no, the director isn't in the mood to discuss his future projects or to reveal whether he will continue making films in a similar vein to Fairytale. "I never make films that are similar to one another. Fairytale is a completely original idea – both in form and in content. We created a film that no one but us could either invent or shoot.
"The film of a Russian guy," he concludes.