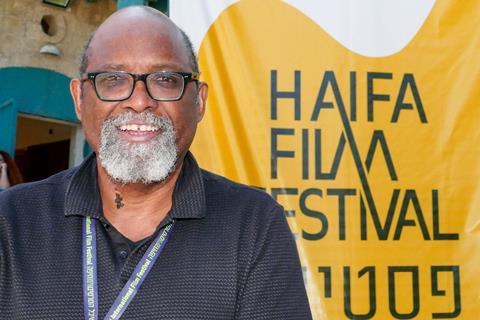 US editor Sam D. Pollard is perhaps best known internationally for his collaboration with Spike Lee on titles such as Bamboozled, Jungle Fever and documentaries When The Levees Broke and 4 Little Girls, for which he was Oscar-nominated.
But beyond his 50-odd editing credits, New York-based Pollard is also a respected documentary maker and producer in his own right.
His latest documentary Sammy Davis Jr.: I've Gotta Be Me is a "warts and all" portrait of the legendary star through the prism of racial politics in the US that impacted his life and legendary show business career at every stage.
The fast-paced tribute intercuts the recollections of stars such as Billy Crystal, Jerry Lewis, Whoopi Goldberg and Kim Novak with a "treasure trove" of archive material to capture his rise from Harlem-born child performer to member of the Rat Pack alongside Frank Sinatra and Dean Martin and his solo entertainment career later on.
At the same time, it delves into what it meant to be a black performer in the predominantly white business show business scene of the time, touching on episodes such as the studio veto on his inter-racial relationship with Novak, the death threats and John F. Kennedy snub he received for his marriage to Swedish actress May Britt as well as his complex relationship with the black community.
The feature documentary was commissioned for the award-winning PBS series American Masters and produced by American Masters Pictures in co-production with ZDF and ARTE, with Sally Rosenthal and Michael Kantor taking producer credits.
Screen International caught up with Pollard at the Haifa International Film Festival over the weekend where he showed the film, in its first festival date since its TIFF premiere, and gave a master-class. The films heads to the Chicago International Film Festival this week and will also get a limited US release to qualify for Academy Award consideration.
What drew you to the project?
I grew up watching Sammy Davies Jr. perform on The Ed Sullivan Show, Hollywood Palace and All In The Family. I'd always loved him as a singer and a dancer and I loved seeing him with the Rat Pack. It was an opportunity as a director to dig into his life and see how complicated it was and how he used his skills as an entertainer to break down the barriers of segregation in America.
How did you research the film and build up your portrait of Davis?
This was a gentleman who never said no to anything, any organisation, any television show. He was everywhere. We had a treasure trove of material as well audiotapes from his personal archives and photos he took too. But it wasn't only about clips. I read all the books about and by Sammy as well as all the articles out there too. I also listened to all his songs from the 1950s up until the 1980s, so I could understand the music he liked and what he was trying to say with those songs. And I watched all the films.
When you boarded the film two years ago, did you think it would end up being so relevant to the US today?
The sad thing is that this racial history in America never goes away. It has never gone away. When I was 15 in 1965, I thought maybe with the Voting Rights Act, the Civil Rights Act and the March on Washington, America would be a different place.
Well here I am now at 67-years-old and in the past couple of years, I've watched these young black men being shot. I went to a family reunion in Mississippi, flying into Jackson and renting a car to drive further south. For the first time ever, I put the rental contract on the passenger seat, rather than in the glove compartment. All those images I've seen of these kids being killed… it makes me nervous and I'm not a young man.
Many of the productions you have worked on focus on African-American issues or figures. Is that a conscious choice?
"When I first started editing I would say, "I don't want to be known as a black editor. I don't want to work on black films, I just want to work on films, don't pigeon-hole me."
Then I worked with a producer on a film about Chicago blues. He was black and I was sitting with him in the editing room every day. He kept telling me about the importance of telling our stories as a person of colour and it finally dawned on me, maybe I should be thinking about telling my stories as a black man, as an African American and I came around.
Up until that point I'd drunk the Kool-Aid on the melting pot. I forgotten about being black, I just wanted to be American, but you can't just be American. We all belong to tribes. I've done documentaries about John Ford and John Wayne – I love them too – but if I am given an opportunity to make a film about my people, my experience, I treasure that.
You've worked a lot with Spike Lee. What was that like?
I always say this about Spike Lee. Spike Lee is a great filmmaker. It doesn't mean all his films are great. What I mean by "great filmmaker" is that he has a vision, like Scorsese, Woody Allen, Truffaut, Godard or Wong Kar-wai. On all the films that I worked with him on over 20 years, it was fascinating to see how he sees things and his perspective about life.
It's one of these relationships which is extremely intense. All he thinks about is making his film. People ask me, "Are you and Spike Lee friends?" I say that after 20 years of working with Spike we're not friends. We collaborate and I respect his work, but we've never gone out and had drinks or lunch but we always work well together in making a film because he has a unique vision.
What projects are you working on as a director now?
I've just directed a documentary called Rigged about voter suppression and voter fraud in America, bankrolled by [Steven] Mac Heller, who is passionate about the subject. It's with October Films. We've just sent off the rough cut to Sundance. I'm also co-directing Mr SOUL!, about the ground-breaking show fronted by Elvis Haizlip, which ran on public television from 1968 to 72, featuring artists like Harry Belafonte, James Baldwin, Stevie Wonder and Nikki Giovanni. I'm also trying to get a documentary about the jazz percussionist Max Roach off the ground and am attached to my first fiction feature about Bert Williams, another black face pushing boundaries as an entertainer in the early 20th century.