José Luis Rebordinos, director of the San Sebastián International Film Festival (September 17-25), reveals why finances will be tighter at his second pandemic edition, striving for gender equality and his surprise at the level of backlash to honouring Johnny Depp.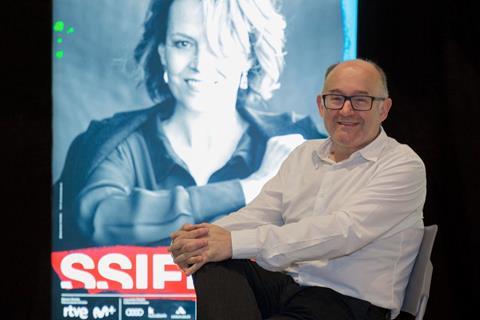 One year after hosting the festival during the Covid-19 pandemic, how have you prepared for this year's edition?
Covid is still complicating matters. Most of the measures are still in place: there won't be parties; the red carpet will only be for photographers and TV cameras; mask wearing will be compulsory indoors; and occupancy is limited. What makes the difference this year is the percentage of the population that is fully vaccinated. This significantly reduces concerns in terms of critical threats to health. This, plus the same safety strategy we adopted last year [mask wearing and pre-assigned seating in the theatres] will make the festival a safe environment.
In terms of screenings, we have had to plan for a 50-60% occupancy in theatres. Compared to last year, though, we have a higher percentage of professionals and guests attending – about 75% compared to last year's 40% – so the number of tickets available for the regular audience will be smaller.
What has been the financial impact of the pandemic on the festival?
Last year, the impact of the covid restrictions on the festival's box office was €600,000 ($705,800) due to occupancy restrictions and €700,000 ($823,500) in sponsorship. But there was also a reduction of expenses in number of venues and invitations [comprising flights and hotel fees] so it balanced out. This year it will be tighter due to a higher number of talent and professionals attending.
What would you highlight in the competition line-up?
I think this year's official selection is a good example of what we aim for: a balance between well-established authors, like Zhang Yimou, Terence Davies, Lucile Hadzihalilovic or Laurent Cantet, and new names. There are three first films in competition: Blue Moon by Alina Grigore, As In Heaven by Tea Lindeburg and Fire On The Plain by Zhang Ji. We also have a very strong Spanish line-up and I'm very happy to see with the competition titles that we have almost reached a 50% parity, with seven titles directed by women and eight directed by men. Last year, a first film by a woman – Beginning, directed by Dea Kulumbegashvili – won the Golden Shell for best film. Kulumbegashvili will preside over the jury this year.
What is the role of film festivals in reaching a gender balance in the industry?
It's obvious the access of women to the industry is still a work-in-progress and we have to do whatever we can to push for change, festivals included. The fact that so many women have won main awards on the festival circuit this year is a good sign but there is still a lot of work to do. Some key aspects include parity in the selection committees and help in channelling new talents. An example of that at San Sebastian stretches to the co-production forum, the students' section and the New Directors line-up, where we are particularly sensitive to attaining parity – aiming for a change now and also the films to come.
The announcement that Johnny Depp will receive the honorary Donostia Award has been controversial. Why did you decide to give him the award and to what extent did you anticipate the reaction?
We anticipated a debate, a reaction, but maybe not as heightened as it has been. But let's bear in mind Johnny Depp has not been arrested, charged nor convicted of any form of assault or violence against any woman. I have nothing else to add. It's not my place to judge what he is like in life, the same way I don't know if historically the award has been given to people with an immaculate personal life. The award is given to honour a professional career.
All I can say about Johnny Depp is that he has been a pleasure to deal with as a professional, like when he came last year as producer of Julien Temple's Crock Of Gold: A Few Rounds With Shane MacGowan, and that he is an extremely talented actor, something he has proved from his work with Tim Burton to the Pirates Of The Caribbean saga, from his work with Marlon Brando and many other great names in the film industry to interesting choices as a producer. We started thinking about honouring him with a Donostia award a few years ago and when we got to meet him last year, we started discussing it more specifically.
San Sebastián is a festival that has not shied away from selecting productions by streaming platforms. What can you say about this?
We select according to what we like, not who is producing or the format. It can be features or series, such as Alejandro Amenábar's La Fortuna [playing in official selection, out of competition]. The same goes for producers, they can be independent companies or streaming platforms.
This edition of the festival includes the first Netflix production in competition, Fever Dream by Claudia Llosa. In parallel sections there are two further Netflix productions: Jane Campion's The Power Of The Dog and Paolo Sorrentino's The Hand Of God; as well as Apple TV's documentary The Velvet Underground by Todd Haynes. Spanish streamer Movistar+ is behind Amenábar's La Fortuna and we are delighted to have him back at the festival, the same way we included Rodrigo Sorogoyen's Riot Police last year.