The Romanian director explains why he drew on Western, crime and horror tropes to creates an unorthodox love story.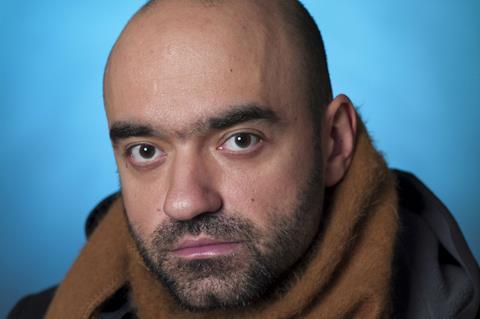 Romanian filmmaker Florin Șerban's fourth feature Love 1. Dog, the first in his planned series of films about love (Love 2. America is already in post-production), made its world premiere in Sarajevo's feature film competition on August 13. The story, set on a remote mountain in an undefined era, sees a forest ranger, played by Valeriu Andriutã, and his dog rescue a woman, played by Cosmina Stratan, who has been seriously hurt.
Why did you decide to tell this story in this way and how did you raise the financing?
It is not interesting for me to do films that are not personal. There is too much work involved in projects like this and if it's not personal, it's not worth it. I must say I like this movie, it represents me better than my other films - who I am, how I perceive narrative, the types of narrative and visual style that I'm interested in. And I put myself in both characters in equal measure, in him and in her. And this was a challenge to me.
I wrote it in the same vein that I want to write other films in this series: two characters in a remote location, without a defined period in which it is happening. Love 1. Dog is probably taking place before the WW2 but this is not defined.
If we are making films that don't depend on private equity money, we should be more courageous and make the viewer think and feel. I didn't want to deal with these co-production structures and funds, I just wanted to make a film. So I first chose the DoP [Polish cinematographer Marcin Koszalka] I wanted to work with and only then we applied to the Polish film fund [via the Polish Film Institute].
How did you structure the script, with various genre elements?
I wanted to bring a bit of this Western kind of structure. In his mind, the hero is setting the world right, trying to find the men who did wrong to this woman. But I do not follow through with this, it is like a fake path. I am more interested in the relationship, how he perceives her and the other way around, and I had this idea that every part of this series should deal with a different type of love. This is about one that originates in the body, exactly where we say that fear originates - in the guts. This is what I wanted to play with. Fear and love, two emotions that are very basic and come from deep inside.
How hard was it to film in this remote place?
Logistically, it was a challenge. I scouted this place and we built the cabin from ground up, there was nothing there. It was also a challenge to shoot there, and those scenes on the mountain were difficult, but I think most of the crew enjoyed it. Maybe not as much as I did, but I like this type of challenge that puts you on the edge, not just emotionally but physically too.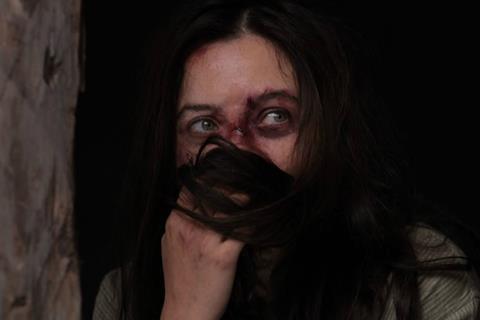 I like shooting. I like writing and editing, the whole process. But I tremendously enjoy shooting. It's an orgasmic experience for me.
How did you cast the actors?
I don't cast with faces in mind. I cast with the emotion in mind. Valeriu was the one who could bring the emotion that I wanted, the awkwardness and the uneasiness.
Then I went for the actress. Obviously Cosmina was the one who could bring that emotion with Valeriu to the surface. The only thing that kind of with held me back was that they played together in a film before, Beyond the Hills. But it was the two of them that really brought this emotion, so I decided to use them.
Why does the score have a bit of a horror tinge?
We worked on the music before we finished the film. And certain shots make you think, 'This is going to go wrong. He is going to kill her and eat her'. If you are a viewer that pays attention, these emotions stay with you and they construct a character little by little. You realise he can do something to her, but he is actually a soft guy. This kind of tension is what I like to play with.
How do you feel about modern cinema, and where do you think your kind of filmaking fits within it?
I saw a documentary on Chantal Akerman. She said something that really stuck with me: that people complain her films are slow and hard to watch and that they feel the time passing. She said that it's good to feel the time passing. I thought, she's right. If I don't want to feel time passing, why would I go to the cinema? I might as well get high and drunk, and waste the time. I don't have to go to a movie to pay money not to feel how time passes. I have a 14 year- old son, and I go with him to see blockbusters. They are entertaining and engaging and I really don't feel time passing. And I lose my time, two and a half hours of my life. I want to feel how time passes, I want to learn and feel something. For instance, an Iranian film about someone who is trying to achieve something. And I experience time passing with that person that I have nothing in common with. That's an invaluable experience.