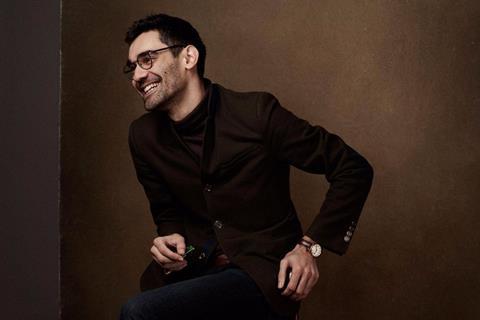 Azerbaijani filmmaker Ru Hasanov's second feature, The Island Within, tells the story of an international chess grandmaster from Azerbaijan, played by Orkhan Atam who gets a chance to challenge the reigning world champion.
He is coached by his strict and deeply traditional father (Vidadi Hasanov) who puts a terrible pressure on him and he finally reaches a breaking point after his beloved grandfather dies. He runs away to a remote island with only one inhabitant. The film make its world premiere in Sarajevo's feature competition.
What inspired you to make this film?
It all started with an article in The New York Times I stumbled upon, titled 'A Father's Pawn' by Fred Waitzkin. It was about an uneasy relationship between a chess prodigy from Tatarstan and his father, who also happened to be his coach. It resonated and stuck with me, but not as yet another father-son story. I kept thinking about the metaphysical and mythological elements to the narrative – Saturn devouring his son, Antaeus, John Donne's poem "No Man Is an Island"…
And then my father showed me an article about the island of Kurdili, an ex-Soviet farm with herds of wild horses and a single resident, who lived there in complete solitude. These two ideas clashed and gave birth to what became The Island Within.
What was the biggest challenge when you were making it?
I am sure a quite a number of my colleagues from every corner of the world can relate when I say that there are times when the established vision formed inside the director's mind is inversely proportional to the allocated budget. Those are the painful moments when you feel like Houdini, who is being handcuffed and sealed inside an oversized milk can filled with water and has to find a way to make a grand escape. However, looking back at the production process, I now feel that maybe the occasional financial constraints led to spontaneous creative decision-making on the spot, which, I want to believe, added some film magic to The Island Within.
Tell me a bit about the music in the film - there is not a lot, but the few times you use it, it is very effective and evocative.
To be honest, I think I started making films to compensate for not being able to make music. I am a music nerd to the backbone, but I find it very challenging to use it in a film in an organic fashion. In Chameleon, for instance, my co-director Elvin Adigozel and I decided not to use it at all.
But here we had this image of a thread that guides you throughout the labyrinth and helps you get back on the right path when feeling lost, mirroring our protagonist. We discussed this concept with our incredible composers Farhad Farzali and Katya Yonder and they came up with this motive, which captures this theme of discovery, nostalgia for childhood and feeling of inner freedom, hitherto unseen. This feeling of surprise from all the sudden lightness and neglect. As for the music in the finale it is a cover of the famous Azerbaijani folk love song "Gül Açdı" (literally, 'Flower Blooms').
What do you know now that would have helped you to know earlier in your career?
So much, really, I wouldn't even know where to start. But it's the time-travellers paradox, isn't it? Telling something to my younger self would definitely alternate the future and thus, I wouldn't be the person I am today. All the ups and downs, the traumas and challenges I had to overcome are now a part of me and I take pride in that.
Do you have any first-day rituals on set?
Similar to the old naval tradition of breaking a sacrificial bottle of champagne over the bow, we have a tradition to write down the names of the cast and crew on a large plate and shattering it for good luck on the first day of filming. I'm not very superstitious, but I appreciate the idea of a ritual unifying everyone involved in the process.
How have the last few months been for you and how do you feel about online screenings where you lack a direct contact with the audience?
The last few months have been very busy, but at the same time, exciting and full of pleasant surprises. Thankfully, the technological advancements allow us to communicate in real time across thousands of miles and I will fully take advantage of this in order to be closer to the Sarajevo audience I'll have the honour and pleasure of sharing The Island Within first.