CineLink is Sarajevo's industry strand, running from August 11-16. Screen spoltights six rising talents participating in this year's event.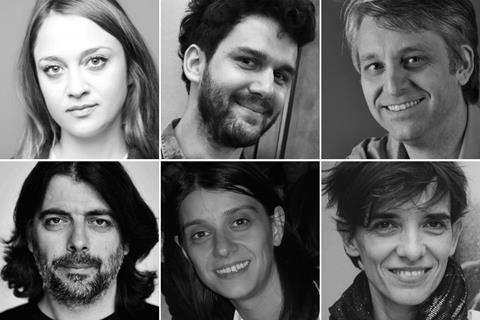 Ivana Mladenović
Born in Serbia and living in Romania, Mladenović is a filmmaker, writer and actress. In 2012 she received the Heart of Sarajevo for her documentary Turn Off The Lights and in 2016 she starred in Radu Jude's Locarno prize-winner Scarred Hearts. Her first directorial feature Soldiers. A Story from Ferentari, which she co-wrote with Adrian Schiop, premiered at Toronto in 2017 and portrayed a marginalized queer couple in Bucharest's Roma slums.
Mladenović is now taking part in CineLink Co-production Market with Summer Night, Half Past Ten, about a Serbian actress living in Romania who returns to her hometown by the Danube to receive a distinction from the City Hall. Trouble begins when she becomes the representative of an ethno music festival celebrating the Serbo-Romanian friendship, has a secret affair with a much younger man and brings her eccentric Romanian friends for a musical performance. Mladenović and Schiop have again co-written the script.
The project is a co-production between Romania's Hi Film Production and Serbia's Baš Čelik. It is now in pre-production and stars Mladenović witha supporting cast of non-professional actors.
Igor Bezinović
Croatian filmmaker Igor Bezinović's debut feature, the docu-fiction A Brief Excursion made its debut at Rotterdam in 2017 and went on to win the Golden Arena for best Croatian film at the country's national Pula Film Festival.
He is now at CineLink with his new project, Fiume O Morte!, another hybrid mixing historical fact, fictional drama and documentary reconstructions. It is a story about how, in the aftermath of the First World War, Italian poet D'Annunzio conquered and declared the city of Fiume (Rijeka) as his independent micro-state which soon made the small town the most liberal place in the world. The film is being co-produced by Croatia's Restart, France's La Bête and Slovenia's NOSOROGI.
Vuk Ršumović
Ršumović is a Serbian writer-director whose first feature film No One's Child screened in Venice Critics Week in 2014, scooping the main prize, as well both the Fipresci and Fedeora awards.
A well-established writer, Ršumović is now developing the highly anticipated TV series Anatomy Of A Crime at both CineLink Drama and MIDPOINT, together with co-writer and co-creator Ana Tomović, through Serbian companies BaBoon Production and Work In Progress. This courtroom drama is inspired by a real event from 1969, when a pregnant woman in an isolated village community in the Bosnian mountains was murdered in the woods and her unborn baby was removed from her womb.
Gentian Koçi
Albanian filmmaker Gentian Koçi's first mid-length documentary Not A Carwash screened to critical heat at Hot Docs and Sheffield Doc/Fest in 2012. His first feature Daybreak debuted at Sarajevo last year, and garnered its lead Ornela Kapetani the Heart of Sarajevo for best actress.
Koçi is now at CineLink Co-Production Market with A Cup Of Coffee And New Shoes On, an intimate chamber drama about two identical, inseparable deaf-mute twin brothers in their forties who discover due to a genetic disease they will separately, but progressively and irreversibly go blind. The project is a co-production between Albania's ARTALB Film and Greece's Graal Films.
Vesela Kazakova And Mina Mileva
Two Bulgarian filmmakers who always work together, Kazakova (with a background in production and acting) and Mileva (a graduate of animation directing) are known for the politically charged documentaries Uncle Tony, Three Fools and the Secret Service (2014) and The Beast Is Still Alive (2016). The films earned them the nickname "Demonic Duo" at home because of their uncompromising exploration of corruption and government structures in their country.
Kazakova and Mileva are now at CineLink Work in Progress with their first fiction feature Cat In The Wall, about a Bulgarian single mother who aspires to make it as an architect in the UK while working as a waitress. A lost cat acts as a catalyst for the unfolding conflict between migrants and their UK working-class neighbours living on the social welfare system. The project is a co-production between Kazakova and Mileva's own company Activist38, UK's Glasshead Limited, France's Ici et Là Productions, and the Bulgarian National Television.