For Netflix-backed Outlaw King, which stars Chris Pine as Robert The Bruce, Scotland was the only choice of location — and it delivered rich rewards.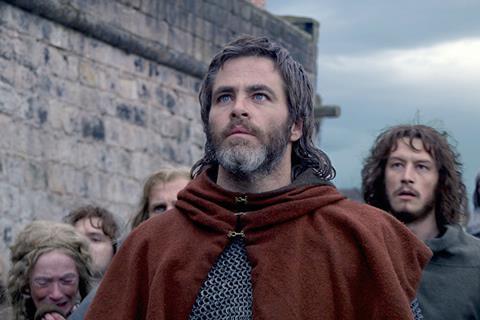 David Mackenzie's Netflix-backed Outlaw King, starring Chris Pine as Robert The Bruce, is not only one of the streaming giant's most ambitious productions to date, but is one of the biggest projects ever to shoot entirely in Scotland. It tells the story of the Scottish king who routed the 'auld enemy', the English, at the Battle of Bannockburn in 1314. Bannockburn does not actually feature in the film, but an earlier victory against the English, at Loudoun Hill in 1307, marks a key moment in the drama.
"David [Mackenzie] said to me about seven years ago, 'I think we should do a Robert The Bruce project,' so I went off into the marketplace to see if there were any scripts kicking around," recalls producer Gillian Berrie of Sigma Films, the Glasgow-based production company she formed with Mackenzie in 1996. Eventually, she found a promising screenplay written several years before, by Scottish writer James MacInnes.
At the time, Mackenzie and Berrie had just made bruising prison drama Starred Up. "We were operating at a much lower budget level. We knew we had to do something slightly bigger before taking on The Bruce," Berrie recalls. That is when they made the Oscar-nominated Hell Or High Water, starring Pine and Jeff Bridges, and its success gave them the credibility to push on withOutlaw King.
It was a matter of principle for Berrie that Outlaw King should be shot in Scotland. "We were so blessed with the weather," Berrie exclaims of the summer filming schedule. The production shot for 15 weeks, and was rained off just once.
Open arms
Based out of Glasgow, the production moved extensively across the country, from Mugdock Country Park to Scone Palace, Pyramids Business Park in Bathgate near Edinburgh — which was the base for Danny Boyle's T2 Trainspotting — Doune Castle, waterfalls in the Highlands, Aviemore and the Isle of Skye. With support from Creative Scotland and Visit Scotland among other organisations, as well as from the Scottish government, shooting was, says Berrie, "remarkably straightforward".
"Anything that was likely to present us with an issue quickly evaporated. It was open arms," the producer declares.
The crew was predominantly Scottish, with expertise brought in from further afield when needed. Production designer Donald Graham Burt, for example, celebrated for his work with David Fincher, was from the US — but Berrie jokes that his name suggests he was probably of Scottish heritage anyway.
Pine, reunited with Mackenzie after Hell Or High Water, relished being on location in Scotland and was reputedly delighted that the country had such fine restaurants. "It was a really, really hard, long shoot… but people loved it," Berrie enthuses.
The film ends with the Battle of Loudoun Hill, where Robert The Bruce figured out his tactics and found a way of winning against vastly superior forces. "The battlefield was something to behold. They [the cast] were on that battlefield for weeks on end… it was very hard to get them off, they were having such fun," Berrie remembers. "When you approached that field, you could feel the adrenalin. It was an anti-fantasy film, full of a visceral realism, which is quite extraordinary."
Might there be a sequel? Berrie says that the idea should not be discounted. "It's such a rich period in history. It just keeps on giving."
Outlaw King is on Netflix now.


The UK. First for world-class film and television production. The British Film Commission provides free, tailored support, from development through to delivery.