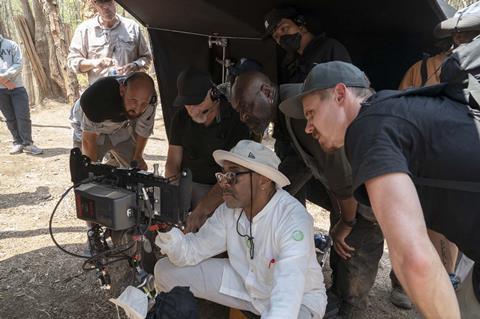 Filming Spike Lee's Da 5 Bloods for three months on location in Vietnam and Thailand called for cinematographer Newton Thomas Sigel to rely on his documentary skills.
Looking to create an authentic period feel, Vietnam War news footage inspired Sigel to shoot in 16mm Kodak Ektachrome Reversal Film for flashback scenes set in the jungle, using a handheld camera, while he shot digitally for present-day footage. He also shifted between three different aspect ratios — no small feat, he says, even for a DoP whose diverse body of work ranges from Nicolas Winding Refn's Drive and Bryan Singer's Bohemian Rhapsody to the Russo brothers' awards contender Cherry, starring Tom Holland.
Da 5 Bloods features the late Chadwick Boseman in the role of missing commander Stormin' Norman, and a group of black veterans led by Delroy Lindo who return to the jungles of Vietnam in search of his remains.
How did you get involved with Spike Lee and this project?
I've known Spike for quite a while, I've made commercials with him and I always coveted the idea of being able to do a movie together. He asked me if I would like to do this movie, so here's my dream come true.
What was your reason for using three different formats?
We devised the film with three phases, each with its own colour palette and aspect ratio. There's a clean look in 2.39:1 for contemporary Ho Chi Minh City, the 1.85:1 frame with saturated greens and yellows for the jungle landscape, and then the 16mm Ektachrome in 4:3 for flashbacks of the Bloods during the war.
The idea of the aspect ratios and shooting 16mm colour reversal was something I suggested, based on what newsreel footage looked like at the beginning of colour tele­vision, with vivid saturated colours. Spike took to it immediately.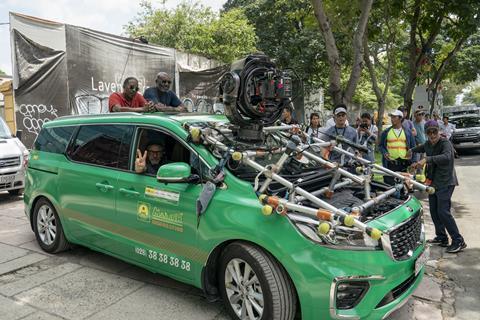 What cameras did you use?
The film was done with two cameras: Arri Alexa LF while in Ho Chi Minh City, and the Arri Alexa Mini in the jungle. A Super 8mm camera was operated by actor Norm Lewis, who captured coverage during the travelogue scenes.
Were there delays because of the film processing at labs in Los Angeles?
The complexities are a hundred times more difficult today than they once were, in part because the infrastructure that supports film is fading fast. We had to find a small boutique lab in Burbank [Spectra Labs handled the 16mm processing] and courier the film so it wouldn't get X-rayed, and they had to turn it around and transfer it digitally so we would get it back to editorial in Thailand and Vietnam. The process took so long that by the time we saw our first images of Chadwick, he was about to leave on the plane.
What was it like to work with Chadwick Boseman?
We were blessed to have him. No-one knew he was sick. In Thailand, I remember one night I was walking to my cabin and I heard a conga drum — a beautiful rhythm. There was a cabin with a small window open and inside was Chadwick, playing. I've always thought of him as introverted and thoughtful. I watched him for several minutes. That image is burnt into my brain.
What trends in cinematography are exciting to you?
A lot of the lovers of celluloid have bemoaned its demise but the truth is that today cinematographers have so many more tools than we had when I began. Digital tech­nology opens up so many other ways to impact and manipulate images. VFX, which was once called opticals and seen as something expensive and exotic that you did only when you absolutely had to, are done on even the smallest budgets.
On movies, the digital inter­mediate, where we can colour-correct and change the look of the original capture, opens up a world of possibility for a cinematographer. And just like aspect ratio is no longer a limitation, two hours is no longer a limitation. If people think they have a story that's better served over seven or eight hours, or four or five hours, that's a possibility.