Screen International critics pick their top five films of the year, plus the best doc and a hidden gem.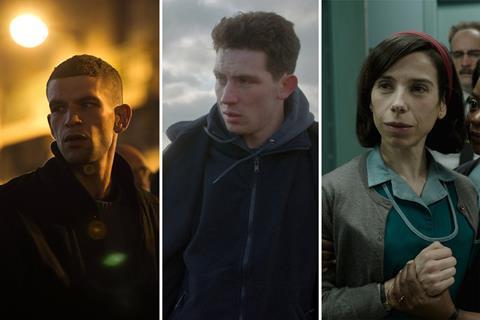 Fionnuala Halligan, chief film critic
Top film: The Shape Of Water (Guillermo del Toro)
Guillermo Del Toro's open heart and the sweet honesty of his creature fable provided a fluid refuge from the tension of the year. Del Toro has the craft and the storytelling genius, clearly, but he lights this one up with love for all his outsiders, drawing superb performances from Sally Hawkins and Richard Jenkins. So many elements impress but the fact that, in 123 minutes, every character gets a life, a soul and a moving trajectory gives The Shape Of Water an emotional surge that just can't be stoppered.
Click HERE for Finn's top five films, best documentary, and undiscovered gem
Tim Grierson, Senior US critic
Top film: Dunkirk (Christopher Nolan)
Raising the bar on how immersive, visceral and terrifying a war movie can be, Christopher Nolan's recreation of the battle of Dunkirk brilliantly fuses the two sides of his filmmaking personality. Both a cerebral puzzle of jumbled chronology and an effortlessly stirring big-screen spectacle, Dunkirk is a thrilling sensation with a deeply moral centre. Wars are fought by individuals, and Nolan makes us feel the terror, heroism and elation of his scattered protagonists.
Click HERE for Tim's top five, best documentary, and undiscovered gem
Allan Hunter
Top film: God's Own Country (Francis Lee)
So much more than the 'British Brokeback Mountain', God's Own Country marked an auspicious debut from Francis Lee. His intense, immersive romantic drama matches the bleakness of its Yorkshire landscapes with the inner turmoil of a dour character struggling to express his emotions. Excellent performances from Josh O'Connor as farmer Johnny and Alec Secareanu as Romanian farmhand Gheorghe — and how refreshing to see gay characters who are comfortable with their sexuality, even if complex relationships are more tricky. There is a raw honesty to the whole film, and a sense of compassion that is hard-won and deeply felt.
Click HERE for Allan's top five, best documentary, and undiscovered gem
Wendy Ide
Top film: BPM (Beats Per Minute) (Robin Campillo)
In an exceptional year for LGBTQ-themed cinema, Robert Campillo's account of Aids activism in the early 1990s stood out. Once again Campillo — the writer of Laurent Cantet's The Class — demonstrates a unique skill for tapping into the thrill of debate and the exchange of ideas. The hand-held camera flings us into the fray; we are thrust onto the frontline of protest, the dancefloor and into the bedroom. The latter is particularly well-handled. The film is joyful and unabashed when it comes to sex, but also unflinching in its approach to disease. And the edits, which drift from shot into abstraction and then out again, are pure bliss.
Click HERE for Wendy's top five, best documentary, and undiscovered gem
Lee Marshall
Top film: The Shape Of Water (Guillermo del Toro)
Entertainment value, artistic finesse and thematic resonance do not always come in the same box, yet all are present in Guillermo del Toro's richest creation to date. As lithe as the finned humanoid at the centre of a tale that waltzes deftly between retro monster movie, oddball romance, spy thriller and dark period comedy, The Shape Of Water is above all a deliciously skewed vision of Cold War America; as much dystopian present as historic past. It is not just a radiant Sally Hawkins' mute cleaning lady Elisa who engages us; oppressors such as Michael Shannon's memorable Colonel Strickland are as fascinating as those they vex.
Click HERE for Lee's top five, best documentary, and undiscovered gem
Sarah Ward
Top film: Call Me By Your Name (Luca Guadagnino)
Just as the entrancing notes of the Psychedelic Furs' 'Love My Way' float through the Italian night in Call Me By Your Name, so too does the seductive, summertime-set romance's own charms. And there are plenty of them. Timothée Chalamet and Armie Hammer follow their hearts — and capture the audience's — as the teenager and graduate student finding themselves in each other's arms. Michael Stuhlbarg oozes gentle wisdom. And Guadagnino's love of swelling feelings that burst against stunning backdrops is once again on show.
Click HERE for Sarah's top five, best documentary, and undiscovered gem
Dan Fainaru
Top film: The Other Side Of Hope (Aki Kaurismaki)
Aki Kaurismaki's personal gift to the Trump era, this splendid humanistic tale treats one of the most urgent crises of our times with dry, laconic but uncompromising wit. It also requires the West to not only express their sympathy for the homeless survivors seeking a haven away from their homeland horrors, but to actually accept them as equals; a more complicated and longer commitment than they are willing to face.
Click HERE for Dan's top five, best documentary, and undiscovered gem
Kim Newman
Top film: mother! (Darren Aronofsky)
This rich, disturbing work about life in the orbit of a bullish artist stars Jennifer Lawrence as the young wife making huge sacrifices to accommodate the extreme demands of her creator-god husband Javier Bardem and his legion of worshippers. Beginning as a creepy horror-comedy of manners and escalating into a cycle of apocalyptic revelation, it also boasts the perfectly unnerving presences of Michelle Pfeiffer and Ed Harris.
Click HERE for Kim's top five, best documentary, and undiscovered gem
Lisa Nesselson
Top film: Wormwood (Errol Morris)
A flat-out brilliant reminder of how America's fear of 'godless Commies' prompted the US government to do terrible things during the Cold War, Errol Morris's hybrid doc also makes a mockery of that old saw, "What you don't know won't hurt you." Interweaving riveting interviews with re-enactments, Morris delivers a real-life horror film incorporating decades of almost unbearably dark (and literally buried) US history.
Click HERE for Lisa's top five, best documentary, and undiscovered gem
Jonathan Romney
Top film: Columbus (Kogonada)
Not a movie that makes much noise, but the one that most got under my skin. Set in an Indiana town blessed with an unusual amount of innovative architecture, Columbus is about people, their relationships and the way their souls are fed by the buildings around them. With terrific performances by Parker Posey, John Cho and face-to-watch Haley Lu Richardson, it is a film that is not just for the heart and mind, but about the heart and mind.
Click HERE for Jonathan's top five, best documentary, and undiscovered gem