The UK's top experts came together at the Screen Film Summit in London to talk about the current state of the industry and the exciting developments for the future. Wendy Mitchell reports.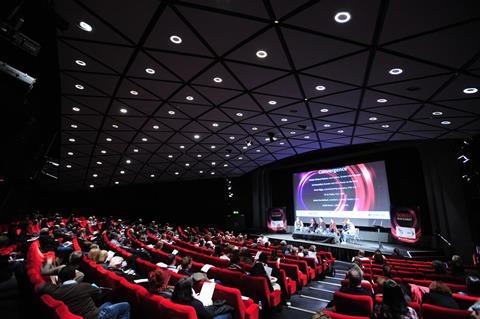 The buzzword of the day at the Screen Film Summit was 'audience' — whether that was offering content to audiences on new platforms, working on creative co-productions that attract film-goers in multiple territories, building audiences via social media, or enticing audiences with event cinema.
In his keynote talk, Ian Lewis, director of Sky Movies and Acquisitions, said keeping Sky's customers happy was of top importance. Lewis highlighted expansion at Sky including tech innovations such as Sky Go, NOW TV, new branded movie channels including Sky Movies 007 and Sky Christmas and film production investment.
"The growth in the VoD market makes it more complicated for the customer. But it has also been stimulating as we've become more focused," he said at the Summit, held at the BFI Southbank on December 2 in association with the BFI and with support from Creative Skillset.
Lewis said there was scope for Sky to continue to push theatrical windows, citing the example of the day-and-date release of Bachelorette as a promising model: "Our partners would like to do more of that," he confirmed. "There's not a single member of the public who knows what windows are or cares."
In terms of original Sky productions, Lewis said there were six family films in development and he reiterated that when delivered those films would be shown to Sky subscribers first, but that he was open those films having a theatrical component.
'I wouldn't factor a US deal into your finance plan if you are making a British movie'

David Garrett, Mister Smith
Also talking about keeping up with audience trends, Curzon Artificial Eye CEO Philip Knatchbull and Lionsgate UK CEO Zygi Kamasa noted the success of the Doctor Who 50th anniversary special, which took $2.3m theatrically in the UK on a Saturday night (November 23) despite a free-to-watch TV airing at the same time.
"[Event cinema] is a massive part of our business," said Knatchbull. "We're building out new venues all around the UK and we're telling our designers to focus on this, to design the venues so they feel accessible to the younger generation from this perspective."
Strong growth in the VoD sector has changed the audience landscape. Kamasa, whose Bachelorette went out day-and-date warned, however, against day-and-date VoD releases being considered as "a second choice or a burial ground for failed theatrical releases".
Knatchbull explained that as a company, Curzon Artificial Eye has taken the approach that the "old business model is completely broken… We have to find our audience and hold on to them — to connect the rather soulless experience of social networking with the soulful experience of going to the cinema."
Talking money
The day started with some eye-opening statistics presented by BFI acting head of research David Steele, who revealed the startling figure that only 7% of UK films make a profit. (The figures looked at 613 British films produced or co-produced in the UK from 2003-2010; bigger films with budgets of more than $16.3m (£10m) were the most successful, with 17.4% of those profitable.)
"The landscape for private equity in the UK for film is very challenged, partly because of those profitability statistics," said Ingenious Investments director Nik Bower. "The UK may be the third largest territory for film but it is still a lot smaller than the US. Theatrical rental is particularly lower here than the rest of the world so it makes it really hard to make films profitable in the UK."
Shoebox Films' Paul Webster, who has produced films such asPride & Prejudice, Atonement and Locke, acknowledged "it's a very challenging market right now, unless you hit the sweet spot", he said. "There are shining lights out there like Philomena, which is playing into the growing grey pound audience."
Another shining light, said the country's key funders, is that the quality of projects being submitted to them is on the rise. "The trend in the last five years is the quality of scripts we're seeing. There are more viable projects than there were 10 years ago," said BBC Films commissioning executive Joe Oppenheimer.
In an on-stage conversation, Powder Room producer Damian Jones and director MJ Delaney explained their low-budget film was heading into its opening weekend with all investment already recouped.
Jones was principal producer and also financier on the $286,000 (£175,000) Powder Room through the BFI's Locked Box producer equity scheme (which gave him funds after The Iron Lady's success). When Universal took world rights at Cannes, that minimum guarantee paid out all investment and the film is in the clear financially, Jones confirmed.
Further afield, Isabel Davis, the BFI's head of international, noted that on the day of the Summit, BFI chief executive Amanda Nevill was in China, where a UK-China cultural agreement was signed, paving the way for a co-production treaty. "A co-production treaty opens up that opportunity to give UK co-produced films a much larger opportunity in the marketplace," Davis said.
David Garrett of sales company Mister Smith said the US market is also a tough one. "The US is still not an easy market to penetrate, that's not just film, that's literature, that's music. I wouldn't factor a US deal into your finance plan if you are making a British movie," he says.
Crossing platforms
A panel on convergence discussed the huge amount of creative potential in the multi-platform arena, but Film4.0 head Anna Higgs said content creators had to be savvy. "Thinking about them all as the same pipe to put the same content is dangerous," she explained of multiple platforms.
The panel also underlined the huge potential of the games industry. Dr Jo Twist, CEO of games trade body UKIE, spoke of a lack of understanding of games "as interactive systems of content" and pointed to the fact that the global value of the games industry has been forecast to reach $87bn in 2017. "There is a tremendous creative opportunity here," Twist said of the film and game worlds coming together more.
Jamie Carmichael, president of Content Media Corp, pointed to the success of its adaptation of the Halo video game, and also to its current project based on the Street Fighter franchise, which is being licensed in both traditional ways and digitally. "When you have a brand there is a built-in audience," explained Carmichael.
Looking 10 years into the future, Steele predicted cinema would continue to flourish as "people love the experience and watching a film with others will still be special". He also predicted that wide-release films will continue to retain a theatrical window as "many consumers are unaware and not hostile to the gap between release and home entertainment". However, he said that most narrow release films would go day-and-date with VoD.