Leading lights of the UK film industry came together for a dynamic day of talk and debate, to celebrate and learn from the successful releases, and to glean inspiration from on-stage film-makers.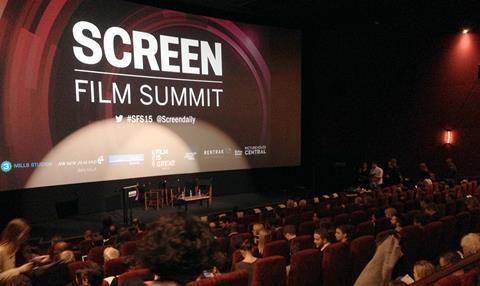 An audience of 250 industry delegates turned out for the 2015 Screen Film Summit, held at Picturehouse Central, London, on December 10. The day was packed with in-depth discussions, keynotes and networking sessions.
The rise of VoD and its impact on the cinema-going experience were explored in presentations by Lucy Jones, executive director at Rentrak, and Sean Perkins, head of the BFI's research and statistics unit, in the day's first session, Changing Audiences.
"I am not always convinced public money is going to the right places."
Lyn Goleby, Picturehouse Cinemas
Jones told delegates that consumer spending on filmed entertainment continues to rise every year and now stands at around $325bn globally, with the principal driver being pay-TV subscriptions.
"Theatrical is growing too and China is contributing a lot to that tandem growth," she reassured delegates. "The area being squeezed by these new platforms is physical media such as DVDs."
Perkins highlighted how 53% of people now believe they are streaming and downloading film more frequently than they were two years ago, while only 24% of the same group said they were visiting the cinema more frequently.
In Marketing Movies, the marketing supremos behind Studiocanal's Legend, Curzon Artificial Eye's 45 Years and the self-distributed Beyond Clueless revealed the release strategies for their films.
Legend has become Studiocanal's second biggest UK hit following Paddington, with a box-office gross to date of nearly $30m. The social-media campaign for Legend proved a highlight. "It was our most successful and engaged campaign to date," said Hugh Spearing, head of international creative marketing at Studiocanal.
When designing the artwork for 45 years, Jon Rushton, head of theatrical distribution at Curzon Artificial Eye, wanted to avoid conventional design tropes of films aimed at older audiences, and was not keen to position it as an arthouse picture.
"It left us a tightrope to walk," he said. "We try to be really clear on what we're selling and who we're selling to. We were only thinking about independent cinemas." 45 Years grossed $2.7m in the UK, double the company's expectations.
Director Charlie Lyne and his producers self-distributed and marketed his micro-budget teen-film documentary Beyond Clueless. "We had a marketing budget of zero pounds, and a distribution budget of £2,000 [$3,000], £1,000 [$1,500] of which went to the BBFC," said Lyne, highlighting the impact of classification on independent films.
BFI's Ben Roberts, Film4's Sue Bruce Smith, Northern Ireland Screen's Andrew Reid and Joe Oppenheimer of BBC Films discussed the state of UK public funding, while the five-country co-production The Lobster was not the logistical nightmare it could have been on paper, Irish producer Ed Guiney of Element Pictures told the Show Me The Money! panel.
"The spirit of European co-production most of the time is congenial and mutually respectful," said Guiney. "One of the benefits is you do have lots of voices. If they are well-informed and well-considered opinions, they are very useful."
Indeed, Isabel Davis, head of international at the BFI, who said the organisation is keen to work with more minority co-productions after testing the waters with The Lobster, praised Element for keeping the BFI "in the loop creatively". "We felt listened to," she said.
The Lobster, budgeted at $4.7m (€4.3m), was "exactly the right budget for the film that it is", said Mike Goodridge, CEO of Protagonist Pictures, which handled sales on the film. He said he sees projects with similar prospects and more 'signature' directors pitched at the $10.9m (€10m) mark when they would be smarter at a $5.5m (€5m) budget.
Goodridge also noted that sales companies are "at a crossroads". The idea of simply looking at sales estimates territory by territory is now "outmoded", he said. "Everything is changing so fast. At the AFM last month, Netflix and Amazon were being more aggressive. They have a lot of money to spend — that will take the place of DVD and some of the ancillaries we've lost."
Channel 4 head of drama Piers Wenger, Oscar-winning producer Iain Canning, This Is England producer Mark Herbert and film financier Nik Bower discussed the creative and financial trends and the challenges and opportunities in the UK production sector, including the growing crossover between film and TV, in From The Producer's Eye.
"We have identified that middle space of budget as problematic."
Iain Canning, producer
The speakers confirmed research presented by Jonathan Olsberg, in which the Olsberg SPI founder highlighted the squeeze on mid-range productions in the UK independent film landscape.
"That middle space of budget definitely feels like something we don't necessarily intend to develop as much any more because we've identified it as problematic," noted Canning. "Today if a director makes a wonderful first feature, they are jumping into that £8m-plus [$12m-plus] space.
Quality and quotas
Where's The Talent? tackled the hotly debated subject of diversity in the film industry. Femi Oguns, CEO of the Identity School of Acting and agent of Star Wars: The Force Awakens actor John Boyega, and Matimba Kabalika, NET.WORK talent co-ordinator and content editor at the BFI, agreed quotas would help to address the imbalance. "The industry is supposed to mirror what goes on in society," said Oguns. "If attitudes don't change, we have to force change through quotas."
Kabalika emphasised quotas should work in tandem with an individual's talent and effort. "It's not a case of one or the other," she said. "Diversity doesn't mean the content won't be good enough, you're not sacrificing."
The day finished with a Question Time session, in which David Thompson, producer at Origin Pictures and former chief of BBC Films; Lyn Goleby, managing director of Picturehouse Cinemas; MUBI CEO Efe Cakarel; and eOne UK MD Alex Hamilton addressed challenges in the exhibition, distribution and production sectors, including how to maintain a diverse programming offering.
"We get frustrated when we have a smaller film and eight screens at a multiplex are taken up," explained Hamilton. "We have Spotlight. It's a great film, an awards film. Last year, we may have put that in the first week of January. This year we won't because of Star Wars."
Goleby admitted indie chains often have to play larger films to subsidise smaller releases. She called on more public subsidies to give well-reviewed films a longer tail. "I'm not always convinced public money is going to the right places," she said. Hamilton questioned the way in which BFI funds are allocated to distributors.
"We welcome the distribution fund but it remains a fund determined by two or three people," he said. "Why should you have to go through gatekeepers again if you have already proved yourself and a record for delivering? It can be frustrating. It's about encouraging companies to take risks."
Cakarel told the audience that the theatrical experience "is absolutely here to stay — our audience mostly love the cinema experience", but also suggested traditional windowing only made sense for "around 50 films a year".
Asif Kapadia warned that film-makers starting out today are unlikely to get the same opportunities he had due to the cost of education in the UK. "The reason Amy and Senna bring money into the UK is because I was given a grant to go to film school," the director said. If he were embarking on his career today, Kapadia added, it is unlikely he would have been able to afford to study his craft.
The director also advised young film-makers to "be bold, be crazy" and discussed his struggle to convince people of his vision for Senna. "Making a film is political as much as artistic; learn when to compromise and when not to, carefully."
Tim Bevan, co-chairman of Working Title Films, revealed how the company's deal with Universal changed after the 2008 financial crisis. Operating under the Universal umbrella since 1998, Working Title now has an autonomous development fund and a first-look deal with the studio.
"We take big projects to them and if they decide not to develop them, we can take them elsewhere," said Bevan. "They now want to make bigger movies that have franchise potential. But they'll also service Focus Features-type films like The Theory Of Everything." Bevan noted that Working Title feels confident hiring new directing talent but continues to nurture strong relationships with acclaimed film-makers. "Really good directors have a forensic attention to detail," he said. "It makes them a fucking nightmare to deal with but that is their genius."