Screen Scotland executive director Isabel Davis outlined the organisation's enhanced funding structures.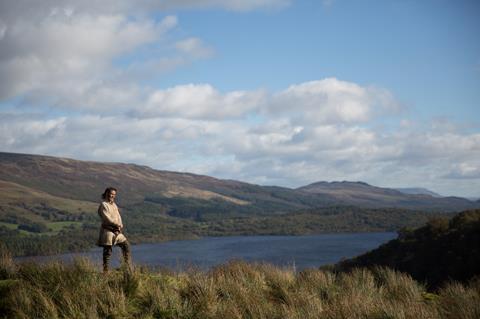 Screen Scotland executive director Isabel Davis struck a positive and welcoming note at a round table hosted by Screen at Neuehouse Hollywood in Los Angeles on October 26, telling attendees the country was going through an "unprecedented" time in terms of political and economic support.
Buoyed by an expanded $26.3m (£20m) annual war chest, the executive director and former BFI head of international said: "We have the government hugely behind us now. They have really understood the value of film and TV and through this brand-new budget, which is a doubling of all of our resources and is there to help support production.
"We have three funds that work in tandem with everything else that you can get out of the UK," Davis added. "We also have a built-up film commission, with amazing people to help you learn about Scotland, whether that's location recces, or to help you understand how to work with fantastic crews in Scotland, or what your production will look like. We're ready for business."
Speaking with Screen editor Matt Mueller in front of a select group of US and European producers, distributors and sales agents, Davis — who took up her role in September — explained Screen Scotland, which exists within the umbrella arts organisation Creative Scotland, also works in tandem with four other Scottish government agencies and skills councils to provide the most comprehensive support and advisory service possible.
"We're not putting £20m entirely into production," she said. "We think we've got the right amount of resources for productions that want to come in. We have three funds and of that £20m, around half of it is being spent on production and development of films that have a link to Scotland [via an equity fund that is repayable]."
The fine print
The Production Growth Fund offers a grant and is non-recoupable. It has been doubled and accommodates incoming production only. A further $3.9m (£3m) of Screen Scotland's funding goes to the brand-new Broadcast Content Fund across development and production. Applicants require a Scottish co-producing partner and awards are reliant on Scottish elements in the production. "The streaming platforms are part of that mix as well," said Davis.
She noted TV and film beneficiaries of public funding in Scotland include producer Claire Mundell on BBC show The Cry, a UK-Australia co-production with Scottish writing talent, as well as Tom Harper's Wild Rose.
Scotland, with its many facilities and array of dramatic locations, can accommodate productions of any size. That includes Outlaw King, the Netflix original starring Chris Pine that filmed throughout the country and reportedly cost more than $90m, making it the most expensive feature to originate out of Scotland. Produced by local producing powerhouse Sigma Films, it initially received support from the Production Growth Fund and local funds "because we really wanted to ensure that film got made in Scotland."
The crew base is able to service a number of productions at any one time. In addition to existing facilities, a studio tender will be published soon. Davis and her colleague Louise Harris from the Screen Commission were not able to reveal much about the venture, except that it would be able to accommodate very large productions.
Besides Outlaw King, Scotland is currently hosting Fast And The Furious spin-off Hobbs And Shaw starring Dwayne Johnson, Jason Statham and Idris Elba in Glasgow, and recently hosted Tell It To The Bees starring Anna Paquin and Holliday Grainger.
"We can support really small independent films, where the funding can be a meaningful part of the budget alongside the UK film tax relief, and TV tax credits," said Davis. "There's a range of other sources that work with our money, and we're essentially amplifying what you can get from the UK public funding system if you to come to Scotland."
Davis also touched on efforts to support TV production, which are dovetailing with expanded remits of UK broadcasters under government pressure to increase their commissions outside London and the south east. "I'm feeling that from filmmakers who come to us from London whose producers are telling them to bring Scottish material," said Davis.
Despite ongoing uncertainty over Brexit, Davis remains upbeat. Citing generally bipartisan political support for production incentives, she said: "Planning for that to be part of the economic landscape as far as I can tell is pretty stable."
On freedom and movement, Davis had this to say: "There's a lot of talk about mobility in Europe because that's one of the things that in the broad sweep has been seen as one of the triggers for Brexit.
"There's no reason to think that's going to have an impact on the UK-US relationship because we've already been working within a system that sits outside of freedom of movement within Europe. The UK government has always been very film and TV-friendly."