See-Saw co-founders Iain Canning and Emile Sherman tell Matt Mueller what goes into sustaining one of the industry's hottest independent production houses.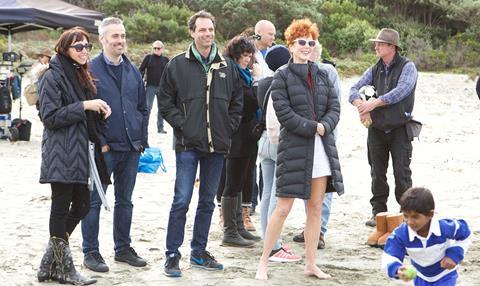 It is always tempting to refer to See-Saw Films as the producer of The King's Speech, given what a profoundly transformative film that was for Iain Canning and Emile Sherman's company. Four Oscars including best picture, seven Baftas, $414m global box office — as spectacular entrances go, The King's Speech gave See-Saw instant international credibility and a level of financial security few producers ever get to enjoy.
While there have been several acclaimed films since (Shame, Macbeth, Tracks, Mr Holmes, Slow West), it was always going to be a challenge to recapture that lightning-in-a-bottle event, and Sherman and Canning are thrilled this year's awards-season contender Lion has become their most feted production since The King's Speech. "We've been hugely proud of all of our movies," says Sherman. "You can't control if it's going to hit the zeitgeist or not."
Lion has garnered six Oscar nominations, five Bafta nods, a DGA nod for director Garth Davis and a host of other plaudits. While the film hasn't flown at the US box office as much as The Weinstein Company would have liked ($44.5m so far), it has been more robust in the UK and Australia, with $9.9m (£8m) in four weeks of UK release for Entertainment Film Distributors and spending two weekends at number one in Australia via sister company Transmission Films, which releases See-Saw's films down under.
International outlook
Lion fits snugly into the ethos pursued by See-Saw's co-founders and joint managing directors — "[international] dramas with something to say", says Canning — and its journey to screen was relatively swift. Having secured the rights to Saroo Brierley's memoir in 2013, and developed the script with writer Luke Davies in 2013 and early 2014, Canning and Sherman approached Cannes 2014 with a hard deadline for financing in order to shoot in India before the rainy season.
In the end, longtime partners The Weinstein Company came on board to finance Lion and take rights outside of Australia and New Zealand. Further backing came from Screen Australia and co-production partners included Aquarius Films and Sunstar Entertainment.
See-Saw's co-founders first met on Candy (2006), which Sherman produced and Canning sold for Renaissance Films. Joining forces to launch See-Saw in 2008 was, says South African-born Australian Sherman, "a leap into the dark, not least because we were in different time zones". But it has been part of See-Saw's USP to have bases in both London's Shoreditch and Sydney's Paddington districts, and the company's film and TV projects nearly always contain both Australian and UK elements.
"If we talk about how we divide it," says Sherman, "Iain's background was in the marketplace; mine was in financing and physical production. Now we both jump across everything but at core, Iain still has an antenna for the marketplace that is extraordinary, and I still oversee how we're going to structure a project to maximise the upside."
The See-Saw group comprises film and television divisions, in-house sales company Cross City through which the company direct-sells some projects to distributors (although it also works with international sales agents such as HanWay Films and FilmNation) and Fulcrum Media Finance, which was set up to cashflow the Australian tax rebate.
The company funds its development slate, usually with partners including BFI, BBC Films, Film4 and Screen Australia, and often bankrolls its own projects through traditional independent financing routes — a mix of pre-sales, tax credits, bank financing and equity. That means See-Saw ends up owning the rights; for instance, on the upcoming Mary Magdalene it pre-sold foreign distribution rights to Universal/Focus, US rights to TWC and Australia/New Zealand to Transmission, structured the project as a UK-Italy-Australia co-production to qualify for tax relief, and provided the remaining equity.
While the television side is growing — as well as two seasons of Top Of The Lake, See-Saw TV productions include Jimmy McGovern's Banished and Love, Nina, both with the BBC — Sherman and Canning remain committed to film. "The appetite [in the market] for the right film is still there," says Canning. "If you can bring the right group of elements together, the opportunities are there."
Two years ago at the Screen Film Summit, Canning observed that the "middle space" for independently financed films was becoming "problematic" and that See-Saw would spend less time developing projects for that $5m-$8m space. But changes in the market have brought a different outlook.
"It is hard to make those films now but if that's where the finance plan sits, we'll make them," says Canning. "Pre Netflix and Amazon coming into the market, and A24 building up, it felt like it was going to be harder to find theatrical homes for some of the types of films that we look to make. It's great to see that kind of competition coming back in the US, and the UK is still strong for the right projects."
UK and EU support schemes are vital for sustaining the UK's independent film sector, says Canning. See-Saw received an early BFI Vision award that he calls "instrumental" for the company, and praises the diversity in the most recent round of awards. In 2016, See-Saw was awarded slate funding from Creative Europe MEDIA for the first time, an award Canning calls "bittersweet" given they found out only days after Brexit.
"To think that those opportunities of working across continents and with different European partners is going to be taken away from us is concerning," says Canning, concurring with industry fears about a hard Brexit. "Being able to work as partners across Europe has been so important to our company's growth."
The See-Saw team has grown significantly since launch and is now up to 25 staff. The company is potentially looking to add someone in Los Angeles. With approximately 15 films and more than 20 TV projects in development, 2017 is already a very busy year.
See-Saw is in post-production on series two of Top Of The Lake; John Cameron Mitchell's How To Talk To Girls At Parties is nearing completion; Garth Davis is in the edit suite on Mary Magdalene; and production is due to get underway on Steve McQueen's big-screen adaptation of Lynda La Plante's 1980s TV crime drama Widows, starring Viola Davis, which New Regency is financing. "It's a film about female solidarity and strength in numbers, so very timely," smiles Canning.
See-Saw is also in development on thriller The North Water with the BBC, which Andrew Haigh will adapt and direct. A previous McQueen project, Codes Of Conduct, which had been commissioned by HBO and shot as a pilot, got swept up in the turmoil at that company last year, although Canning says See-Saw is still committed to bringing it to fruition with another partner. "It's a story that's very important to Steve to tell and we're very emotionally involved in it," he says.
Wealth of talent
Over the years it has been crucial for See-Saw to forge strong relationships with powerful agents, among them CAA powerhouse Maha Dakhil — who has McQueen, Justin Kurzel and Anton Corbijn on her client list — and Bec Smith at UTA. "It's absolutely essential and the best agents are taste-makers," says Canning. "And because of somebody's tastes as an agent, you end up working with their clients from an actor and director perspective. They are more interested in your projects."
"As our company has grown and our reputation has consolidated, it's made it easier for us to get our projects through the door," adds Sherman. "You get more trust with agents and access to talent, but every project still has to be good. No-one's going to finance it just because we made The King's Speech and Lion."
In the meantime, See-Saw's headline duo intend to enjoy the Oscar and Bafta ride this time more than they felt able to on The King's Speech, when they experienced the whole jamboree as first-timers. "There's very little time in this industry to just stop and enjoy something," says Canning. "So this time around, Emile and I said we're just going to really enjoy putting a story like Lion into the world." ns