Documentary filmmakers will descend on Sheffield in the coming days to offer a window on the past, present and virtual future. Michael Rosser reports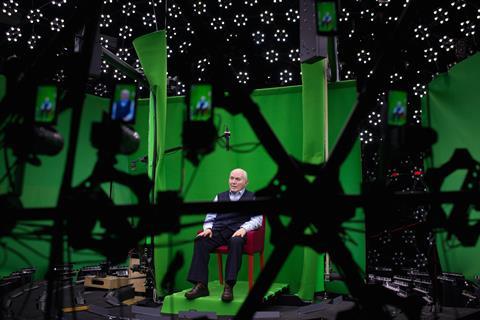 The 23rd Sheffield Doc/Fest (June 10-15) kicks off today and promises to be one of its most eclectic to date, with its typically diverse line-up of documentaries from around the world complemented by big name speakers and a major showcase of virtual reality content.
Its 160 feature and short films will be bookended by opening film Where To Invade Next, from Oscar-winning US director Michael Moore, and The Seasons In Quincy: Four Portraits Of John Berger. Moore and actress Tilda Swinton, a co-director on the latter doc, will both be in Sheffield to present their films.
Moore's film and accompanying Q&A will also be live streamed to 120 cinemas across the UK through distributor Dogwoof – the second time Doc/Fest has done this, following Pulp: A Film About Life, Death & Supermarkets in 2014.
The Grand Jury will consider 12 titles in competition including the world premiere of Ashish Ghadiali's The Confession – a first-hand account of the rise of modern jihad told through the eyes of former Guantanamo Bay detainee Moazzam Begg.
The line-up also includes the international premiere of Brendan J Byrne's Bobby Sands: 66 Days, exploring the 1981 prison hunger strike by Irish Republicans led by Sands; and Notes On Blindness, directed by Peter Middleton and James Spinney, which will be accompanied by virtual reality project Notes On Blindness: Into Darkness.
Alternate Realities
On Sunday (June 12), the Alternate Realities Summit will open with an interview between transmedia producer and director Romana Pringle and android Bina48, described as "the world's most advanced social robot".
Perhaps most intriguingly, Doc/Fest is offering a "virtual encounter" with a recorded image of a survivor of the Holocaust, who responds in real time, powered by complex algorithms that provide a realistic conversation.
Sessions will explore the opportunities and challenges of VR while a raft of exhibitions and titles include Michael Epstein and Mark Thompson's John Lennon: The Bermuda Tapes, which recreates the summer of 1980 when the former Beatle was inspired to write his final album, Double Fantasy.
Speakers
Lord David Puttnam, Joanna Lumley and world snooker champion Ronnie O'Sullivan are among the speakers at this year's Doc/Fest alongside Sir David Attenborough, Shane Meadows and Mark Herbert.
HBO Documentaries president Sheila Nevins will be in conversation with the BBC's Nick Fraser talking about breakout hits such as The Jinx, while legendary filmmakers DA Pennebaker and Chris Hegedus will also be on stage on discuss their latest film Unlocking The Cage.
MeetMarket
On the industry side, the 11th edition of Doc/Fest's MeetMarket initiative will see a total of 64 filmmaker teams from around the world pitch to international and UK decision makers for research, development and production funding. Around 300 decision makers from 24 countries are expected with execs from Google and Netflix for the first time.
Titles include Luxury Bitches, the new documentary from Orion: The Man Who Would Be King director Jeanie Finlay that examines the rise of plus size bloggers; while producer Tristan Goligher (45 Years, Weekend) will bring The Pioneers: The Story of Street Dance about the forgotten legacy of street dance, directed by Tessa Morgan.
At the Alternate Realities Market, which includes digital titles, a further 25 interactive projects will pitch in one-to-one meetings to a range of specialist decision makers.
A total of 30 countries will be represented across both markets, which will run June 13-14.
The marketplace will also include 11 pitches and filmmaking competitions, with prize money totalling more than $700,000 (£488,000). These include the first Whicker's World Foundation Funding Award, the BFI Film Fund Pitch, the Channel 4 First Cut Pitch and The Guardian Documentaries Pitch.
Retrospectives
Doc/Fest will also pay tribute to the late Chantal Akerman with a retrospective of her works including her final work, No Home Movie, a portrait of the Belgian filmmaker's relationship with her mother Natalia, a Holocaust survivor.
The festival will also spotlight Ken Loach with films including his groundbreaking drama-doc Cathy Come Home, his more recent Spirit Of '45 and Versus: The Life And Films of Ken Loach, which will be followed by an extended Q&A with veteran director Loach.