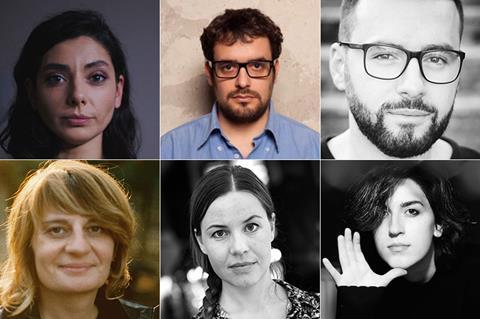 Sarajevo FIlm Festival's prestigious CineLink industry programme brings together some of the most exciting emerging talents from the region. Screen profiles six new producers and writer-directors to watch.
Ágnes Horváth-Szabó, producer (Hungary)
After working on a couple of successful shorts and documentaries, Hungarian producer Ágnes Horváth-Szabó served as associate producer on Bence Fliegauf's 2016 Berlinale Forum title Lily Lane and Bálint Révész's 2017 DOK Leipzig prizewinner Granny Project. In 2018, she co-produced the anthology documentary Occupation 1968 and won the Special Jury Prize in Sarajevo's documentary competition with László Csuja's Nine Month War.
She is now at CineLink with her first fiction feature, Borbála Nagy's Nothing To See Here, that she is working on through her company ELF Pictures together with German company Zeitgeist Filmproduktion. Inspired by real events and at script development stage, the film deals with the multi-layered dysfunctionality of Hungarian society through the story of an investigation of the origin of a prank video involving Hitler and the female principal of a high school.
"Enveloped in an entertaining detective story, our film provides a model to study the mechanisms of an authoritarian regime," Horváth-Szabó explains. "We not only find it important to tap on this timely issue, but also want to engage with democracy at times when radical changes in our political structure are imminent."
Horváth-Szabó's feature slate also includes four documentaries: Révész's Olympic Tribe (Touch Wood), Mátyás Kálmán's Paying A Visit To Fortuna, Gabriel Babsi's Motherlands, and Ana Nemes's Beauty Of The Beast, which won the Nordisk Panorama's Impact Award at Cannes Docs this year.
György Mór Kárpáti, writer/director (Hungary)
Hungarian writer-director György Mór Kárpáti's short films screened in competition sections of the Berlinale, Cannes, Sarajevo and Slamdance, and his first feature Guerrilla made its world premiere at Göteborg in 2019. It later won the Hungarian Critics' Choice Award for the best first feature film. He is attending Sarajevo CineLink with the feature project Flame, co-written by Zsófi Lányi and produced by Kornel Mundruczó's creative partner Viktória Petrányi through Budapest-based Proton Cinema.
Supported by the Hungarian National Film Institute, it is a drama about a Hungarian family living in London. As they go back to the Danube Bend for the summer, the woman suddenly disappears and the 16 year-old daughter discovers her parents are divorcing.
"The story is framed as a realistic family drama, but as the film progresses, the elements of neo-horror and supernatural genres build," says Kárpáti. "Our aim is to produce a film that can speak to the Z-generation and their parents, and bring them into conversation with one other."
Florenc Papas, writer/director/producer (Albania)
Albanian writer, director and producer Florenc Papas broke out internationally with Open Door, which world premiered in competition at Sarajevo in 2019. The film was developed through the First Films First training programme. Through his company Tunnel Film, Papas co-produced Isa Qosja's highly anticipated The Stork.
Papas is now at CineLink with his second feature, Luna Park, co-written with Greece's Glykeria Patramani. It is a co-production between Tirana-based On Film and Greece's Argonauts productions. The period drama is set against the political turmoil of 1997 in Albania which sees a lonely mother fighting for the future of her two sons. Inspired by his childhood memories, the project is in development.
"As a filmmaker and human being, I find these type of family dynamics interesting because our families and our past have impacted the person who we are today in so many ways," says Papas. The filmmaker took part in Berlinale Talents, Sarajevo Talents and Mediterranean Film Institute's Script2Film workshop.
Nefes Polat, producer (Turkey)
Before launching her production company Nefes Film in 2018, Turkish producer Nefes Polat served as the assistant to producer on Nuri Bilge Ceylan's Winter Sleep, and worked as the assistant director of the first Antalya Film Forum. Later she was the head of production for Mars Production, where she associate produced Pelin Esmer's 2017 Tallinn title Something Useful and co-produced Çağla Zencirci and Guillaume Giovannetti's Sibel, winner of three awards at Locarno in 2018.
She is now participating in CineLink Works in Progress with Selcen Ergun's Snow And The Bear, backed by Eurimages, Turkish and Serbian national funds, and the Hamburg Schleswig-Holstein film fund. Now in post-production, the film is set in a small, snow-bound Turkish border town where winter doesn't seem to end. As a man disappears, everybody has theories as to what might have caused it, including bears who are rumoured to have woken up early, a recently appointed nurse and a troubled young man.
"I was impressed by its subtle portrayal of ambivalent feelings, masculinity-femininity issues and its call for exploring the notions of good and bad, guilt and virtue – which many people consistently face in various places on earth to different extents," says Polat of Ergun's script.
In addition, the producer is working on Ferit Karol's first feature, Penny Bank, also in post.
Andrijana Stojković, writer/director/producer (Serbia)
Serbian writer, director and producer Andrijana Stojković's first feature film The Box was selected for the Raindance and Sofia film festivals in 2011. Her 2018 mid-length documentary Wongar, which she produced through her company All Inclusive Films, world-premiered at IDFA and went on to Hot Docs, Dokufest Prizren and Minsk's Listapad.
She is now at CineLink with her second feature, Spite, about a Bosnian war veteran who works as a gamekeeper by the Serbian-Bosnian border. He is trying to lead an exemplary life while he fights for custody of his daughter. But his past haunts him in the form of a Syrian man who seems to be migrating from the Middle East on foot and by himself.
"This film is urgent, because we are witnessing right-wing policies become more and more dominant around Europe," says Stojković.
Co-produced by Mirko Bojović of Belgrade-based BaBoon Productions and Ana Pinhão of Portugal's APM Produções, the film will be shot by seasoned Portuguese cinematographer João Ribeiro, whose credits include Scales and Letters From The War and who also served as DoP on Wongar. Ribeiro is also attached to Stojković'sThe Losing Game, another feature project in development with Pinhão.
Ana Urushadze, writer/director (Georgia)
Georgian writer-director Ana Urushadze made a splash with her first feature, Scary Mother, which world-premiered in Locarno's Filmmakers of the Present in 2017. It won the the Swatch First Feature Award at the festival as well as the Heart of Sarajevo prize for best film.
She is now at CineLink with Supporting Role, a co-production between Georgia's Zaza Film and Estonia's Allfilm that is now in development. It tells the story of a retired film star who is thrown into a state of crisis when he takes a role in the debut feature of a young female director.
"Ultimately, the most important thing is the inner process, the inner transformation. I want to give the audience of this film the opportunity to witness and see what often remains invisible to the eye," says Urushadze.