Rarely seen on screen in recent decades, Sophia Loren could be in line for her first Oscar and Bafta nominations since the 1960s. Screen talks to her about The Life Ahead, directed by her son Edoardo Ponti.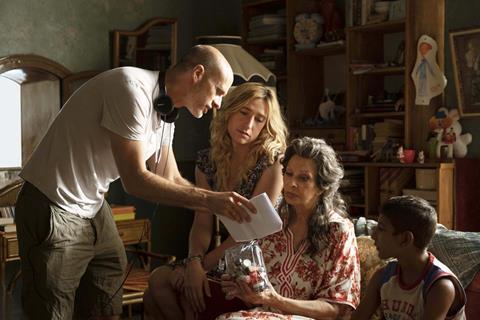 Sophia Loren remembers the night in 1962 when she won the Academy Award for best actress as if it were yesterday. She had been nominated for her role in Vittorio De Sica's drama Two Women, in which she played a young mother trying and failing to protect her 12-year-old daughter from the horrors of war. She had not made the trip to Los Angeles but was hosting a small party at the house in Rome she shared with her film producer husband Carlo Ponti. De Sica was there, as were a group of journalists, notebooks at the ready.
The 27-year-old Italian actress was competing with, among others, Audrey Hepburn for Breakfast At Tiffany's and Natalie Wood for Splendor In The Grass. She was also up against the inconvenient fact that no actor or actress had ever won an Oscar for a role in a foreign-language film. "As the evening wore on, I must have looked sad," says Loren over the phone from her house in Geneva, "because people began saying things like, 'Don't worry, you'll get another chance.'" By around 3am, some of the guests had started to leave. "Then finally at six the phone rang," Loren recalls. "I picked it up and said, 'Pronto, who is it?' 'It's Cary — Cary Grant,' said the voice on the other end. 'You won!'"
Loren's second nomination came in 1965, this time for a spark­ling comic turn in another De Sica movie, Marriage Italian Style — but neither Loren nor the other nominees stood much chance against Julie Andrews in the year of Mary Poppins. Fast forward a mere 56 years, and a third tilt at the prize may be in the offing, for Loren's powerful late-career comeback in The Life Ahead. Produced by Italian company Palomar, a division of France's Mediawan Group, the film was acquired by Netflix in February 2020 and released globally by the streaming giant in November.
The Life Ahead is based on French writer Romain Gary's 1975 novel The Life Before Us (La Vie Devant Soi), first adapted for the screen in Moshe Mizrahi's 1977 Oscar-winning film Madame Rosa, with Simone Signoret playing the title character.
This latest adaptation, directed by Loren's son Edoardo Ponti and a recipient of two Golden Globe nominations including best foreign-language picture, shifts the novel's setting from Paris to the southern Italian port of Bari. Though it differs in other respects from Mizrahi's version, the core story remains the same. Loren's Madame Rosa is a former prostitute and Holocaust survivor who has taken on the role of long-term babysitter for the children of neighbours that, for whatever reason, cannot look after their kids. The film is told through the eyes of Momo, a 12-year-old Muslim street kid who Madame Rosa reluctantly takes in at the insistence of a therapist friend.
Parental guidance
Loren, who avoided watching that earlier version, had long loved the book, and admits she may have been complicit in persuading her son to take on the project. When asked whether Ponti and screenwriting partner Ugo Chiti wrote the part of Madame Rosa with her in mind, she comes back with: "I should hope so — Edoardo and I live together, and I'm an actress looking for roles!"
As for the experience of being directed on set by her son, Loren says that "speaking a common language and liking the same things helps a lot". Ponti, who is also on the call, begs to differ. "The problem is that another director would probably be happy with a 'medium good' Sophia Loren performance," he explains. "But I know what she's capable of as an actress — so for me that's just the first take."
Ten hours a day on a 40-day shoot is a tough schedule for anyone. But Loren believes that "with such an important character, you can't afford to get tired and 'play the actress'. You have to shut up, focus, and live the character in every way, even if it means suffering." One upside of the long location shoot was that most of the lead actors shared a villa during their time in Bari — and this helped Loren to bond with young debutant Ibrahima Gueye as troubled Italo-Senegalese orphan Momo.
Ponti reveals that Gueye was the very first of the 350 kids he auditioned for the part, and he "kept coming back to him" as he watched the others. "I could have saved myself a lot of time," he admits. Loren was amazed by the young actor's commitment: "He knew nothing about the cinema… but he listened, and worked on his role without making a big thing of it, and arrived on set completely ready." Ponti reveals that it was only when, one day at breakfast, Gueye asked permission of Loren to "say bad things to her" that he was able to achieve the level of pent-up rage his character required in the first part of the film. "From then on, he was a complete shit with my mum," Ponti laughs, "which made us all happy."
Loren at first plays down the Oscar buzz that is coalescing around her performance, suggesting that "these days, my life is my family". A little later, her Neapolitan frankness winning out, she corrects herself: "But to be honest I think about it all the time." If the nod did come through, 56 years since her last one, it would be another historic achievement — the longest gap to date between acting Oscar nominations is the 41 years separating Henry Fonda's roles in The Grapes Of Wrath and On Golden Pond. But Loren protests that at her age, she is not too keen on the word "historic".
She may have had only two really meaty roles in the last 30 years — in Robert Altman's Pret A Porter (1994) and Rob Marshall's Nine (2009) — but Loren never stops looking for good parts. It is just, she confides, that these days she has the luxury of saying no to scripts that do not speak to her. "I have always tried to do interesting films with interesting directors," she explains. "I think I have the knack of knowing when it's the right time for me to do a role, and when to pass."