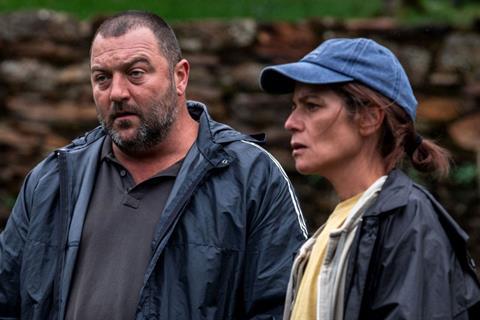 Rodrigo Sorogoyen's The Beasts leads the nominees for Spain's prestigious Goya awards, with 17, followed closely by Alberto Rodríguez's Prison 77 on 16.
The Beasts, which had its world premiere at Cannes, centres around a French couple who cause tensions in the local village to which they move. The psychological thriller is nominated in all major categories including best film where it lines up with Prison 77, Alauda Ruiz de Azúa's Lullaby, Pilar Palomero's La Maternal and Carla Simón's Golden Bear winner Alcarràs.
Scroll down for the full nominations
Alcarràs is Spain's submission to international feature at the Oscars 2023 and has scooped 11 Goya nominations overall. Pilar Pilamero's La Maternal also has 11 nominations.
Simón is one of two women nominated in a category of five for best director; three female directors have been nominated for best new director.
The Goyas are voted for by members of Spain's Film Academy.
Albert Serra's Pacification, which also premiered at Cannes, has been overlooked entirely, while Mariano Cohn and Gastón Duprat's Official Competition, has picked up just one nomination for best cinematography.
Three of Screen's Spain Stars of Tomorrow are nominated for Goyas. Elena López Riera and Mikel Gurrea are both nominated in best new director, for El Agua and Suro respectively, while Valèria Sorolla is up for best new actress for her performance in The Rite Of Spring.
The winners will be announced at a ceremony in Seville on February 11 hosted by actors Antonio de la Torre and Clara Lago.
2023 Goya nominations
Best film
Alcarràs - Carla Simón
The Beasts - Rodrigo Sorogoyen
Lullaby - Alauda Ruiz de Azúa
La Maternal - Pilar Palomero
Prison 77 - Alberto Rodríguez
Best director
Carla Simón - Alcarràs
Rodrigo Sorogoyen - The Beasts
Pilar Palomero - La Maternal
Carlos Vermut - Mantícora
Alberto Rodríguez - Prison 77
Best new director
Carlota Pereda - Piggy
Alauda Ruiz de Azúa - Lullaby
Elena López Riera - El Agua
Juan Diego Botto - En Los Márgenes
Mikel Gurrea - Suro
Best original screenplay
Arnau Vilaró, Carla Simón - Alcarràs
Isabel Peña, Rodrigo Sorogoyen - The Beasts
Alauda Ruiz de Azúa - Lullaby
Carlos Vermut - Mantícora
Alberto Rodríguez; Rafael Cobos - Prison 77
Best adapted screenplay
Carlota Pereda - Piggy
Paul Urkijo Alijo - Irati
Guillem Clua; Oriol Paulo - God's Crooked Lines
David Muñoz, Félix Viscarret - No mires a los ojos
Fran Araújo, Isa Campo, Isaki Lacuesta - One Year, One Night
Best actor
Denis Ménochet - The Beasts
Luis Tosar - On The Fringe
Nacho Sánchez - Mantícora
Javier Gutiérrez - Prison 77
Miguel Herrán, Prison 77
Best actress
Marina Foïs -The Beasts
Laia Costa - Lullaby
Anna Castillo - Wild Flowers
Bárbara Lennie - God's Crooked Lines
Vicky Luengo - Suro
Best supporting actor
Diego Anido - The Beasts
Luis Zahera - The Beasts
Ramón Barea - Lullaby
Fernando Tejero - Prison 77
Jesús Carroza - Prison 77
Best supporting actress
Marie Colomb - The Beasts
Carmen Machi - Piggy
Susi Sánchez - Lullaby
Penélope Cruz - On The Fringe
Ángela Cervantes - La Maternal
Best new actor
Albert Bosch - Alcarràs
Jordi Pujol Dolcet - Alcarràs
Mikel Bustamante - Lullaby
Christian Checa - On The Fringe
Telmo Irureta - The Rite Of Spring
Best new actress
Anna Otín - Alcarràs
Laura Galán - Piggy
Luna Pamies -El agua
Valèria Sorolla - The Rite Of Spring
Zoe Stein - Mantícora
Best original score
Olivier Arson - The Beasts
Aránzazu Calleja, Maite Arroitajauregi "Mursego" - Irati
Iván Palomares - Las niñas de cristal
Fernando Velázquez - God's Crooked Lines
Julio de la Rosa - Prison 77
Best original song
'En los márgenes' by Eduardo Cruz, María Rozalén - On The Fringe
'Izena duena bada' by Aránzazu Calleja, Maite Arroitajauregi "Mursego", Paul Urkijo Alijo - Irati
'Un paraíso en el sur' by Paloma Peñarrubia Ruiz, Vanesa Benítez Zamora - La vida chipén
'Sintiéndolo mucho' by Joaquín Sabina, Leiva - Sintiéndolo mucho
'Batalla' by Joseba Beristain - Unicorn Wars
Best production design
Alcarràs
The Beasts
Piggy
Lullaby
Prison 77
Best cinempatography
Alcarràs
The Beasts
Lullaby
Official Competition
Prison 77
Best editing
Alcarràs
The Beasts
Lullaby
Prison 77
One Year, One Night
Best art direction
Alcarràs
The Beasts
La Piedad
Crooked Lines
Prison 77
Best sound
Alcarràs
The Beasts
Cinco lobitos
Prison 77
One Year, One Night
Best special effects
13 exorcismos
The Beasts
Irati
Malnazidos
Prison 77
Best animation feature
Black is Beltza II: Ainhoa
Inspector Sun y la maldición de la viuda negra
Los demonios de barro (Os demos de barro)
Tadeo Jones 3. La tabla esmeralda
Unicorn Wars
Best documentary
A Las Mujeres De España. María Lejárraga
The Yellow Ceiling
Labordeta, Un Hombre Sin Más
Oswald. El Falsificador
Sintiéndolo Mucho
Best Latin American film
1976 - Manuela Martelli
Argentina, 1985 - Santiago Mitre
La Jauría - Andrés Ramírez Pulido
Noche De Fuego - Tatiana Huezo
Utama - Alejandro Loayza Grisi
Best European Film
Belfast - Kenneth Branagh
The Hand Of God - Dios de Paolo Sorrentino
The Worst Person In The World - Joachim Trier
Lost Illusions - Xavier Giannoli
Playground - Laura Wandel