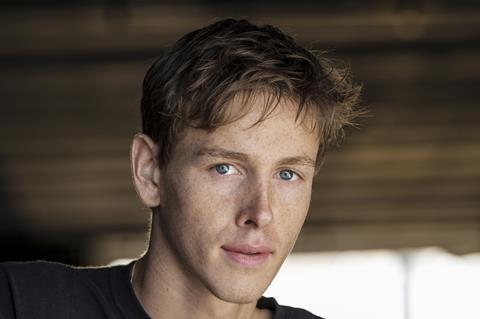 Hungry for success, Harris Dickinson, born in Walthamstow, London, has put a lot of time into learning the craft of acting and filmmaking. He attended the local RAW Academy, had completed all his technical Lamda exams by the time he was 17, worked as a runner on music videos and documentaries, and wrote and directed several short films.
Click here for the complete list of 2017 Screen Stars of Tomorrow.
"I was climbing both ladders at the same time," Dickinson says of his acting and directing. "I was doing everything I could to progress."
His performance in Angels, written by Pauline McLynn, as part of the National Theatre's Connections Festival, helped him to get an agent, and last year he was cast as the lead in Brooklyn-set feature drama Beach Rats. Written and directed by Eliza Hittman, it portrays a summer in the life of a young teenage boy who is struggling to express his sexuality in a resolutely ungentrified corner of suburban New York. The film premiered at Sundance in January, and Dickinson's magnetic performance was one of its biggest talking points.
"It felt so real and tragic," says Dickinson, of his character's inner struggle. "It wasn't a glamorised, coming-out story. It felt like an observational piece about a teenager with deep, deep questions about his sexuality and identity in an area that was so working class and masculine and traditional."
Even before his sensational debut in Beach Rats, Dickinson had been cast as one of the leads in 20th Century Fox's young-adult adaptation The Darkest Minds. He is now on location in Italy shooting the 1970s-set Trust, a TV series for FX about J Paul Getty III, created by Danny Boyle and Simon Beaufoy. Boyle is directing the pilot and a further three episodes.
"It's a very dynamic and interesting role," says Dickinson of the Getty heir, who was kidnapped and held for ransom by the mafia when he was 16. "I'm interested in roles that challenge me, that are diverse — people who are going through some kind of trouble."
Contact: Kristin Tarry, TCG Artists Management