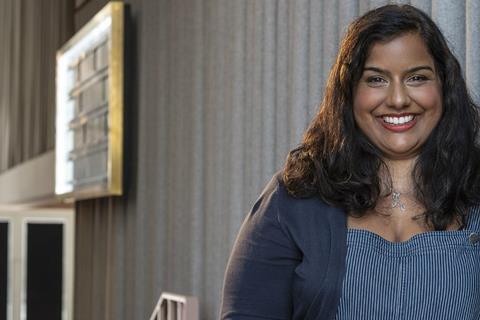 Producing Sarah Gavron's latest — currently untitled — film this year has been a natural step forward in Ameenah Ayub Allen's career. Backed by Film4, the BFI and the Wellcome Trust among others, it follows a 15-year-old British Nigerian schoolgirl as she looks after her younger brother, using the help of her friends to avoid being taken into care. For Allen, the project struck an immediate chord.
"Coming from Hounslow [west London], I had a group of friends I grew up with that was really diverse," she says. "It was exactly the film I wanted to do, and with such a brilliant director I have thoroughly enjoyed collaborating closely with before."
Allen is clear in her motivation to authentically represent teenage girls on screen as well as to provide employment off screen. "If we're showing these diverse girls on screen, we should offer diverse opportunities," she states. Indeed, inclusivity is key to her working process: this feature has a 75% female crew, who are ethnically diverse including at senior levels. "You have to put in the work beforehand if diversity is important to you. It should be seeded early on — that's up to the producer."
There is a pleasant symmetry at play: Allen's job as assistant producer on Gavron's Brick Lane some 11 years ago was a breakthrough for her. Allen believes her academic background in film and theatre as well as the various roles she has taken on films since then — including as post-production co-ordinator, production manager, associate producer and now producer — have given her a solid grounding and depth of knowledge in many different aspects of film and talent relationships.
After producing shorts including Oscar-shortlisted The Road Home (2010) and the 2016 National Film Awards UK's best short Above, Allen produced her first feature last year, an investigative documentary called Erase And Forget by artist/filmmaker Andrea Luka Zimmermann. Further credits include work on all three of Clio Barnard's full-length films, including substantial involvement from development until delivery on The Selfish Giant (2013).
Her ambitions are "to make films that are refreshingly bold and worthy of new generations' love". That is certainly the aim with Gavron's feature: "We'll be showing girls who haven't been seen in British cinema before, filming whilst evolving our bespoke "live" process. I hope the boldness of this filmmaking will inspire so many filmmakers and other stories that are authentic."
Contact: Ameenah Ayub Allen