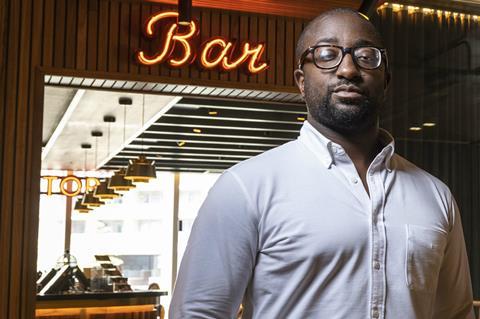 It was a "highly inappropriate" viewing of The Godfather when he was just eight years old that gave London-born director Baff Akoto the cinema bug. After studying broadcasting at Ravensbourne University in London, Akoto decided to avoid film school and instead travel to Ghana, from where his family originates.
As a football fan, he was immediately drawn to the story of African footballers making their improbable journey from the streets of Ghanaian capital Accra to superstardom in Europe. He spent three years chronicling those journeys in Football Fables, a 52-minute documentary that he self-produced and financed, with a few small grants. "Traditional film avenues weren't open to me at the time, so I had to be creative," he says.
The completed film had its premiere at the Rassegna Cinematografica Internazionale in Palermo, Italy in 2009, where it won two awards. Concurrently, Akoto reached out to funding agency Film London about its London Borough Film Fund Challenge, through which he made Star Cross, about the opening of the Eurostar terminal at King's Cross train station.
After directing 'Home', a 2011 episode of Channel 4's new talent series Coming Up starring Johnny Harris, Akoto took part in Berlinale Talents in 2016 and then Lighthouse's Guiding Lights mentoring programme, on which his mentor was Senna director Asif Kapadia. Now, Akoto has turned his attention to features, and is working on two projects with producer Joy Gharoro-Akpojotor. The first is an untitled prison drama, which is in development with the BFI with a view to shooting early next year. The second is an untitled comedy-drama set in 1984, following a Jamaican family during the miners' strike. Separately, Akoto is also set to direct Darkest Place To Die, a US-set neo-noir thriller from Los Angeles-based writer Seth Wimmer, which is now casting.
In the long term, Akoto harbours lofty ambitions. "I want to direct James Bond. If I ever met Barbara Broccoli I'd tell her."
Contact: Baff Akoto