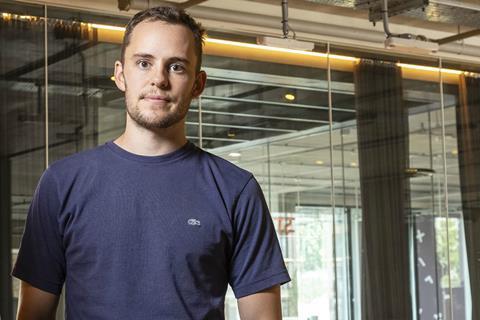 Harry Lighton is in development with BBC Films and Element Pictures on his first feature. Set in the Japanese world of sumo wrestling, it will be told through the perspective of a non-Japanese sumo wrestler as he attempts to assimilate without a mutual language.
Making his first short films while doing an "academically intense" English literature degree at the University of Oxford was, Lighton says, a way to exercise his creative impulse.
He has made four shorts to date, the third of which, Wren Boys (2017), was nominated for both a BIFA and Bafta for best short film, and screened at festivals including Sundance and SXSW. It centres on a Catholic priest from Cork driving his nephew to prison on the day after Christmas. Lighton relished the audience reactions when screening it around the world: "You feel them going, 'Oh no, we're going down this generic route.' When it upturns that, there's a palpable sigh of relief."
He plans to adapt the story into a feature, and is also working with See-Saw Films on adapting a novel for television.
Last year he won Enter The Pitch, an annual competition giving a filmmaker funding and production support to make a short film based on a Bible passage. The resulting film, Leash, premiered at Krakow Film Festival this summer.
Being on the BFI Flare LGBT emerging filmmakers scheme in 2017 also assisted Lighton with guidance and connections in the industry, including a year of mentoring from Wild Rose director Tom Harper. "Those meetings were really valuable," says Lighton. "I had some hang-ups about not having gone to film school. He essentially told me to get on with it, and go and make Wren Boys."
Lighton counts Céline Sciamma and Valeska Grisebach among his inspirations, as well as See-Saw stablemate Steve McQueen, "for his precision and commitment to raw truth". In terms of his own writing, Lighton says the starting point for any project is "a strong emotional reaction that I want to explore. I never want my films to preach."
Contact: Matthew Bates, Sayle Screen