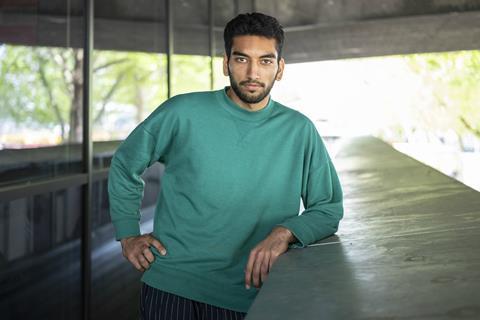 East Londoner Nabhaan Rizwan caught the eye of Sam Mendes in the lead role of crime thriller series Informer, which was produced by Pippa Harris and Mendes's Neal Street Productions for the BBC and Amazon Prime last year. Rizwan played a second-generation British Pakistani in London who starts working as an undercover agent.
The actor says he embraced the multiple elements of the character's personality. "We all have values, but when certain values are provoked, other sides start to come out," says Rizwan, who worked with a stellar cast led by Paddy Considine, Bel Powley and Arinzé Kene. "You learn so much just by watching them do what they do."
Mendes then cast Rizwan in his First World War feature 1917, starring Benedict Cumberbatch, Colin Firth, Richard Madden and Andrew Scott. "This is what I wanted to do, work with some of the best in the game," says Rizwan. "They're all lovely people," he adds of his co-stars. The film started shooting in April at Shepperton Studios, with Rizwan joining up with the production the following month. It wrapped in June.
He has also wrapped a role in Channel 4's TV series The Light, about a community devastated by a construction site explosion, written by Jack Thorne.
Rizwan combines his burgeoning acting career with a passion for music. He is hoping to release an EP as a rapper and producer this year and says his music has fed into his screen career. He has shot a role in Bassam Tariq's fiction feature debut Mughal Mowgli, a drama about a British Pakistani rapper starring and co-written by Riz Ahmed for BBC Films and Vice Studios. "They really allowed me to build the character," says Rizwan, who plays a fellow performer.
Rizwan's mother is Bollywood actress and writer Shahnaz Rizwan and his brother Mawaan is an actor and comedian. Having family members in the industry has been instructive. "It showed me that pathway was possible, because I didn't see too many other people wanting to be artists growing up," he says.
Contact: Kate Morrison, Troika