As Sundance London kicks off, organisers John Cooper and Trevor Groth talk film highlights, Robert Redford and the "nuts and bolts" of filmmaking.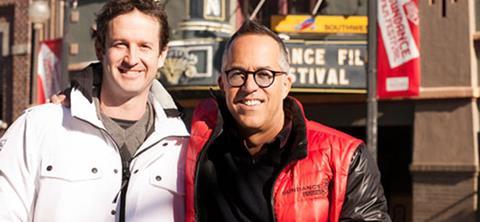 London's O2 arena is a long way from Park City, Utah (4,852 miles to be precise). But the spirit of the Sundance Film Festival will be alive and well at the third edition of Sundance London with its mix of independent movies and events, attended by filmmakers, actors and musicians.
"The most encouraging thing we've leaned over the past few years is how open London audiences are to a really wide range of films," says Trevor Groth, director of programming at the Sundance Film Festival.
The three-day event (April 25-27) offers around 20 of the best films to come out of Sundance in January.
"We had an amazing festival in Park City so that made the selection a lot easier," says John Cooper, director of the Sundance Film Festival.
The line-up includes both fiction and documentaries, with the duo highlighting Frank, starring Michael Fassbender, and Alex Gibney's music documentary Finding Fela.
Hunger for US stories
Gone is the UK Spotlight strand from last year's festival, although films such as Frank and Michael Winterbottom's The Trip to Italy will fly the flag on home turf.
Cooper points out there is a hunger for US stories. "American stories in London seem to do well," he says.
"That's why it's really exciting to bring Little Accidents and Fruitvale Station, which is such a powerful American story, told so well. There is a hunger for deeper American stories that aren't coming out of Hollywood."
Panels
The festival will also offer panels on subjects ranging from the art of film music to how directors such as Lenny Abrahamson (Frank) and Ryan Coogler (Fruitvale Station) find their stories.
Pulp frontman Jarvis Cocker will talk about when music, art and documentary collide while Kickstarter co-founder and CEO Yancey Strickler will talk about building a community around a film.
"The panels are hot this year," says Cooper. "There is a hunger for the nuts and bolts of filmmaking. There is such a diversity of stories about how films get made and they prove very inspiring for a lot of people."
Redford absent
One notable absence will be Sundance founder Robert Redford, who attended the first two editions but will not be in London. There have been reports he is stepping back from his overall Sundance duties. "He says that every year," laughs Cooper.
"He stepped back from the front end a bit and actually came to a lot of movies, getting involved in the experience of it."
Comedy
Returning to Sundance London, Groth adds that comedy will continue to play a big part of the line-up.
"David Cross has been one of my favourite comedians for a long time so it's exciting to have him in London with his satire about where we're at right now in the technological age [Hits]."
Groth will host a conversation between Cross and David Wain, director of They Came Together which will also play at Sundance London, at O2's Brooklyn Bowl, open free to the public.
"There's also a real celebration of art in film too," says Groth. "We have a couple of films that I think are beautiful art films such as Kumiko, The Treasure Hunter.
"The other is Memphis, which I think really elevates the craft of independent filmmaking. To see those two films on the big screen will be a real treat for London audiences."