Dir/scr: Andrzej Wajda. Poland. 2009. 85mins.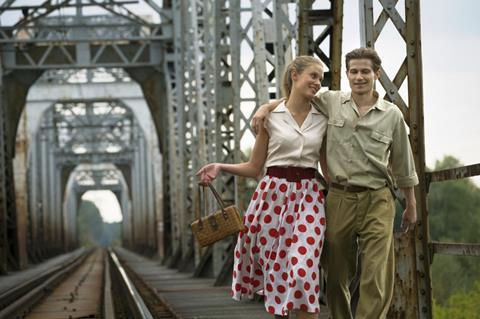 Thirty-two years after he cast her in Man Of Marble, Andrzej Wajda teams up again with Krystyna Janda in a film dedicated to the memory of Edward Klosinski, the cinematographer who shot Man Of Marbleand went on to marry Janda. Sweet Rush plays like a celebration of death on three levels - as an adaptation of a short story by Jaroslaw Iwaszkiewicz, as a documentary about the shoot and as a poignant monologue by Janda in which she describes in details the last months of her husband, who died a year before the film was shot.
A challenging concept on paper, it proves to be less convincing on screen with the three strands not blending together smoothly. If the monologue section is powerfully moving, the story seems to have suffered from the difficult production process which was stalled to allow Janda time off to look after Klosinski. Wajda's and Janda's names will ensure plenty of festival exposure but sales may be less likely.
As adapted by Wajda, Iwaszkiewicz's novel about an impossible love affair is set in the post-Second World War years and tells of a country doctor's wife Marta (Janda) who is still grieving over her sons who died during the war. She is more of a friend than wife to her husband (Englert) who has just discovered that his wife is terminally ill, a fact he keeps a secret. She meets a young man (Szajda) who partly reminds her of her sons and partly of her own youth but soon after they begin their relationship he drowns while out collecting some sweet rush for her.
The story works fine as a short story but there's not enough material for a feature. It's also confusingly told and the progress of the relationship between the wife and the young man is unconvincingly drawn. Nothing in it, neither the melodramatic way it is shot nor the overwrought way it is performed, comes close to matching the quiet power of Janda's monologue which begins the film.
Shot in a dark hotel room that looks like something out of an Edward Hopper painting, Janda delivers a subdued but heartrending account of what she went through during her husband's slow death (it was her idea to include this monologue). With very little of her face visible, it's her voice and posture that poignantly convey her emotions. The film cuts between Janda, the story within the film and scenes shot in black and white of her and Wadja discussing the screenply which serve to provide a link between the story and the Janda's monologue.
Production company/international sales
Akson Studio
(48) 22 840 68 34
Producers
Michal Kwiecinski
Executive producers
Katarzyna Fukacz-Cebula
Cinematography
Pawel Edelman
Production design
Magdalena Dipont
Music
Pawel Mykietyn
Editor
Milenia Fiedler
Main cast
Krystyna Janda
Pawel Szajda
Jan Englert
Jadwiga Jankowska-Cieslak
Julia Pietrucha
Roma Gasiorowska
Krzysztof Skonieczny