After a year of showcasing a raft of new films and TV series, Taiwan is going into 2023 with even more projects in the pipeline
Following a string of 10 high-profile industry showcases held virtually or physically throughout 2022 from Hong Kong Filmart, Cannes' Marché du Film and Toronto to Venice, Busan's Asian Contents & Film Market, Mipcom and more, Taiwan Creative Content Agency (TAICCA) wrapped a robust year with an event at the Asia TV Forum & Market (ATF) in Singapore.
Held on December 8 during the three-day ATF, the Taiwan Content Showcase presented new clips from a trio of projects to international buyers and media, including eight-part legal drama series Port Of Lies (aka The Attorney Of Bachiman), which has received script development support from TAICCA. Actors Christopher Lee and Regina Lei made special guest appearances at the event along with lawyer-turned-director Freddy Tang and executive producer Tung Cheng-Yu from Mirror Fiction.
A further two projects presented at the showcase included animated fantasy series Guebo, co-produced by Taiwan's Xanthus Animation Studio and Japan's Duckbill Entertainment, and Love Punch, a motivational female boxing feature starring Wen Chen-Ling and Ding Ning. The latter is co-produced by Taiwan's Studio 76 and IFA Media Singapore, with support from Singapore's Infocomm Media Development Authority and co-investments from Taiwan's The White Rabbit Entertainment and Hong Kong's Celestial Tiger Entertainment.
An additional three projects were selected for ATF's official programmes: Poison Apple, a 26-part animated drama series from Dottodot, which mixes wuxia with cyberpunk, took part in the ATF Animation Pitch, while six-part action crime thriller The Renegades, from Renegades Entertainment, and 10-part comedy series Wine Lovers, from Awesomeworks Production, were picked for the ATF IP Accelerator Project Market.
Following collaborations with international streamers such as HBO and Netflix, TAICCA is now teaming with Singapore's largest media conglomerate, Mediacorp, which has previously collaborated with Taiwan's Screenworks Asia on Twisted Strings, an anthology film executive produced by Hou Hsiao-Hsien that premiered on HBO Asia and Catchplay.
Presenting more diversity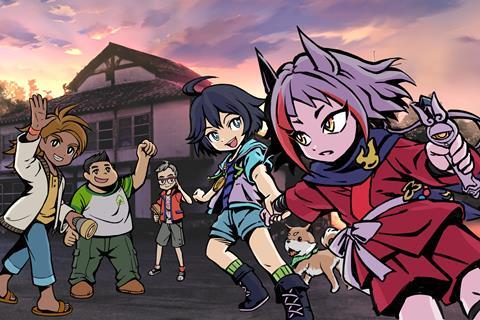 At ATF, TAICCA CEO Izero Lee announced that TAICCA and Media­corp have signed their first MOU to jointly develop content for international audiences, including potential projects with original story ideas to be conceived by Taiwanese writers and projects to be co-funded by TAICCA through its creative content development programme (CCDP) and Taiwan's International Co-funding programme (TICP).
Lee further pointed out that 30% more Taiwan titles were available at ATF this year compared to the year before. A diverse range of 286 film and TV titles were presented at the Taiwan Pavilion set up by TAICCA, including winners from the Golden Horse Awards such as best film winner Coo-Coo 043, best director winner Gaga, Bad Education, which took a best supporting actor prize, and Salute, a semi-autobiographical story of Sheu Fang-Yi, the former principal dancer of Martha Graham Dance Company in New York, who won best action choreography.
Other highlights include winners from the Golden Bell Awards such as music programme Road To Legacy and TV drama Lord Jiaqing And The Journey To Taiwan, which won a best actor award, as well as upcoming series Lovely Villain and season two of popular talent show The Rappers.
The strong delegation that attended ATF comprised 96 companies from Taiwan, including major TV stations and studios such as Chinese Tele­vision System, Eastern Broadcasting, Formosa Television, Gala Television, Sanlih E-Television, Screenworks Asia, Taiwan Public Television Service Foundation and Videoland.
TAICCA also supported networking event Taiwan LGBTQ + BL Mixer Night Out to provide an overview of the emerging trends and opportunities for such content in 2023. Since Taiwan became the first market in Asia to legalise same-sex marriage in 2019, TAICCA has been actively positioning Taiwan as a key hub for the production of Asian queer content for the global market.
A prime example is Gaga­OOLala, Asia's first ever and the world's largest LGBTQ+ and Boys Love (BL) streaming platform operated by Taiwan's Portico Media, which has 1,600 acquired titles and more than 60 original titles that have generated millions of views among its 2.5 million members across 247 territories worldwide.
At the Taiwan LGBTQ + BL Mixer Night Out event, organiser GagaOOLala and guest speakers from YOIISZ International Media and Soul'Chill also presented their upcoming projects, hoping to seek partners from various industries such as media agencies, gaming, animation, music and publishing.
Contact: Erica Lin / pavilion.taicca.tw/2022-atf/ en.taicca.tw

Taiwan Creative Content Agency (TAICCA), supervised by the Ministry of Culture, is a professional intermediary organization that promotes the development of Taiwan's content industries, including film and television, pop music, publishing, ACG, and fashion, artworks and cultural technologies.