Colombia has hit its cinematic stride with prizes in Cannes and foreign productions drawn to its film-friendly incentives.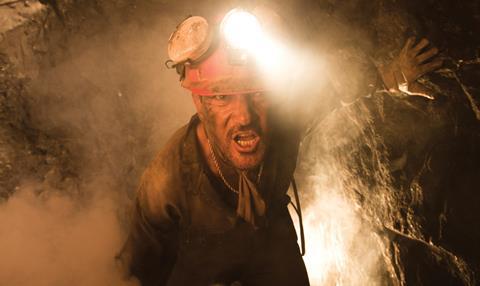 Click the headlines below to explore more:
Colombia's ongoing economic march is fuelled in part by — and continues to drive the re-engagement of — international investors confident in the country's potential even at a time of falling oil prices. The desperate days when the drug cartels and rebel groups waged terror campaigns appear to be over, which is one reason why international productions have headed to Colombia with increasing frequency.
"We are able to get to work with big production companies and learn from their experience," Andres Calderon, Dynanmo
The 33 was, notably, the first international co-production to have benefited from the Law 1556 incentive ushered in two years ago. In early August it opened in Chile on $1.6m via Fox International for the second biggest debut of all time for a local film. The 33's US producer, Mike Medavoy, has no complaints about working with Colombia. The Phoenix Pictures chief chooses his partners carefully, and declares himself delighted with his experience on the US-Chile co-production about the 2010 rescue of trapped Chilean miners after 69 days buried below ground. "We had a really good experience in Colombia in almost every way," Medavoy says of the tax incentive, locations, crews and local partners. The Colombia portion of the shoot went to the capital Bogota and the mines in Nemocon, outside the city.
The production qualified for Colombia's 40%/20% rebate programme, run by Proimagenes Colombia's Colombian Film Commission, and the cash payment was wired to the producers 22 weeks after physical production ended. Law 1556 offers a 40% rebate on local labour spend and a 20% saving on items such as transport, hotels and catering.
Dynamo — the country's biggest producer-financier — was the Colombian production services company on the ground, and CEO Andres Calderon agrees the incentive is effective. "Yes [it works], because we are able to get to work with big production companies and learn from their experience," says Calderon. "Also, we're able to directly employ many people, expand the company's name to other territories and create alliances with 'tier one' companies in the US."
Calderon — whose company also provided production services for Gaumont International Television on Netflix's imminent release Narcos — says there has been "explosive" growth in international companies visiting and scouting Colombia.
Familiarisation trips have been a common sight in the past few years, as authorities strive to show US producers that their experience in Colombia will be both pleasant and productive. "In the last four years more than 10 projects have come to shoot in Colombia, ranging from budgets of $1m to $80m and bringing very well-known actors," Calderon says of projects that have seen the likes of Julia Stiles, Juliette Binoche and Antonio Banderas in the country. "We haven't had any security problems with any of them."
Diego Ramirez of 64-A Films says his company has operated as production services partner on two international features where producers have already received their cash rebates. The first is ETA Films' Blunt Force Trauma from Ken Sanzel, starring Mickey Rourke, Freida Pinto and Ryan Kwanten, while the second is Au Nom Du Fils directed by Olivier Péray and starring Lola Naymark and Pascal Demolon.
"I think we have reached a level where all the advantages of filming in Colombia have brought [it to attention as a] destination to be considered," Ramirez says.
More films, less market share
"Admissions are growing exponentially but our participation is not. We need to act," Diego Ramirez, 64-A Films
Ground has now broken on a studio facility in Medellin that could meet Colombia's need for a world-class sound stage. Even without it, Ramirez has witnessed local production levels rise. There is, however, still room to make a greater connection with local audiences. "We have more films and less [market] share," he says. "The admissions are growing exponentially but our participation is not. There's an opportunity and we need to act."
Total box office for the year-to-date in Colombia has soared 30% on 2014. Cineplex Colombia head Elba McAllister agrees that the near-impossible task of finding available space against Hollywood imports does not fly the flag. "The first [quarter] of the year was overpowered with all the sequels and mainstream releases by the studios, like Furious 7 and Jurassic World, leaving little room for more independent films — including the commercial Colombian films — that bring an important number of admissions when given the space to be released."
Hollywood fare still overshadows local content to the tune of almost 90% of total market share, and some say there is inadequate allocation of screens to show non-US films. "Colombian films are not treated the same as the studio films in respect to the VPF [virtual print fee] paid per screen and this is also something that's hampering the distribution," McAllister says. "Adding the dollar's devaluation, that raises the cost of the releases. There's also a lack of alternative spaces to help screen the amount of Colombian cinema produced."
Ramirez believes there can be more support offered across the country at the regional level, and would like to see the emergence of a true Latin American market that could percolate into individual countries.
He cites the Premios Platino awards in Spain, which honour Iberoamerican cinema, as an example of the kind of profile-boosting recognition that he would like to encourage.
Yet the Law 1556 incentive brings hope that money from external investors will allow local businesses and individuals involved with the productions to grow by association, and help develop a knowledgeable film business.
On a macro level, overall growth of Colombia's economy — 4% in 2014, with signs it could do the same again this year — is a rising tide that lifts all boats.
Smart production investment
As individual production entities in their own right, Dynamo and 64-A Films look buoyant. Among other titles, the former is co-producing with Argentina's Patagonik a remake of the smash Mexican comedy Nosotros Los Nobles, comedy caper Detective Maranon and La Rectora with Caracol TV.
64-A has two films in post: Fragments Of Love by Fernando Vallejo and Viacrucis by Harold De Vasten. TV giant Caracol is co-developing and financing low-budget Colombian films, two of which — the Dago Productions pair Carta Al Nino Dios and Una Historia Vallenata — McAllister's Cineplex will handle theatrically across Latin America and on DVD. Similarly, broadcast giant RCN has made noises about moving deeper into English-language genre fare, having backed in recent years hostage thriller Default starring David Oyelowo and Peter Facinelli-starring horror title The Damned.
There is no obligation on the TV sector to invest in Colombian cinema, although when they do it is a good way to secure TV rights.
"We have a strong TV industry in Colombia," says Claudia Triana, director of Proimagenes Colombia. "Each year Caracol is involved in three films and helps with promotion and investment. From 2006, they started to learn more and started [to play a greater role in film].
"They started to co-produce and invest in national films, not because it was obligatory but because they thought it would be interesting. RCN invested in around 11 films from 2006-14. Last year Caracol started to be more aggressive. For instance Embrace Of The Serpent has investment from [Caracol]."
On the festival front, Colombia, which hosts 70-plus events a year, sees the launch in October of Bogota International Film Festival led by former Proimagenes projects head Andres Bayona, which could challenge Cartagena International Film Festival (FICCI) for primacy. July's Bogota Audiovisual Market (BAM) remains the premier industry market.
Last July, IndieBo ran alongside BAM film market and is founded by The Colombian Film Festival in New York heads Paola Turbay, Alejandro Estrada and Juan Carvajal.
On these fronts, too, Colombia seems to
be winning the battle for awareness. Press attendance and the reports that flow from such jamborees go some way towards painting a picture of a booming market.