Carter Burwell's score for The Banshees Of Inisherin swerves the musical clichés suggested by its period Irish setting. The composer tells Screen how he created sounds that reflect the story's deft balance of light and dark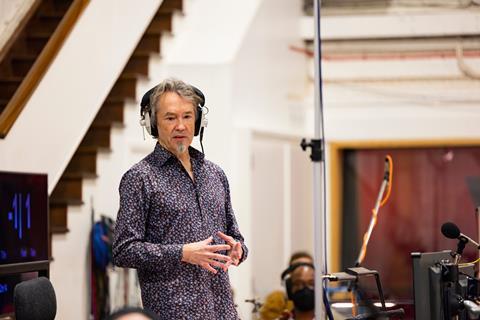 Before shooting The Banshees Of Inisherin, writer/director Martin McDonagh made it clear, recalls composer Carter Burwell, that what he didn't want for the score was "old-world Irish film music", as he put it. "So I had the entire time they were shooting to think about what else it might be," admits Burwell. "And I can't say I really had a solution."
It was only when he saw a rough cut of the tragicomic tale about the break-up of two friends — played by Colin Farrell and Brendan Gleeson — living on an island off the west coast of Ireland that the film's gentle pacing and "unexpected beauty" gave the composer the inspiration he needed.
Working on his fourth project with McDonagh, Burwell latched on to the childlike simplicity of Farrell's character Padraic and found the film "playing sort of like a fairy tale", suggesting a musical approach that would reflect the character and allow "a little bit of an escape" from the story's eventual turn towards the macabre.
Like the wounded and lonely Padraic, says Burwell, "all the tunes have a basic simplicity to them — there's not a ton of chord changes or harmonic complexity — though they get a little more complicated the more you look under the hood. My hope is that the simplicity, the restraint, makes it even more heartbreaking."
In the finished film the music is mostly played by an ensemble featuring harp — for its "fragility", says Burwell — bass and alto flutes, and a celeste (the bell-like keyboard instrument known from Tchaikovsky's 'Dance of the Sugar Plum Fairy' in 'The Nutcracker'), with the occasional addition of a small orchestra. The score's faint sense of foreboding comes in part from low-toned Balinese gamelan instruments whose harmonics, Burwell explains, sound slightly out of tune to western ears.
The aim was for the music "to be layered in the same way the story is", says its composer, "where it's both terribly sad and very funny. Hopefully — and I have this hope for most of what I write — it's capable of being interpreted both ways. I don't like to paint the picture as being light or dark. I feel, like life, it should ideally be both things in balance."
In this case, the balance has struck a chord with awards season voters and the film — made for Disney's Searchlight Pictures and the UK's Film4 — has emerged as a leading contender for honours on both sides of the Atlantic, with Burwell getting his third Oscar nomination for his original score and his second Bafta nod.
Career trajectory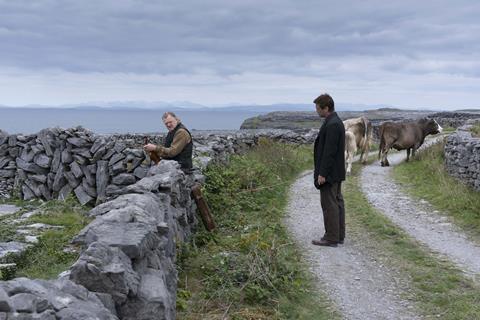 A Harvard-educated polymath who, before his film career took off, worked in animation and computer science as well as playing in bands on the 1980s New York club scene, Burwell is best known for his long association with indie film iconoclasts Joel and Ethan Coen. He has contributed adventurous, often witty scores for 16 — almost all — of the brothers' films, starting with 1984's Blood Simple and continuing through to the siblings' most recent joint project, 2018's The Ballad Of Buster Scruggs.
Burwell's career, though, has also taken in mainstream commercial hits — among them The Blind Side, and films in the Twilight series — and ongoing collaborations with other distinctive filmmakers, including Todd Haynes (whose HBO mini­series Mildred Pierce brought the composer a Primetime Emmy in 2011), Spike Jonze and Bill Condon.
Banshees follows work with McDonagh on In Bruges, Seven Psychopaths and Three Billboards Outside Ebbing, Missouri, and the nature of this particular collaboration, Burwell suggests, comes out not just in the new film's music but even in its music-free dialogue scenes.
In London-Irish filmmaker McDonagh's dialogue writing, "there are repetitions and meters", says Burwell. "It has, to my ear, a musical quality a lot of the time. We spotted the film together and we have similar instincts," he explains, using the term for watching a film to determine how the music should interact with it. "Both of us tend to prefer to let the words stand on their own rather than playing music under them. Although there's a vast tradition of music playing basically from the beginning of a movie to the end, where it colours everything, I prefer, both as a viewer and as a composer, the uncertainty and discomfort that comes from the music not telling you how to feel."
For Burwell, the value of establishing ongoing relationships with filmmakers lies not just in personal compatibility and shared world views, although both are important.
There is also, he says, "a trust that develops. I know I can send them an idea that sounds a little way out or isn't what they were expecting and I'm not going to get fired the next day. By the same token, they can come back and say, 'This music isn't working,' or 'I know I said I liked it two weeks ago, but it's actually all wrong,' and they know I'm not just going to quit.
"The best work involves risks," Burwell insists. "If you don't have that trust, the tendency is to do something that's tried and true. But if you want to try something a little different, that level of trust is important."
Future projects
After Banshees and his other project from last year, Lena Dunham's medieval comedy drama Catherine Called Birdy, Burwell has a full schedule for 2023. For Apple TV+ there is a third season of Jennifer Aniston-Reese Witherspoon drama series The Morning Show.
Burwell, who does most of his composing from his home on New York's Long Island, admits he finds TV work "challenging… because it never ends". On a film, "I want what I'm writing at the beginning to pay off at the end. But with TV, I generally don't know what's going to happen in the [season's] last episode when we start the first one — and even that last episode of the season isn't an end because there will be another season, maybe. So it's a real marathon."
On the film side, there is Shailene Woodley psychological thriller Misanthrope, which is the first English-language feature from Argentinian director Damian Szifron (Wild Tales), and Brian Helgeland's drama Finestkind, Burwell's third project — after A Knight's Tale and Legend — with the writer/director.
After writing the score for Joel Coen's solo debut The Tragedy Of Macbeth in 2021, Burwell is also about to start work in earnest on Ethan Coen's first film without his brother, a reported lesbian sex comedy for Working Title starring Margaret Qualley, Geraldine Viswanathan and Beanie Feldstein.
The officially untitled project — which Burwell likes to refer to by its tentative moniker of 'Drive-Away Dykes' — continues the kind of relationship the composer, now 68, cherishes more than ever.
"As I get older," says the affable Burwell, "I especially appreciate that spending time with people who I enjoy is a good thing. It's a lot better than the alternative."