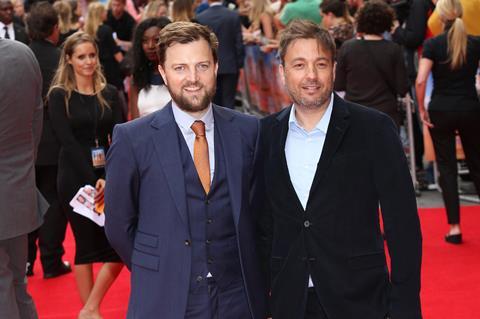 Need to know: Film and TV production company Fudge Park was set up by The Inbetweeners creators Damon Beesley and Iain Morris in 2015 after leaving their previous outfit Bwark, which was acquired by Zodiak Media Group (now Banijay) in 2011. The company has a four-picture deal with Film4 and Entertainment Film Distributors, the first of which was comedy The Festival (2018) directed by Morris and starring Joe Thomas. For its TV projects, Fudge Park has a global distribution and development deal with BBC Worldwide. TV credits include White Gold and Ill Behaviour for BBC2.
Key personnel: Damon Beesley, Iain Morris, founders/writers/directors; Simon Wilson, creative director; Mark Lesbirel, managing director; Phil Gilbert, executive producer/producer.
Incoming: Following The Festival, Fudge Park is developing three more features as part of the deal with Film4/Entertainment, with the next set for a 2020 release. The company's upcoming project is Scotchland, co-written by Morris and US actor and comedian Brett Gelman (Stranger Things, Fleabag, Lena Dunham's Camping). Directed by Morris, it is an Agatha Christie spoof about the cast and crew of a Game Of Thrones-style production set in Scotland; Claire Jones produces. On the small screen, the second series of White Gold will air in 2019, after it was put on hold following sexual assault allegations made against actor Ed Westwick (which were dropped in July). Also upcoming is BBC3 comedy Enterprice written by and starring Kayode Ewumi. Beesley and Morris are also co-writing an original TV comedy, which will arrive in 2019.
Damon Beesley says: "All our films are designed to be commercial comedy movies that will play well in a multiplex. They are broad but tonally recognisable as an Iain Morris or Damon Beesley film. We also have ambitions to make other types of films after that deal, including dramas. We are fairly boutique in terms of our slate but we are always in development and working with writer/performers."
Contact: info@fudgepark.com