Screen profiles some of the rising producers who will be flying the flag for UK filmmaking excellence in years to come.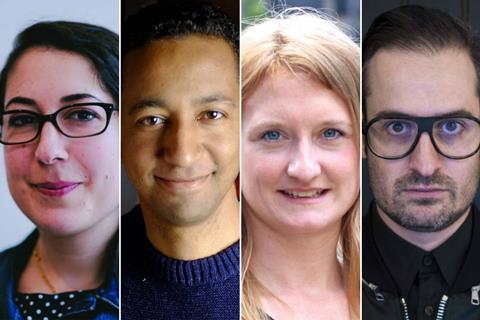 Archface Films
Daisy Allsop is riding high after Annabel Jankel's Tell It To The Bees, a romance starring Anna Paquin and Holliday Grainger that premiered to strong reviews as a Special Presentation in Toronto this September. On the slate are The Aquarium with Oscar-nominated Sylvain Chomet, from a script written by Allsop herself; feature documentary The Makings Of A Beautiful Monster; and a TV series about notorious murderer Raoul Moat with writer/director David Leon and BBC3.
Ardimages UK
Manon Ardisson launched the UK wing of Ardimages — an offshoot of the French production company — in 2016 off the back of producing Francis Lee's well-received debutGod's Own Country. In the works on the international-looking slate are: Sophie Barthes's An African In Greenland, based on the memoirs of explorer Tété-Michel Kpomassie; the second feature from La Soledad director Jorge Thielen Armand; and a commissioned pilot for Sky.
Dominic Buchanan Productions
Dominic Buchanan founded his own outfit in 2012, and to date has produced the likes of Gimme The Loot, Lilting and King Jack. In 2017, his series The End Of The F***ing World, made with fellow UK outfit Clerkenwell Films, was a big hit after premiering on Channel 4 and then Netflix. The show, which was nominated for a Primetime Emmy, was renewed for a second series in August. On Buchanan's future film slate are horror-comedy Caring, the debut feature of Gabriel Bisset-Smith; Miss Universe with writer-director Kate Herron; and Orgreave, the second feature of director Baff Akoto, with co-producer Joy Gharoro-Akpojotor.
Hakawati
Elhum Shakerifar is carving out a niche as a producer of socially minded feature documentaries. Her project A Syrian Love Story with Sean McAllister was Bafta-nominated in 2016, and the pair re-teamed on A Northern Soul in 2018, which Hakawati directly distributed in the UK. Shakerifar is now in post-production on Yasmin Fedda's Ayouni, which is about two women searching for disappeared loved ones in Syria. On the horizon is a film about British multiculturalism in the 1990s and a project that will look at autism.
Lupus Films
Camilla Deakin and Ruth Fielding, the founders of animation outfit Lupus Films, made the move into features with 2016's Ethel & Ernest, a biographical story from the late Roger Mainwood. After receiving Creative Europe backing in 2017, the company's slate now features a film adaptation of Michael Morpurgo's Kensuke's Kingdom, a TV special based on Judith Kerr's The Tiger Who Came To Tea and live-action feature Lionel The First with Swimming With Men director Oliver Parker.
Misfits Entertainment
Misfits Entertainment was formed by Pulse Films co-founder Ian Bonhôte and fellow filmmaker Andee Ryder in 2016. The company's documentary McQueen, directed by Bonhôte (co-directed by Peter Ettedgui) and made with Salon Pictures, had a successful UK theatrical run via Lionsgate in 2018. On the slate are a mixture of documentaries and fiction features, including Mexico City-set psychological thriller-horror Civa; street racing-themed action film Street Demons; a drama about a transgender man who becomes pregnant, titled Lavender; and music festival-set horror feature Burning Lake.
Out Of Orbit
Belfast-based Brian J Falconer has produced more than a dozen shorts, winning a Bafta in 2015 for Boogaloo And Graham. His debut feature was The Dig, which won best film at the 2018 Galway Film Fleadh before playing Toronto.
In post-production now is Normal People, with Lesley Manville, Liam Neeson and Bankside. On the slate are Breathing from writer Owen McCafferty; Harvesting from Boogaloodirector Michael Lennox; Jon Beer's The Jesus Corridor; and a feature about the Eurovision Song Contest.
Parkville Pictures
Olivier Kaempfer and Cecilia Frugiuele's Parkville hit new heights in 2018 when The Miseducation Of Cameron Post, Desiree Akhavan's gay conversion therapy drama with Sasha Lane and Chloë Grace Moretz, won the Grand Jury Prize at Sundance Film Festival. Upcoming are Leanne Welham's Blitz drama The Warning, in co-production with James Schamus, and Hong Khaou's third feature The Ugly One.
Quiddity Films
Emily Morgan shot to prominence after winning the outstanding debut Bafta for Rungano Nyoni's I Am Not A Witch in 2018. She is now applying the finishing touches to Claire Oakley's feature debut Make Up, starring Molly Windsor, which was produced through Creative England's low-budget initiative iFeatures. On the slate is Harry Macqueen'sSupernova, in co-production with The Bureau, and Antarctic thriller White with director Emily Young.
Sarah Brocklehurst Productions
Sarah Brocklehurst, who received an outstanding debut Bafta nomination in 2012 for Black Pond, wrapped Sophie Hyde's Animals earlier this year — the comedy stars Holliday Grainger and Alia Shawkat and is being represented by Cornerstone Films. On the slate are two new features with Animals writer Emma Jane Unsworth, Miriam Heard's second feature I'm At Home Here, and Glamrou, a musical by Amrou Al-Kadhi and Matthew Hammett Knott, co-produced with Farhana Bhula and in development with the BFI.
Silvertown Films
Former Wildgaze executive Bennett McGhee is moving under his own steam, having produced sports documentary feature Bobby and rap battle drama VS. with BBC Films, which Altitude released in the UK. Upcoming are political thriller Reason Of State, from Operation Finale writer Matthew Orton, with Black Bear Pictures and Wildgaze, and David Freyne's coming-of-age story Beards, a UK-Ireland co-pro with Rachael O'Kane and Screen Ireland.
Stigma Films
Matthew James Wilkinson founded Stigma Films in 2011 after working in development at Working Title. The company has had a banner year in 2018, producing a hugely impressive four features: a still-untitled Danny Boyle and Richard Curtis film with Working Title Films and Universal, Romola Garai's horror film Outside, Simon Bird's comedy Days Of The Bagnold Summer and Gerard Johnson's thriller Muscle. On the horizon are ghost story The Power, sci-fi Gateway 6 and a short-form horror series.
SUMS Film & Media
Former Ruby Films executive Andy Brunskill's new banner SUMS Film & Media has four films in post-production: psychological chiller The Visitor, post-Brexit migrant romance The Drifters, black comedy Ilkley and dark teen drama Gully. Next up is an ambitious new-format project in development with an A-list director and an SVoD service, which is gearing up to shoot next year.
Western Edge Pictures
Vaughan Sivell and Franki Goodwin's Western Edge Pictures, which is based in London and Wales, fully financed Alice Lowe's Prevenge and is working on her next feature, Timestalker. The company is now in production on Billie Piper's directorial debut Rare Beasts. Sivell, also a director with his own projects in the pipeline, launched his Pistorious documentary series with Amazon Prime in September.