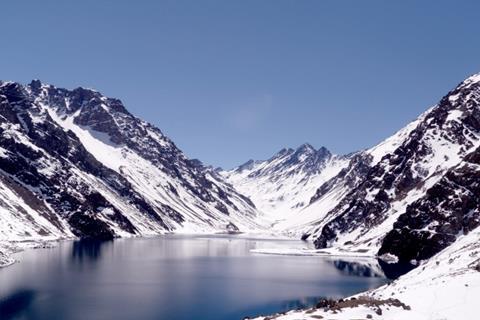 Documentary has been part of Patricio Guzmán's biography ever since General Augusto Pinochet's 1973 overthrow of the democratically-elected socialist government pushed Chile into years of hellish dictatorship.
He first came to Cannes with The Battle Of Chile in the 70s. Now he's back with The Cordillera Of Dreams, a French-Chilean co-production that is receiving a special screening in the official selection.
It's a portrait of Santiago, the city where Guzmán was born, and explores both intimate memories and the telluric quality of the mountain range overlooking the city. It's part of a trilogy with Nostalgia For The Light (2010) and The Pearl Button (2015), but he's already got his eye on the Chilean coast for his next documentary.
Why did you choose to focus on the mountains to talk about Santiago?
The mountain range is a huge wall that surrounds the city. If you live there, your life is shaped by the city and that mountain range with hills that are thousands of feet high. It's a good leitmotif to talk about what happens in Chile, because those rocks have witnessed everything. It would be great if we could talk to the mountains but since that is impossible, I film them and try to read what our lives look like from up there. There's nothing that defines Santiago better.
Did you feel you needed the distance of the years gone by and your exile to get a better perspective on your country and your memories?
Yes, indeed. Since the coup, I have spent more than half of my life out of Chile. I have lived in Madrid, France and Cuba, but the memory of your homeland, where you are born, is something nothing can erase. It's linked to a formative stage in your life, when you are building your personality. The heart of who I am is rooted in Chile and that is what keeps me going as a filmmaker. I live in France, but I don't even speak French properly. I know the country, but I feel more like a tourist. I love Spain too but my love for Chile is different, more powerful, and at 77 years old I don't think that is likely to change.
Do you see The Cordillera Of Dreams as part of a trilogy with Nostalgia For The Light and The Pearl Button?
I always wanted to make a film about Santiago, but I decided to start with the north of the country [Nostalgia For The Light] because it's visually very attractive and then I headed south [The Pearl Button, which won the Silver Bear for best screenplay at Berlin 2015]. After this film, I want to keep filming Chile in the same way because there are other territories yet to explore. The coast is one of them, an extremely long coastline facing the vastness of the Pacific Ocean.
How has cinema helped you deal with the harshness of the Pinochet dictatorship and exile?
Art and life go hand in hand. That has helped me carry on.
How do you see the new generations of Chilean filmmakers?
Documentary nowadays is more personal, freer. Everything can be a documentary, and there are more genres in documentary. When I started, they were all in black and white and quite dry in style. Younger generations of filmmakers are exploring the possibilities of the format, and rightly so because the chances to experiment are vast. So are the topics. You can also see documentary being more and more present in all sections of film festivals.
A lot of Chilean filmmakers are talking about what happened in Chile, about the coup that shook and still shakes everything up from very personal and diverse points of view, both in documentary and fiction.