Dir:Julian Schnabel. 2007.France 112 mins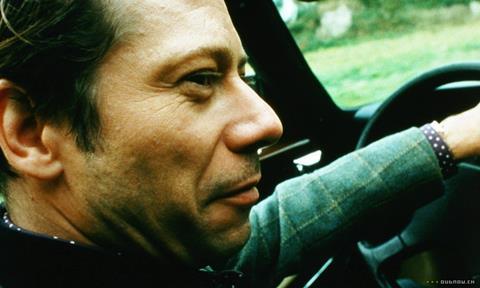 An astonishing assertion of the human spirit in the face of seemingly insurmountable odds, Jean-Dominique Bauby's The Diving Bell And The Butterfly was one of the publishing sensations of the 1990s, selling in excess of 1 million copies.
Told with humour and humanity, The Diving Bell cannot fail to touch any audience
Julian Schnabel's flawless adaptation treads a similar line between the heartbreaking and the life-affirming to create a deeply moving film with the emotional power of My Left Foot or The Sea Inside. Familiarity with the memoir combined with critical acclaim for the film should create a potent upscale attraction with the definite possibility of across-the-board awards consideration.
Bauby (Mathieu Amalric) was the rakish, high-flying Paris-based editor of Elle when he suffered a massive stroke in December 1995. In the past he would almost certainly have died. The irony of modern medical advances was that he survived but only to find himself paralysed and without the power of speech. His body had become a prison.
The film begins by placing us in Bauby's situation. The milky blur of the screen image conveys Bauby's emergence from a three week coma. A doctor informs him that he is in a naval hospital at Berck-sur-Mer near Calais. He cannot speak or move. Communication is restricted to the blinking of an eye. One blink signifies yes. Two blinks signify no. This is to be his life.
The realisation of his desperate situation is slow to come but Schnabel keeps us inside Bauby's head for at least the first 20 minutes of the film. Subjective camerawork allows us to see only what Bauby sees. The contrast is provided by the running commentary of his wry voice-over as he grapples with self-pity, suicidal thoughts, hope and the notion that he has become a castaway on a distant island of loneliness.
Composing an entire film of subjective camerawork and abstract images might test the most dedicated cinemagoer and The Diving Bell And The Butterfly soon expands its vision to incorporate flashbacks and encounters that help us to build a sense of Bauby's previous life. He comes to characterise his situation as the equivalent of being trapped in an old-fashioned diving bell, floating through the murky waters of the ocean.
He also realises that whilst his body is trapped his imagination remains free to roam at will. In his mind, he can be skiing down a mountain, surfing the highest waves, making exquisite love or savouring a feast of seafood delicacies. The power of the imagination is his triumph. Eventually he decides to write a book using his ability to blink to choose letters from a specially adapted alphabet and start forming words.
Told with humour and humanity, The Diving Bell cannot fail to touch any audience. It allows the viewer to wonder how they might respond in such circumstances and to marvel at both Bauby's achievements and the incredible dedication of those who cared for him.
Empathy is instantly created by some commendable performances, notably from Marie-Josee Croze as the saintly speech therapist who patiently steered Bauby away from self-pity, a warm Emmanuelle Seigner as Bauby's loyal estranged wife Celine and from Max Von Sydow as Bauby's elderly father Papinou. Von Sydow has only two major scenes in the film but invests them with such a depth of emotion that Papinou becomes a major character. Only the brevity of his screen time might work against him being rewarded with some supporting actor nod further down the line.
Mathieu Amalric has become one of France's busiest and most dependable performers over the past few years. He brings a perfect sense of dash and swagger to Bauby in his days as a mover and shaker, letting us realise that he may not have been the most sympathetic of characters. Frozen to a bed or a wheelchair and able to emote with only the dart or stare of his eye, he is equally convincing in allowing us to experience the range of emotions that Bauby endured and his voice-over has just the right variations in exasperation, rueful humour and resignation. Although the role was originally announced for Johnny Depp, it is hard to imagine anyone doing it more justice.
Production companies/backers
Pathe Renn Production
France 3 Cinema
CRRAV Nord
International sales
Pathe
Producers
Kathleen Kennedy
Jon Kilik
Screenplay
Ronald Harwood
Based on the memoir by Jean-Dominique Bauby
Cinematography
Janusz Kaminski
Production design
Laurent Ott
Editor
Juliette Welfing
Music
Paul Cantelon
Main cast
Mathieu Amalric
Emmanuelle Seigner
Marie-Josee Croze
Anne Consigny
Patrick Chesnais
Jean-Pierre Cassel
Max Von Sydow