Dir. Remi Bezancon. Fr, 2008. 114 min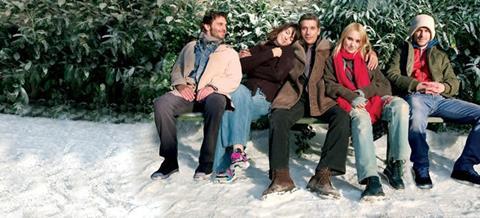 A beautifully-written mini-saga that's comfortably familiar without being predictable, The First Day of the Rest of Your Life paints a rich portrait of a modern family through the events of five specific days between 1988 and 2000. Intelligently cast with attractive actors who convince as blood relatives, this bittersweet comedy achieves the neat trick of being unmistakably French but undeniably universal.
Production design, music, hair, costumes and widescreen camerawork are quietly spot-on
Although summer is still considered a risky period for domestic films in France, positive word of mouth could lead to encouraging local returns for this July 23 release. Sidebars at all but the edgiest fests should take a look, and distributors in the market for character-driven foreign fare (with 'date movie' potential) would also do well to investigate.
Writer-driector Remi Bezancon follows his 2005 debut Love Is In The Air with further reinforcement of his skill at navigating between joy and sorrow with a steady undercurrent of humour. Loosely centred on one character at a time, the story is pegged to five precise dates on which one or more momentous things happened, with the same actors playing a mother (Breitman) and father (Gamblin), their two sons and daughter. Seamlessly-incorporated flashbacks within the episodes sometimes use much younger actors as the children.
The Duvals live in a comfortable house in a middle-class Paris suburb, thanks to a loan from grandpa (Dumas), a widower who continually undercuts his only son Robert's accomplishments - although taxi driver Robert is a success by most meaningful standards. Robert shares a loving complicity with wife Marie-Jeanne (Breitman).
The first to leave home, eldest son Albert (Marmai) moves to an attic room at the film's outset. Almost immediately he meets fascinatingly flakey neighbor Prune (Cassel).
Dreamy middle child Raphael (Grondin, excellent) has enrolled in college art classes, but clearly hasn't found his calling. Little sister Fleur (Francois, absolutely terrific) toys with losing her virginity on her 16th birthday, a diary entry which prompts the film's title.
Anyone sceptical that a taxi driver could support a wife and three children, the eldest of whom becomes a doctor, should be aware that many forms of government aid kick in with the third child, and medical school in France is practically free.
Pot, wine, sex, and cigarettes are important components of this story, but this is ultimately a wholesome cross-generational tale whose twists and turns are both touching and entertaining. In fact, The First Day 's intelligent approach to smoking is a model of why well-meaning American organisations who demand an instant 'R' rating for any movie in which a character smokes are puffing up the wrong alley.
Production design, music, hair, costumes and widescreen camerawork are quietly spot-on. A very funny air guitar competition that also advances the plot is a comic highlight.
Bezancon is creative in the ways his characters confront issues big and small. In fact, the family touchstones are so evocatively handled that even somebody raised in an orphanage should be able to relate.
Production companies.
Mandarin Cinema
StudioCanal
France 2 Cinema
Canal Plus
TPS Star
International sales:
StudioCanal:
(33) 1 71 35 11 03
Producers.
Eric Altmayer
Nicolas Altmayer
Isabelle Grellat
Screenplay
Remi Bezancon.
Cinematography
Antoine Monod
Production design
Maamar Ech-Cheikh
Music
Sinclair
Editor
Sophie Reile
Main cast
Jacques Gamblin
Zabou Breitman
Deborah Francois
Marc-Andre Grondin
Pio Marmai
Roger Dumas
Cecile Cassel