Uncut Gems may be substantially the biggest-scale film the Safdies have ever made, but the shoot remained true to the creative spirit of their indie roots.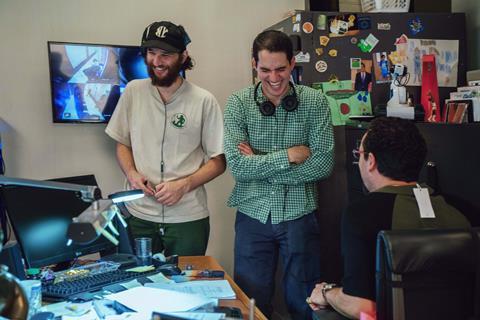 Josh and Benny Safdie always knew Adam Sandler was the only man who could play the lead in their gritty thriller Uncut Gems, set in New York's diamond district.
They first approached the actor back in 2012 for the role of Howard, a compulsive gambler and jewellery store owner who is in over his head with debt, but the A-lister turned down the brothers who, at that time, were not well-known outside the festival circuit.
"His team passed because who the hell were we?" recalls Josh, laughing. "Why should we get to work with Adam Sandler at that place in our career?" It turns out, they would eventually get their man — but it would take another five years.
Uncut Gems — which premiered at Telluride earlier this year, opens in US cinemas via A24 on a limited release from December 13 before going wide on December 25, and is available internationally via Netflix in early 2020 — was first envisaged as a follow-up to the duo's Cannes Directors' Fortnight title Daddy Longlegs in 2009.
That film, about a divorced projectionist and his two sons, was an attempt by the brothers to understand their father's "fractured personality", and led them to develop a project based on his time working in New York's diamond district, located on Manhattan's 47th Street. Their father did work for a jeweller named Howard, but the film was inspired by the pulpy stories he would tell his sons, rather than this one particular man.
The duo finished an early version of the script in 2009, but it became evident the project would be on a far larger scale than their previous work. "It was an opportunity that we hadn't really earned yet," Josh recalls.
So their next project became Lenny Cooke, a documentary about a former high school basketball prodigy. Some of those they met for the shoot ended up inspiring characters in Uncut Gems, which revolves around basketball betting and sees NBA legend Kevin Garnett play himself in a key role.
The next piece in the puzzle was their 2014 drama Heaven Knows What, based on the life of Arielle Holmes, a former homeless addict they met while researching Uncut Gems. After premiering in Venice's Horizons strand, it brought them to the attention of US indie distributor A24, which wanted to help the brothers make their next film. With this heavyweight backing and a rewritten script of Uncut Gems, the brothers were on their way to Los Angeles for a table read in 2015. Then Robert Pattinson called.
The actor was a fan of Heaven Knows What, and told them: "Whatever you're doing next, I want to be a part of it." He was not a good fit for Uncut Gems, so the brothers wrote crime thriller Good Time for him. It was their first film to be selected for Cannes' main competition and earned rave reviews, especially for Pattinson's performance. Benny says: "We can use [Good Time] as a way to educate ourselves on pacing and genre filmmaking, because we didn't quite know that. It was also apparent we weren't quite at the place yet where we deserved to warrant the budget we needed. Good Time became the final step in the educational process that allowed us to go forward with Uncut Gems."
By this time in 2016, Martin Scorsese and his New York-based producer Emma Tillinger Koskoff were attached to Uncut Gems through their RT Features production fund. "That's a life-changing experience. Marty and Emma were very instrumental in lifting the profile of the film," says Josh, who also credit heavy­weight producer Scott Rudin (No Country For Old Men, The Social Network) coming on board as "the next big step" in the film's development.
"Scott really pushed the script and pushed the style of production," says Benny. "Scott said, 'If you actually want to make this movie, this is what it's going to cost.'"
When Uncut Gems was announced in the trades in 2017, Jonah Hill was set to star as Howard. "We thought Jonah was an amazing actor," recalls Josh, "but we couldn't really work out how to make the character the age that [Hill] was. At the same time we were having trouble figuring this out, Jonah was getting very interested in directing and writing." Hill left the project to make Mid90s when the duo were in Cannes with Good Time. That film finally persuaded Sandler to sign up, with Idina Menzel, Lakeith Stanfield, Garnett, Julia Fox and Eric Bogosian co-starring.
The next step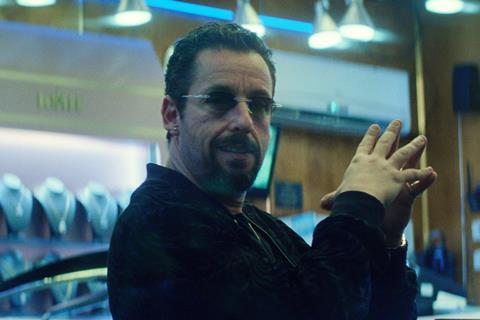 Uncut Gems started shooting in September 2018 and was produced by Elara Pictures — the company run by the Safdies, Sebastian Bear-McClard and the film's co-writer/editor Ronald Bronstein, alongside Rudin and Eli Bush. Scorsese and Tillinger Koskoff are among the executive producers.
It would be the biggest production they had mounted and their first to use a union crew in New York, which worked alongside renowned Se7en cinematographer Darius Khondji. "It was the next level of resource," says Josh. "Up until Good Time, we'd never even had a script supervisor."
Benny adds: "Our style of production changed a little bit, but we tried not to. We tried to keep the same pace [as in previous films], constantly moving forward with a lot of set-ups. We wouldn't block things, we'd shoot our rehearsals. It was a step up, but the crew brought their professionalism and ideas and we fed off that."
Josh remembers a day when he ventured outside of the diamond-district set to do a costume approval for Menzel, walking a few blocks to find himself surrounded by crews and trailers, and not realising they were for his own film. "I was thinking, 'Wow, I wonder what they're filming?' It was a real moment of 'holy shit'."
The most "intense worker" on set was Sandler himself, according to the Safdies. Before production started, the actor and comedian embarked on his 100% Fresh tour, which became a Netflix special, crossing 50 cities and performing more than three hours a night. "Our film really benefited from that," says Josh. "Sometimes we would throw him two pages of dialogue over lunch and those muscles were so refined in his brain that he was able to work in new material and bring back old material that he saw maybe six drafts prior as a form of improvisation. We're watching him on a monitor and saying, 'Wow, this man is a genius.'"
Sandler was also open to Josh and Benny's unorthodox methods to prepare him for their filming style. Before the shoot they gathered a bunch of "degenerate sports gamblers, jewellers, rappers and athletes", put them all in a sports bar with Sandler in character as Howard, and started shooting B-roll with two cameras. Josh says: "It was just him watching the Boston Celtics [basketball team], for three-and-a-half hours. No action, no cut. That's how he started to get the character going."
The next project for the Safdie brothers remains a mystery at present. It has previously been reported that they would direct a remake of Walter Hill's 1982 buddy cop film 48 Hrs, but this is "in flux", according to Josh.
"Right now, we're just focusing on Uncut Gems and making sure it gets out into the world in the right way. There is a handful of things we're mulling."