The Terror writer/producers David Kajganich and Soo Hugh talk about the challenges of bringing the real-life mystery of a lost Arctic expedition to the screen.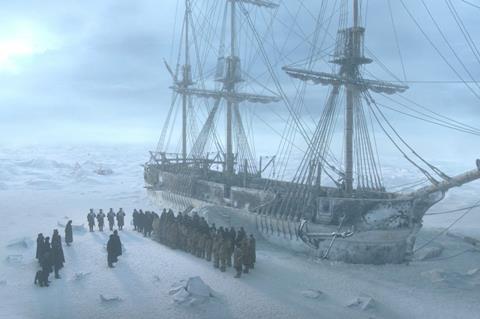 Truth, it is said, is stranger than fiction, and that is certainly the case for the 10-part AMC series The Terror. Based on Dan Simmons' bestselling 2007 novel, it is a fictionalised account of John Franklin's expedition to the Arctic in 1845, in which his two ships became icebound and all 129 men were lost.
For writer/producer David Kajganich, the project is the culmination of a long-time fascination with Franklin, which began in his days working as a wilderness guide. "I used to talk about Franklin and his men as a way of discussing questions of leadership, preparedness and fortitude," he says. "But at its core, it's just such an unnerving mystery. How does something so epic go so wrong? When I heard Dan was writing a novel about this expedition, but with a gothic horror speculation as to how the disaster might have happened, I knew I would move mountains to be part of bringing it to the screen."
Kajganich was so determined to be involved with the adaptation that he has stuck with it for over a decade, from when it was originally conceived as a feature film to attempts to make it for television back in 2009.
"A lot of places saw the potential of the show, and AMC even had it for a while, but ultimately everyone passed," he says of attempting to mount the project in the days before television opened up in scale. "This was before the success of shows like American Horror Story and True Detective, so it was much more of an untested concept. But AMC finally found a model for it as a limited series, and gave it a greenlight for 10 episodes."
Scaling up
With Kajganich having never produced a television show before, and faced with the tremendous creative and practical scale of The Terror, a partner was required. That came in the form of Soo Hugh, who had previously produced Stephen King adaptation Under The Dome for CBS and created horror series The Whispers for ABC.
"I was sent Dave's pilot for The Terror in 2016 and was immersed from the very first word," she recalls. "This feeling heightened after reading Dan's book. Both the pilot and the novel brought to life a harrowing but inspiring survival story coloured in by spooky genre elements."
Also on board as producing partners alongside AMC were Entertainment 360, EMJAG Productions and Ridley Scott's Scott Free. "Ridley was our creative and spiritual godfather," says Hugh. "Not only were we inspired by so many of his films, we were grateful for the trust he bestowed on us to make the series we wanted."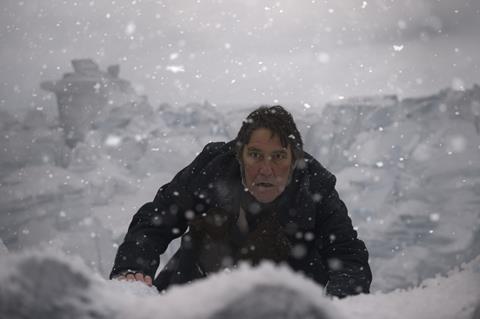 Kajganich describes Scott as a "powerful resource" in allowing them creative freedom to make the show they wanted. "We wanted to tell this as a character-driven story but on an epic scale, which we knew early on was going to include building the Arctic of the 1840s on soundstages and with massive VFX," he says.
"With Ridley having mastered these same challenges, we were able to find the right collaborators and figure out ways to do just about anything. Apart from being ready to go to bat if we needed any support, Ridley really stepped back so we could have total creative control. He would watch dailies and cuts, and send wonderful emails of support, and that's really all we needed."
While The Terror is visually impressive, transporting the audience to the freezing wilds of the Arctic as Franklin, played by Ciaran Hinds, and his men fight for survival, the dramatic success of the show hinges on the characters themselves. For Hugh, that human element was essential.
"It's never easy adapting such an ambitious, deeply layered novel to television, especially one rooted in actual history," she says. "Beginning our journey focused on the characters over plot, initially, was tremendously helpful. Rooting the 10-episode arc to each characters' subjective perspectives sowed the seeds."
"Audiences respond to boundary-pushing shows, and we absolutely tried to do that, but I think most people want, foremost, to find characters they can care about," agrees Kajganich. "At the end of the day, unless you plan to be a spectacle show that keeps having to top itself into oblivion, people will either love your characters and keep watching, or they won't. You have to earn that love in every episode, every scene."
For Hugh, being able to make The Terror is evidence of audiences both embracing small-screen storytelling, and demanding high-quality content. "With the advent of streaming content and binge-watching, the distinction between film and TV has all but disappeared," she says. "Audiences have become so sophisticated about content, and storytelling has become so potent and layered. A show like The Terror could not have been made five years ago. It's a testament to the times, that our audiences crave better stories. We hope it never ends."