Cattleya founder Ricardo Tozzi tells Gabriele Niola why he is repositioning his company.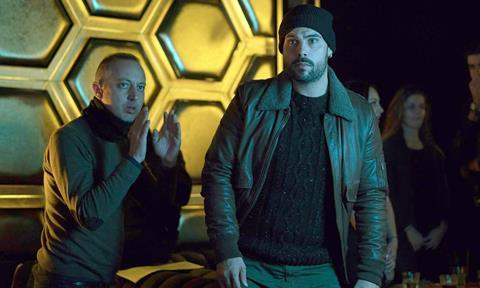 For a film producer, Ricardo Tozzi is remarkably relaxed about not making any actual films this year.
Cattleya, the company he founded 20 years ago, is one of Italy's most profitable production houses, according to the country's influential trade magazine Box Office.
A larger-than-ever slice of those profits now comes from the company's TV production activities, particularly the international hits Romanzo Criminale and Gomorrah, which are both TV spin-offs from breakout Italian crime films.
Now, Cattleya is poised to start shooting Netflix series Suburra, the first original Italian-language series to be commissioned by the pay-TV giant. The omens are good: it's a crime saga that began life as a film.
"In Italy, TV series are strongly linked with movies," Tozzi explains. "There is a creative synergy between the two. We shoot TV series as if they were films, not in studios but outside, with cinematic lenses and film language. We value the director, and we see cinema as a lab where experimentation takes place."
Cattleya is preparing to shoot two further series after Suburra, both inspired by famous Italian films. Django is a western for which Tozzi is soon to announce a French director, and Suspiria a horror series to which he hopes to sign a high-profile Italian actor.
Furthermore, Gomorrah writer Roberto Saviano is working on a series called ZeroZeroZero. Also in the pipeline is Colt, originally conceived as a TV series by the legendary Sergio Leone.
Tozzi finds TV exhilarating. "It allows us to do what we wouldn't dare dream of with movies," he says. "When producing films, we are always worried the audience won't understand, so we tend to oversimplify. It is the opposite in television. When the storytelling is too clear or easy, we tangle it to challenge the viewer."
Change of emphasis
This new focus is the latest in Tozzi's repositioning of Cattleya away from auteur films, first to easygoing feature comedies and now TV production.
"We were among the first to understand the end of the relationship between Italian auteurs and the audience," Tozzi claims boldly. "It has been a dramatic drop, so two years ago we switched to comedies. But today comedies are no guarantee either. Italian audiences are not as interested in Italian cinema as they used to be."
Cattleya's most recent features have been modest successes.
Earlier this year, Alessandro Siani's comedy Mister Felicita (literally 'Mr Happiness') grossed $10.9m (€10m), while Francesco Amato's drama Let Yourself Go, starring Toni Servillo, had garnered $1.6m (€1.5m) by early May.
Tozzi plans to further reduce the number of films Cattleya produces.
Around 220 are released theatrically in Italy each year, and around half gross less than $55,000 (€50,000) in a market that effectively shuts down from May to September.
"Cinema is not going to die, but it will shrink like it did when TV first arrived in our lives," Tozzi says. "Movies are coming out one on top of the other, fighting for visibility, and poorly distributed."
This is why Cattleya is launching distribution company Vision, with four other production firms — Wildside, Lucisano Group, Palomar and Indiana Production — and broadcaster Sky.
"It will handle only a few titles every year, following each one from the beginning of production with different strategies, merging traditional distribution with online streaming," Tozzi explains.
He confirms that Cattleya is also looking to form a strategic partnership with a European company. "In Italy you can grow only up to a certain point," says the ever-ambitious Tozzi. "But we would retain our autonomy."
Few would dare to doubt him.