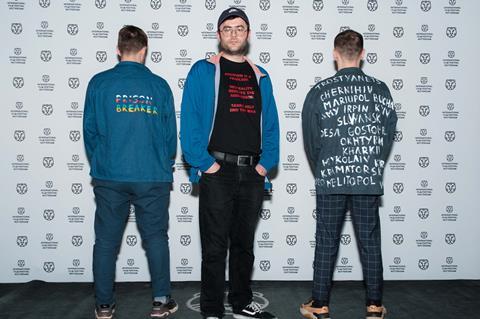 When Ukrainian filmmaker Philip Sotnychenko shot his feature debut La Palisiada in 2021, about the country's relationship with its post-Soviet independence in the 1990s, he was not to foresee by the time the film was to world premiere in competition at this year's Rotterdam festival his home country would be experiencing fresh horrors at the hands of Russia.
"We cannot distance ourselves following the February 2022 invasion. Additional layers and additional meanings now appear in the film and in the viewer's percetion," says Sotnychenko, who along with his producers and cast, wore t-shirts to the film's premiere at International Film Festival Rotterdam (IFFR) that read: 'Pacifism is a privilege. Neutrality benefits the aggressor. Tanks help end the war'.
The idea for La Palisiada first came to Sotnychenko five years ago, having discoverd the death penalty was still used in Ukraine as late as 1996, prompting him to examine the post-Soviet limbo that remained in Ukraine in the 1990s (Ukraine's independence was declared in 1991).
The director was born into a family with a foot in the industry – his father had worked in a documentary studio in the 1980s. "When I was in second grade, my father bought my a VHS player, which was a big luxury for the time in Ukraine, and when I was getting good grades he would buy me films," he recalls, recalling a particular fondness for Pulp Fiction. The Kyiv-based filmmaker's love for video tape is apparent in La Palisiada; he shot on real mini cameras from the 1990s bought on Ebay, to help evoke the era.
Sotnychenko's filmmaking career kicked off with short films and he won the Tallinn Black Nights best live action short prize for his 2017 film Technical Break. For his debut, he teamed with friends from Ukraine's close-knit filmmaking community, producers Halyna Kryvorchuk, Sashko Chubko and Valeria Sochyvets, who is also his girlfriend, and has produced all of his short films.
Development support came from the Ukrainian cultural fund and production support from the Ukrainian film fund. Sweden's Goteborg film fund provided post-production funding and the film is playing at the Goteborg Film Festival days after its Rotterdam premiere. The producers are hoping to attach a sales agent at one of the festivals.
Filming took place during 2021's Covid restrictions in Uzhhorod, Kyiv and an execution scene was shot in Bucha, which would later be the setting for a barbaric real-life massacre of Ukrainian civilians in March 2022.
Production in Ukraine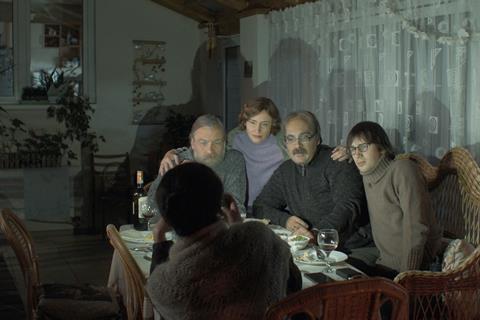 Filmmaking in Ukraine is restrained following the Russian invasion but hasn't completely stopped. "The [production] funding has been put on pause, but it doesn't stop the filmmakers from shooting, even without the money," says Sotnychenko. "Everyone is doing what they can, because they don't want to drop out of the profession."
There is some development funding available within Ukraine, but many filmmakers are looking to international grants to keep momentum for projects. Sotnychenko is developing a new script with Ukrainian director Zhanna Ozirna under the working title of Honeymoon, about a couple who are newly married just before the Russian invasion. He is alsocontinuing an observational documentary of his parents that he has spent three years filming, which he describes as "cinematic psychotherapy".
Sotnychenko and his fellow male producers are all eligible for conscription. They have not yet been called up. "Our fight is on the cultural front. We help how we can, and we can get drafted at any time. Many of our [film industry] colleagues are in the army. Many of our friends and colleagues have already died," he says.
"Maybe we're just not as brave as our colleagues. Even having the opportunity to be here [in Rotterdam] – you feel some shame that you're not there, you're not with them fighting. It's our friends, our colleagues, just people like us are in the trenches. There is no other army coming to help us."
Men are not supposed to leave the country and have to get special permission to travel internationally for events such as a film festival, with a maximum of two weeks away allowed. "We drove here from Kyiv, it was about 2,500 kilometres. Aeroplanes are not flying in Ukraine. You need not only good producers, but also [they need to be] good drivers," he smiles.
The exhibition sector is still active in Ukraine, with cinemas doing their best to stay open. "Of course, now, it is a bit different. Sometimes you get air raid sirens in the middle of a screening, everyone has to go into a bomb shelter, and then the screening is resumed after the air raid is ended," he reveals.
"Also, there is often no electricity in Kyiv. All the neighbourhood is dark and only the cinemas have lights, running on generators. A light house in the middle of the darkness."