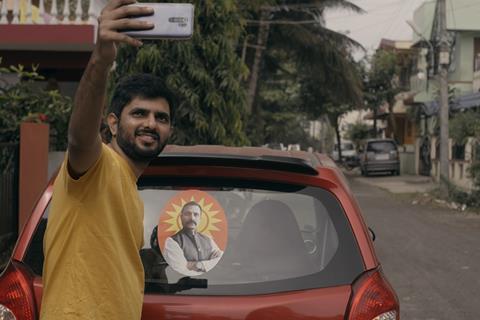 One of the most ambitious sidebars at this year's International Film Festival Rotterdam (IFFR) is The Shape Of Things To Come?, a focus on documentary and fiction from India. It is part of festival director Vanja Kaludjercic's desire to take up the mantle of IFFR's rich tradition to "look where others do not look," as she put it on opening night, and foreground work from parts of the filmmaking world that western European audiences might otherwise never see.
The hook is the 75th anniversary of Indian independence last year but do not expect an exercise in sepia-tinted nostalgia. Nor is the programme a celebration of progress since 1948. Much of this work has a strong political and adversarial slant. It is dealing with censorship, the rise of right-wing populism and the plight of marginalised communities. These themes have an obvious relevance far beyond India.
"The genesis of the programme goes back to the farmers' protests in 2020," notes Stefan Borsos, IFFR programmer for south and south-east Asia, of the massive demonstrations staged by farmers across India three years ago.
Forthcoming projects on the farmers' protests include Nishtha Jain's epi documentary Farming The Revolution but The Shape Of Things To Come? looks far beyond the plight of India's farmers, to the broader socio-political and cultural upheaval in the country.
"The region is highly under-represented [at festivals] and it was a very conscious decision, on my side definitely, to push for a more sizeable representation since I've started at IFFR in 2020," Borsos explains. The programme, he hopes, is an attempt "to do some justice to the wealth and variety of films produced in the region".
Out of the 20 filmmakers (15 with features and five with shorts) whose work has been chosen, 12 have made it to Rotterdam. For these filmmakers, IFFR provides the opportunity both to seek out international distribution and to raise the profile of their work back home in India.
Harshad Nalawade's Follower, a world premiere in Rotterdam, is a barbed drama about a likeable but misguided small-town journalist who supports a populist, demagogue local politician. The independent film was partially crowd- funded via Wishberry.
"Smaller films don't really get the exposure back home in India," Nalawade explains. "In order to get some audience and eyeballs for the film and some recognition, it really helps that we premiere at a prestigious film festival at Rotterdam…because of this, there will be interest back home."
"What this section is doing is putting the light on the political environment of India currently, the polarisation the country is going through and the rise of far- right politics," Nalawade adds. "We believe that [in Follower], we are also telling a contemporary story of the right-wing radicalisation that has happened in the country."
Nalawade is also the editor in another, older film in the programme, Jaideep Varma's I Am Offended (2015), a documentary about stand-up comedians many of whom fall foul of the authorities for their outspoken jokes about everything from sex to politics. The film may be dealing with humour but it raises serious questions about censorship in contemporary India.
Censorship at home
Other directors in the programme make chilling observations regarding the erosion of the freedom of speech in India.
Ranjan Palit's A Knock On The Door is based on a true story about a married couple, both professors, arrested on false charges. Palit hopes eventually to show his film in his home state, West Bengal, but will need a censor's certificate in order to get it into cinemas. Like Nalawade, he is banking on the international prestige of being in Rotterdam to "open up avenues" for the picture to be shown in India.
Most of the titles in the programme are contemporary but audiences in Rotterdam this week are also being given the chance to see Sanjiv Shah's 1992 musical comedy, Love In The Time Of Malaria. This was feted at festivals in India and Singapore 30 years ago but was never given a proper release. It is a satire, partly inspired by Gabriel Garcia Marquez's 'Love In The Time Of Cholera', in which mosquitoes plague the kingdom of Khojpuri. Their bites seem to foment protest and dissent.
"The kind of film it was, [in] 1992 it would have been difficult for it to get a theatrical release," says Shah. "It is what was called the 'alternative cinema,' which normally did not have theatrical releases."
Shah combines in-jokes about the nepotism of Indian politics with bloody archive footage of victims caught up in Sikh riots after the death of Indira Gandhi. " You can't be funny about politics in India," the director observes of bow he ruffled feathers by combining comedy with social comment.
A younger generation has recently discovered Love In The Time Of Malaria following a restoration and a screening on YouTube. It may have been made long before Narendra Modi became prime minister amid the rise of right- wing nationalism in the country but many of its themes chime with those of the contemporary titles in the sidebar.
"People see resonances [with today]," the director suggests. "The film essentially talks about authoritarianism and how it suppresses dissent. That's the simple one-line idea. I think it is playing out not only in India but all over the world…it is happening everywhere."
International platform
Other sections of IFFR are also showcasing films from south-east Asia which Dutch audiences would have little chance otherwise to screen. Cinema Regained is showcasing the world premiere of prolific Filipino director Khavn De La Cruz's Nitrate: To The Ghosts of the 75 Lost Philippine Silent Films 1912-1933 and another of his new features, National Anarchist: Lino Brocka
Meanwhile, showing the breadth of the selection, Cinema Regained is screening one of nonagenarian US director James Ivory's 1975 Autobiography Of A Princess. about an Indian princess in exile, that stars James Mason and Madhur Jaffrey. (Cohen Media has international rights.).
IFFR also has the Dutch premiere of Ivory's latest film, A Cooler Climate, co-directed by Giles Gardner and sold by The Bureau. This is a documentary based on footage Ivory shot at the start of his career, in Afghanistan in 1960, long before the Soviet invasion or the rise of the Taliban.
Unlike Ivory's movies, most of the films in The Shape Of Things To Come? are yet to secure sales agents. "A festival journey is a wonderful thing, but for too many South Asian films it usually stops there, not getting into regular overseas distribution and finding an audience beyond the festival-going crowd," says Borsos.
He hopes the IFFR showcase will help to change this.