Dir: Woody Allen. Sp. 2008. 97 mins .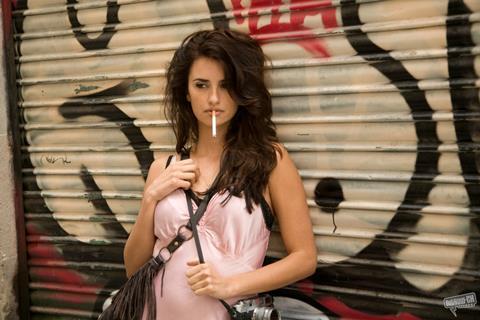 After a three-film stopover in the UK which reaped generally unsatisfying results, Woody Allen seems to have recovered some lightness of touch and sparkle in Spain as he follows financing around Europe for his annual movie offerings. Vicky Cristina Barcelona, his first of several Spanish ventures, is as close to consistently delightful as Allen has been able to deliver since 1994's Bullets Over Broadway. Given a dramatic boost by the vitality and charisma of Spanish superstars Javier Bardem and Penelope Cruz, this sunny romantic comedy could well be the director's biggest audience-pleaser in years.
Taking place over a summer in picturesque Barcelona, Allen and his local DP Javier Aguirresarobe (Talk To Her, The Sea Inside) set their attractive cast against a lush backdrop of colourful Gaudi architecture, lavish cityscapes and rural idylls which douse the love tangles and intrigue of the story in a blissful ambiance straight out of a Shakespeare comedy.This is Allen at his most playful and affectionate, knocking Whit Stillman for six with his Henry Jamesian tale of impressionable Americans falling under the sway of Ibero-passion. It's also one of his funniest scripts in a long time, and, unlike the dire Scoop a couple of years ago, the comedy here is confidently aligned with the national setting, the characters and their search for love and answers.
Positive reviews and strong word of mouth, neither a guarantee for so many years now with Allen, will help the film reach more adult audiences than usual although even his most accomplished comedies have strict limits in their market reach. Spain, France and Latin America will be prime markets for the film, but even North America and English-speaking territories should be able to find an audience for Vicky Cristina Barcelona in ways that neither Cassandra's Dream nor Scoop could.
English actress Rebecca Hall and Scarlett Johansson, who were in The Prestige together, play the Vicky and Cristina of the title who arrive in Barcelona at the film's opening to spend the summer with friends of Vicky's parents. Vicky is a sensible, realistic sort engaged to solid affluent New Yorker Doug (Messina), while Cristina is single, more passionate than her friend and resigned to the fact that love entails suffering.
Their hosts, Judy and Mark (Clarkson and Dunn) take them to an art gallery opening one night where Cristina spies a handsome Spanish painter Juan Antonio (Bardem), famous for his turbulent relationship with his former wife Maria Elena (Cruz) which ended when she stabbed him.
Later that night in a restaurant, the women see him again and, coming over to their table, he proposes that he flies them that very night to nearby Oviedo where they can spend the weekend and he can sleep with them both. Vicky responds with horror and indignation to his suggestion but Cristina is immediately attracted to his direct manner and accepts for them both.
Once in Oviedo, Cristina is just about to sleep with Juan Antonio when she succumbs to food poisoning and takes to her bed. Vicky reluctantly has to spend the next day alone with him but gradually falls under his spell and his philosophy that risks should be taken and passion should be indulged. Swept up in the moment, she sleeps with him and is thrown into emotional turmoil.
When they all return to Barcelona, however, he pursues Cristina and she eventually moves into his house. But Cristina's domestic happiness is rocked by the arrival of volatile Maria Elena who starts living with them after a failed suicide attempt. Wildly talented but emotionally volatile and prone to fits of rage and violence, Maria Elena slowly learns to trust Cristina and the three become lovers, while Vicky, whose fiance has arrived in town, watches with increasing envy.
Allen indulges Spanish stereotypes here - his Barcelona is the city of picture postcards, his soundtrack is guitar-driven (revolving around the song Barcelona by Giulia y Los Tellarini), his Spaniards are hot-blooded Bohemians - but his dialogue is knowing enough and his actors sophisticated enough to avoid too many cliches. Hall is excellent as the sober Vicky unseated by desire and Johansson effective in the part of the adventurous Cristina, but Bardem and Cruz create the comic fireworks, both looking like they are having fun as the nutty exes driven by fiery passion.
Allen fans will be alternately bemused and amused by his choice to have the film narrated (by Christopher Evan Welch), a decision which adds another layer of whimsy to the Midsummer Night's sex comedy of it all.
Production companies
Dumaine Productions
Mediapro
Gravier Productions
Antena 3 Films
Antena 3 TV
US distribution
The Weinstein Company
Intern ational sales
Wild Bunch
+ (33) 1 53 01 50 30
Producers
Letty Aronson
Gareth Wiley
Stephen Tenenbaum
Screenplay
Woody Allen
Cinematography
Javier Aguirresarobe
Production design
Alain Bainee
Editing
Alisa Lepselter
Main cast
Javier Bardem
Scarlett Johansson
Rebecca Hall
Penelope Cruz
Patricia Clarkson
Chris Messina
Kevin Dunn