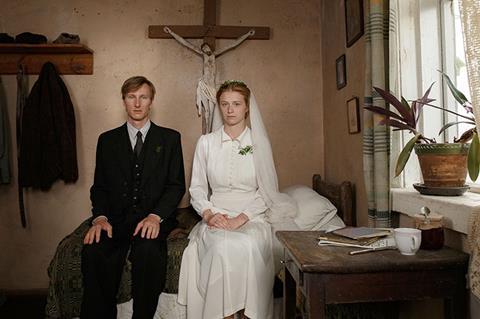 Eastern Europe during the tumultuous and often horrific first half of the 20th century is not the obvious setting for a romantic comedy. Viesturs Kairish's The Sign Painter is neither frivolous nor flippant but the acclaimed Latvian film and theatre director wanted to engage audiences with a lightness of touch and an engaging love story to explore the impact of dictatorship, Stalin, the Nazis, and Stalin again on the normal inhabitants of a provincial town in eastern Latvia.
The Sign Painter, based on the novel 'City On The Rivery' by Gunārs Janovskis, was released in Latvia earlier this year by Acme Film. Vienna-based EastWest Film Distribution is handling international sales and Menemsha Entertainment has picked up it up for the US.. Kairish's previous film, The Chronicles Of Melanie, was Latvia's entry to the best international Oscar in 2016.
The film is produced by Guntis Trekteris of Latvia's Ego Media, with whom Kairish has worked previously, with Lithuania's Artbox and the Czech Republic's 8 Heads Productions. It stars newcomer Davis Suharevskis as an artist who makes his living as a sign painter and falls in love with the Jewish, newly Communist girl next door, played by Czech actress Brigita Cmuntová, who may or may not love him back. Agnese Cirule stars as the Christian woman who moves to the town and sets her sights on the sign painter.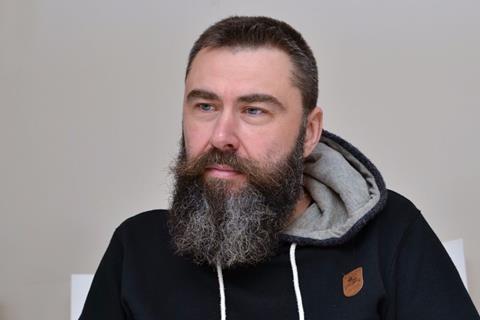 The Sign Painter made its international premiere in Competition at the Black Nights International Film Festival in Tallinn last week. Kairish was unable to travel to Tallinn as he was in the final days of rehearsal for his new play, which was getting ready to open in Riga until a new Latvian lockdown ruled otherwise.
Why did you want to make the film now?
The book 'City On The River' was about a typical provincial Latvian town during the Second World War. The influence of the Soviet occupation on Latvia and the Baltics is still so strong today that it is still a relevant topic. And this book was, in its way, very nice. It was set during the war and then the Cold War but it described young people who fell in love. It was somehow full of humour and although it was probably not the greatest literature, the tone of the book was very interesting.
It showed the impact of Latvian history on a town where there are no heroes. The main character is a sign painter who is just trying to do his work.
Was it easy to find partners and raise the financing?
Well, it's not a mainstream patriotic film about Latvia. We are showing Latvians during the Holocaust, which is not a very nice time in our history. There were collaborations with Nazis, with communists. It's much simpler to say, 'we are just victims', or we are just good or bad. But there are many stories about what was the reality and they are not always very complimentary.
How did the cast come together?
It was quite complicated as I wanted to shoot the film in eastern Latvia, where my roots are, where they speak a different Latvian language called Latgalian Latvian. It's Catholic and it's the language I grew up speaking. I decided to mostly work with non-professionals to be more authentic. I travelled with my team for a few years and we were casting, casting, casting the locals. The main hero, Davis Suharevskis, this is his first role, he's not a professional actor.
Brigita Cmuntová and Agnese Cirule are professionals, and Gundars Āboliņš, who plays Bernstein, is one of Latvia's leading actors.
How do you like to work with your actors? Are you collaborative?
I can't say we rehearsed that much as we didn't have that much money. We shot quite quickly, and every shot was very important. I was working very quickly with the actors. We are rehearsing, we are speaking and of course I'm spending time with them but in the end we are somehow catching the real tone.
Can you talk more about the role of language in the film?
The issue of language is considered a political issue in Latvia as during Soviet times it was considered 'bad' Latvian. For us, language is a question of identity. Language was the most important thing to get our freedom back. Almost half of Latvians still are Russian speaking.
It was also an aesthetic choice to use this language. It really makes those people [who speak it] more expressive, more energetic.
What is next for you?
I am hoping to start shooting my new film in January. It is actually called January and will be about one month in 1991 when I was 18 years old. It was a time of barricades, the last fight for Latvian freedom. It's going to be autobiographical and a bit funny.