Dir: Marco Bellocchio. Italy-France. 2008. 128 mins.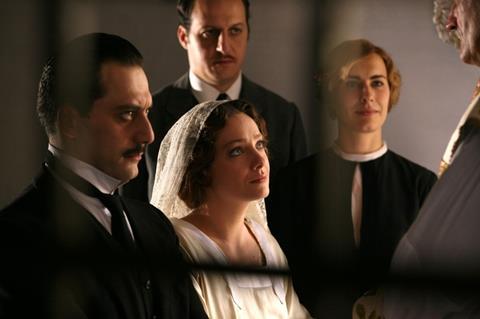 Veteran Italian director Marco Bellocchio delivers his most commercial feature to date in this artsy melodrama about Ida Dalser, the mother of the only illegitimate child notorious womaniser Benito Mussolini ever acknowledged. It's a curious but rousingly cinematic work that for all its flashy stylistic quirks is at heart as old-fashioned as its surging orchestral score. As a study of the personal tensions behind Italian history's grand events, Vincere lacks the sensitivity of the director's Aldo Moro kidnapping drama Buongiorno Notte; but as a stirring portrait of a woman wronged, it delivers the emotional goods.
Bellocchio is good at creating atmosphere, and the first part of the film, set in an oppressive Milan, is a deft and breathless crescendo of scenes and inserts that establish the budding dictator's fiery nature
Few of Bellocchio's films have received more than the most cursory arthouse runs outside of Italy, although this could end up being a partial exception. In Italy, where 01 Distribution releases Vincere on May 20, the film's Cannes competition slot and the all-out performances of local favourites Giovanna Mezzogiorno and Filippo Timi as Dalser and Mussolini should guarantee a solid run.
Ida Dalser merits only eight lines in Denis Mack Smith's definitive English biography of Mussolini, but in Italy she has been the subject of at least two books and a TV documentary. She and Mussolini began their liaison in 1914 when she was a well-to-do beauty salon owner and he was an impoverished firebrand socialist agitator. In November 1915 she gave birth to a boy, also named Benito, who Mussolini initially recognised as his son. A year later, however, he married his other main squeeze, Rachele Guidi (who was the daughter of his father's mistress), and as he rose to power he set about rewriting his left-wing past – and repudiating Ida and her son.
Bellocchio is good at creating atmosphere, and the first part of the film, set in an oppressive Milan, is a deft and breathless crescendo of scenes and inserts (including footage from newsreels and retro typographical flourishes) that establish the budding dictator's fiery nature, his radical politics, and (in some steamy but not explicit couplings) the sexual passion that unites him to his mistress. The director lays his cards on the table by showing Mussolini's marriage to Dalser – a rumour that has never been proven, though like most of its proponents, Bellocchio would claim that this is because Il Duce and his henchmen made sure that all the evidence was destroyed.
Back in her home town as Mussolini strutted his way to top office in 1923 and living with her brother and sister-in-law, Ida is kept under virtual house arrest by the local Fascists, and after writing an increasingly desperate series of letters to political and religious authorities, is committed to an asylum. Watched over by a stern sisterhood of nuns, she loses custody over her son and sees her increasingly shrill letters ignored, or never delivered. Things go little better for young Benito.
Carlo Crivelli's swelling orchestral score – kept high in the mix throughout – gives the film a symphonic quality that is reinforced by an impressionistic montage of contemporary silent films, newsreel footage, desaturated tableaux featuring asylum inmates and overlaid oncreen Fascist slogans. Bellocchio's directorial inventiveness – undimmed even after 35 years in the business – helps to paper over some of the more glaring chronological cracks in the story, especially in the later part (where the director has the neat idea of casting Timi, who played the young Mussolini, as the dictator's grown-up son).
In the end, though, it's Mezzogiorno's sympathetic and unrestrained performance as a woman who was one of history's victims that gives an auteur's firework display its emotional heft.
Production companies
Offside
Rai Cinema
Celluloid Dreams
International sales
Celluloid Dreams
(33) 1 4970 0370
Producer
Mario Gianani
Screenplay
Marco Bellocchio
Daniela Ceselli
Cinematography
Daniele Cipri
Production design
Marco Dentici
Editor
Francesca Calvelli
Music
Carlo Crivelli
Main cast
Giovanna Mezzogiorno
Filippo Timi
Fausto Russo Alesi
Michela Cescon
Fabrizio Costella